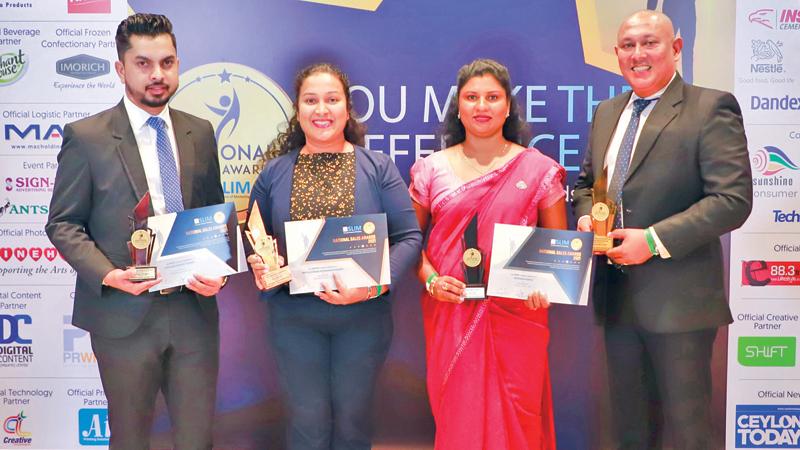 Life insurer, Union Assurance won the highest number of awards for its Bancassurance distribution at the National Sales Awards 2022 at the Monarch Imperial.
It was organised by the Sri Lanka Institute of Marketing (SLIM).
The winner in the National Sales Manager category was Assistant Vice President Bancassurance of Union Assurance Damitha Wickramathunga, Zonal Manager Bancassurance, Harshana Fernando won the silver award in the category of Territory Managers - Insurance Life.
The bronze award in the category of Sales Supervisor - Insurance Life went to Nimesha Jayasekera, while Shanmugam Menaka won in the category of Front Liners - Insurance Life.
Head of Bancassurance, Wishanth Wijesinha said, "Their achievements at this premier event in the national sales force calendar bear testimony to the Company's emphasis on providing the best training and professional development to team members, along with offering customers an array of best-in-class solutions with unmatched service."
The National Sales Awards is an important part of SLIM's mission to establish marketing as a driving force that enhances business and national value. The organisation's vision for the event is to recognise sales professionals on par with global standards while positioning the awards scheme as the best in the South Asian region.
The National Sales Awards recognises and rewards high achievers in over 20 industries. It permits individuals to apply through their companies based on their performance. Each category in the competition comes with gold, silver, and bronze awards, and the overall awards for national and regional sales managers are presented regardless of the industry they represent.
The judging process is independent, with the panel of judges consisting of analysts from different industries.