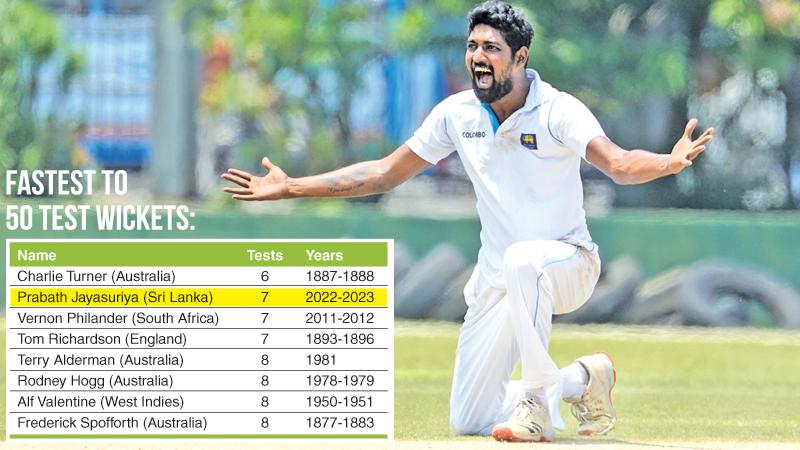 Prabath Jayasuriya has taken 50 wickets in seven Tests to claim the record for reaching the mark in fewer matches than any other spinner in Test cricket.
Jayasuriya broke a 71-year-old record when he dismissed Ireland's Paul Stirling to claim his 50th Test wicket on the final day of the second Test in Galle.
Jayasuriya hit the 50-wicket mark in just his seventh Test to grab the record from West Indies player Alf Valentine as the spinner to reach the milestone in fewest Test matches. Incidentally Valentine was also a left arm spinner.
The 31-year-old Jayasuriya who played for SSC in the domestic circuit has enjoyed a remarkable rise since his Test debut against Australia in July 2022 as he finished with the fourth-best Test debut match figures of 12/177.
Jayasuriya took five wickets in an innings six times including 5/174 (which marked the last time) in Ireland's first innings of the second Test in Galle.
Left-arm spinner Valentine took his 50th wicket for the West Indies on a tour of Australia in 1951/52 to achieve the feat in his eighth match and set a record that lasted 71 years.
Jayasuriya having claimed the spin record also equalled the second fastest overall to reach the 50-wicket mark along with Vernon Philander of South Africa and Tom Richardson of England. The two pacemen also claimed 50 wickets in seven Tests.
Australia paceman Charlie Turner continues to hold the overall fastest record to 50 scalps as he did in 1888 taking 50 wickets in his first six Tests.
Jayasuriya previously made his mark as only the sixth bowler to take five or more wickets in their first three Test innings and can now set out to chase down the record for reaching 100 wickets in the fewest number of matches. England fast bowler George Lohmann holds the record for taking 100 wickets in 16 Tests set in 1896.