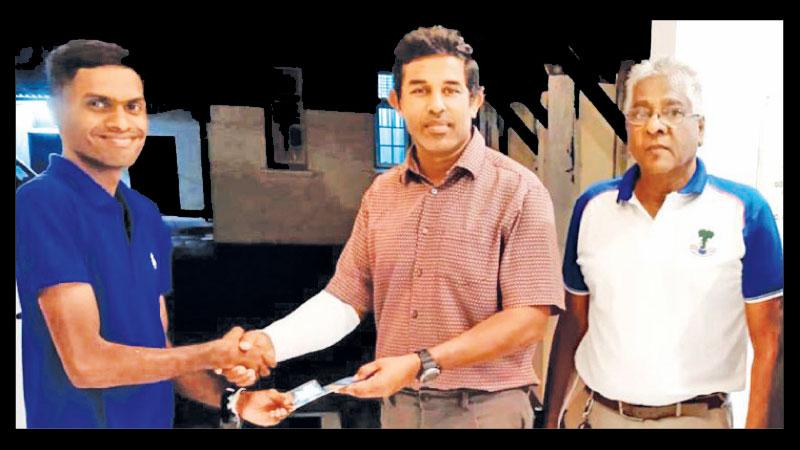 Bandara Wekadapola who won the Spirit of Referee award from the London Society of Rugby Football Union Referees (LSRFUR) in England has been awarded full referee membership by the Western Province Rugby Referees Society (WPRRS) in Sri Lanka.
He received the full referee membership on Friday and was overwhelmed by the occasion and will now function as their chief match official training and coaching all their up-and-coming young referees that includes Udara Lakshan who is the son of veteran referee D Nimal.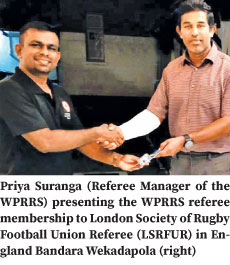 Wekadapola now domiciled in the United Kingdom has gone great guns as a rugby referee with the London Society since gaining accreditation as a Level 7 referee and becoming their representative to Middlesex County RFU West Region Clubs Council.
Wekadapola who played for Kingswood College and Police is the only Asian to referee in the London Society of Rugby Football Union Referees (LSRFUR) in England.
He did not forget to dedicate everything that he achieved in life to his bellowed mother and family.
"I lost my father when I was six years old.
"From then everything was my mother for my inspirational character," said Wekadapola.
Wekadapola counts among his many accomplishments as a referee the occasion when he officiated at the Imperial Varsity match at Twickenham Stoop (home of Harlequins RFC) and also various Cup finals including Middlesex School Cup final at Allianz Park (home of Saracens RFC).
He also referred two Women's Premiership matches one between Richmond Ladies versus Aylesford Bulls Ladies. The other was between Saracen Ladies and Wasp Ladies.