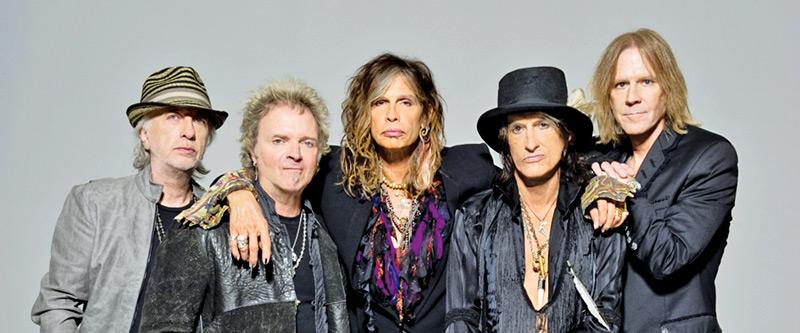 'Aerosmith' is a renowned American rock band formed in Boston, Massachusetts, in 1970. The band is known for their distinctive sound that blends hard rock, blues, and pop elements.
The members of Aerosmith are Steven Tyler (vocals), Joe Perry (guitar), Brad Whitford (guitar), Tom Hamilton (bass), and Joey Kramer (drums).
Steven Tyler and Joe Perry, the primary songwriters of the group, met and started playing together in the late 1960s. They later joined forces with Tom Hamilton, Joey Kramer, and guitarist Ray Tabano (replaced by Brad Whitford in 1971) to form Aerosmith. The band quickly gained popularity with their energetic live performances and a string of hit albums.
Over the years, Aerosmith sold over 150 million records worldwide, making them one of the best-selling bands of all time. They have won multiple awards, including four Grammy Awards. Their energetic live performances, fueled by Steven Tyler's charismatic stage presence, have earned them a loyal fan base around the globe.
Here's a brief overview of how they came together and maintained their presence in the music industry:
Formation and early years
'Aerosmith' was formed when singer Steven Tyler and guitarist Joe Perry, both originally from different bands, met and started playing together in Sunapee, New Hampshire. They soon recruited Tom Hamilton (bass), Joey Kramer (drums), and Ray Tabano (guitar), later replaced by Brad Whitford.
In the early 1970s, 'Aerosmith' released their self-titled debut album, which included the classic rock anthem "Dream On." However, it was their third album, "Toys in the Attic" (1975), that propelled them to international fame.
Breakthrough
In 1972, 'Aerosmith' signed a record deal with Columbia Records and released their self-titled debut album in 1973. While it received some positive reviews, it didn't initially achieve significant commercial success.
Throughout the 1970s and into the 1980s, Aerosmith continued to release successful albums.
Challenges and comeback
The 1980s presented a challenging period for 'Aerosmith'. Internal conflicts, substance abuse issues, and conflicts with their record label led to a decline in popularity. However, the band managed to regroup and make a comeback with the release of "Permanent Vacation" (1987). This album marked a return to their rock roots and featured hits like "Dude (Looks Like a Lady)" and "Angel."
Continued success and resurgence
Throughout the 1990s, Aerosmith experienced resurgence with hit albums like "Pump" (1989), "Get a Grip" (1993), and "Nine Lives" (1997). They achieved mainstream success with ballads like "I Don't Want to Miss a Thing" from the movie "Armageddon". Their music videos and constant touring helped solidify their presence in the rock scene.
They achieved even greater commercial success with the power ballad "I Don't Want to Miss a Thing" from the soundtrack of the film "Armageddon" in 1998. The song became their first and only number-one hit on the Billboard Hot 100.
Ongoing legacy and recent years
'Aerosmith' continued to release albums and tour in the 2000s and beyond. They collaborated with other artists, explored different musical styles, and even launched a successful Las Vegas residency. The band celebrated their 50th anniversary in 2020, showcasing their enduring influence on rock music. Despite occasional tensions and temporary separations, 'Aerosmith' has managed to stay together and sustain their career through their shared love for music, their resilience in the face of challenges, and their ability to connect with audiences worldwide. Their dedication to their craft and their iconic sound have made them one of the most beloved and enduring rock bands in history.
'Aerosmith' continues to tour and record new music. Their enduring popularity and influence have solidified their status as one of rock music's legendary bands, leaving an indelible mark on the history of rock and roll.