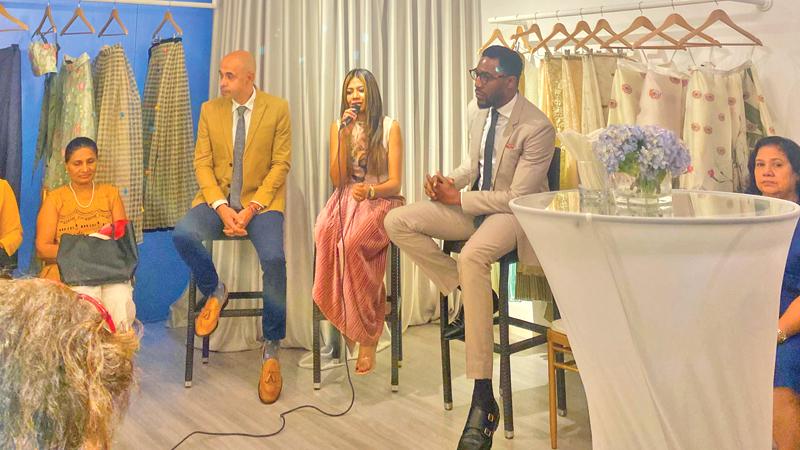 Amilani Perera launched her new flagship store at Baseline Road, Colombo 5 recently.
She launched her Colombo Fashion Week 2023 collection for retail sales at the flagship store, in an evening dazzled with many esteemed names in fashion, friends and family. The launch event was accompanied by a panel discussion in partnership with the United Nations Population Fund on 'Eliminating Technology facilitated Gender based violence and fashion influence on it'.
Her 2023 collection, 'Bodyright', highlights societal responsibility about technology-facilitated gender-based violence. She uses traditional and cutting-edge cuts with a variety of embroidery techniques and sublimation printing to tell a story of women subjected to this form of violence.
Technology-facilitated gender-based violence (TF GBV) is any act that results in physical, mental, sexual, political, social, or economic damage or other violations of rights and freedoms and is committed, aided, exacerbated, or enhanced by the use of information communication technologies or other digital tools. These are acts of violence that are specifically targeted towards or have a disproportionately negative impact on women. The panel discussion was led by Amilani Perera, Kunle Adeniyi – UNFPA Representative for Sri Lanka and Country Director for The Maldives and Ajai Vir Singh. The panelists shed light on the growing threat of Technology facilitated Gender based violence and how it can be eliminated.
Speaking on her new store, Amilani said, "For me fashion is very personal, and with this store I wanted to create a space to share my memories, my journey, my story. Every piece in this collection represents the story of the collection. The story of women who are in need of your assistance."
Amilani joined hands with the UN Population Fund to address the issue of violence against women through the design and garment sectors. Under this partnership she has engaged victims of violence in the creation of new products and is conducting mentoring initiatives to boost their fashion and design abilities. She has released her collections '#WITH_HER', 'HEAL' and 'BODYRIGHT' at Colombo Fashion Week, in 2021, 2022 and 2023 respectively under the same collaborative partnership.