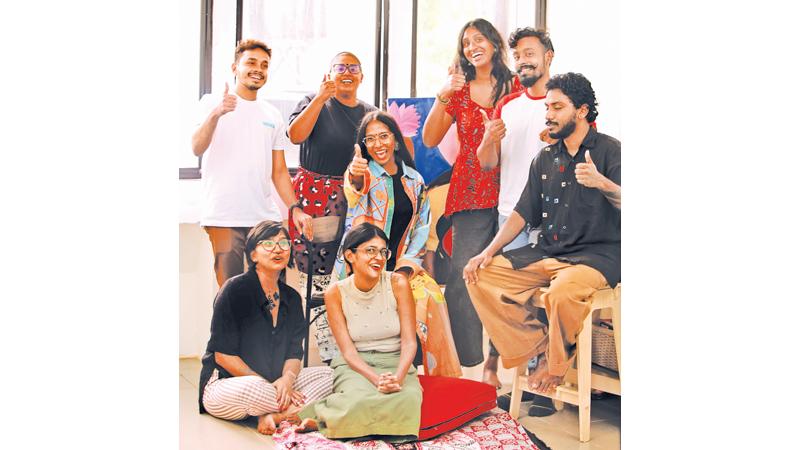 Aadhithya Jayaseelan, a graduate in architecture, has been practicing art for the past five years. She has created a brand called Kayamai, which creates merchandise from her art, including clothes, prints, paintings, and stationery.
Aadhithya's passion for art has led her to open a communal space for artists and creatives, where they can showcase their work, share studio spaces, and have workshops with different artists, thinkers, and experts in the field.
She facilitates mindful art workshops for children and adults, believing that the expression of art is essential to individual growth, self-reflection, healing, release, and communication. For Aadhithya, art is a safe haven to express emotions that words cannot convey. Through her communal space, Aadhithya hopes to enable collaborations, conversations, creations, healing, growth, inspiration, and more.
This week's cover story of Youth Observer is dedicated to Aadithya Jayaseelan and her vibrant art space, Kayamai.
In an exclusive interview with the Youth Observer, Aadithya discusses her journey from being an architect to becoming an artist and running the Kayamai studio. She shares insights on the various types of workshops and facilities that Kayamai provides, and the importance of art in personal healing and self-expression. The interview covers many other fascinating areas as well, providing readers with a comprehensive look into Aadithya's world of art and creativity.
Q: Can you tell us about your background and how you transitioned from architecture to creating art and running Kayamai studio and what inspired you to create a communal space for artists and creatives?
A: I studied architecture in Bangalore, I have always loved sketching and painting.I used to do a lot of real-life comics. My entire architecture portfolio and submissions were sketches in a very comical way. My thesis and most of my architecture projects revolves around communities and community building. (inspiration from the 1970s counter culture, Woodstock, Dharavi and what not!)
I worked as assistant art director (Bangalore) where I mostly was a sketch artist and later moved towards art direction at the TedXChennai 2019 event. Later I came back to Sri Lanka to spend time with my parents. I didn't know a lot here so I had to have my feet on the ground. I started with an architecture job again and moved toward sketching and painting in the country. So, I illustrate my emotions, and thought it was relatable and had potential to become something more and hence started a label called Kayamai. I made products out of my artwork (tees, totes, stationery, lamp shades, Etc)
While doing this for more than 3-5 years, trying to put myself out there at every pop up I could. I met a lovely group of people from the GLX last year.I have always felt alone, the odd one out in the journey, regardless of appreciation and relatability. But GLX asked me to apply for a creative residency program in collaboration with the British council and that changed my life.
I found a diverse group of creative people. Artists, architects, entrepreneurs and many like-minded people and they became an important part of the kind of life I am living now.
That is when I realized I can give others what I want and that is a community, a place to express, a place to heal, a place of love and kindness for oneself through art.
What I wanted for so long I created (of course with the help of family, friends and collaborators)
A place that felt like a safe haven. Burst of creative energy and flow. Kayamai is a place of healing.
Q: What types of workshops and events do you offer at the Kayamai studio and how do they contribute to the growth and development of the community?
A: Kayamai studio offers multiple workshops built around mental health, mindfulness, creativity and art. Sometimes all combined together too.The idea of different tools, materials and guidance is quite exciting, sometimes intimidating but people who want to and crave for that space of healing find this place so warm.
We as a country have gone through so much, there is generational trauma, societal conditioning and so many other aspects of life that are pushed under the rug causing temporary fixings and permanent damages in turn passing it onto the next generation and like a vicious cycle it never stops.
This can be approached in many different ways that promotes a better understanding and relationship with oneself, life and each other. and as a community it is important to find that healthy healing for ourselves. In turn creating positive ripple effects for the society as a whole.
Q: Can you describe your approach to facilitating mindful art workshops for both children and adults? How do you ensure that everyone feels comfortable and able to express themselves freely?
A: For children the art workshops are ideally based on how they are feeling on that particular day, that being said I have curated and designed lesson plans for 3 months, since I also take art classes.
I also take art classes for special kids (I am volunteering at the victory special study centre and also training in special child education and art therapy)
Each class starts with a small meditation, coming into and feeling the present moment; this offers a certain amount of mindfulness from all the rush outside. Sometimes people forget to breathe. This practice is common for adults and kids.
Since then, I have been writing a research paper on art therapy. I use tools that allow visualization and tapping into the subconscious mind with a lot of ease, safety and security.
I constantly make it a point to affirm and assure them that feeling of safety. There is a process for me, I meditate and come to a certain state of consciousness and grounding before I start my practice. Sometimes I participate allowing them to feel more freely and openly. Sometimes expressing and being your most authentic self feels like Crime and is scary for some people. Seeking for validation, projecting,judgement, fear and the list goes on. Although these factors can be handled just by observing, providing safety to express how they truly feel.
Tools I use -Art therapy exercises - meditation, gratitude, free flow, scribble techniques, word play,composition, love letter to one's self and so many more. When the exercises move towards gratitude there is more grounding and letting go of what's not needed.
Q: What role do you believe art plays in personal healing and self-expression? How does Kayamai Studio help facilitate this for its community members?
A: The process of art is so different for each person although it revolves around the basics, therapeutic, self-reflection, release, mindfulness, and much more.Art is one of the oldest forms of expression, it allows communication, community, collaboration and togetherness.
Kayamai presents a lens to explore a realm of infinite possibilities, by tapping into your highest self. The brand bridges forgotten Divine beings of the ancient world with the 21st century realm.
It's the work of thought and intention molded into a brand; Kayamai aims to bring perspective into Love, Pain, Anger, Desire, Empathy, Fear and Compassion. It is visual content for the soul that has bloomed from the intention to empower others to feel whole.
For starters, question everything including, what's normal?
"Many of them are normal because they are so well adjusted to our mode of existence, because their human voice has been silenced so early in their lives, that they do not even struggle or suffer or develop symptoms as the neurotic does. They are normal not in what may be called the absolute sense of the word; they are normal only in relation to a profoundly abnormal society."- Aldous Huxley
Get to know your real self, and to do that, forget everything you think you know: Most of our opinions, thoughts and habits are a result of social conditioning, to learn it is only natural that we unlearn too. When you explore what's best for you, and seek to grow, it is often required to ride against the tide of society's resistance. In these instances, your mind is your superpower which we aim to empower by diving straight into the questions, "why are we not inspired to be Divine; to be a God or Goddess?"
Kayamai defies the standard definition of "normal", to remind you that Divinity can be experienced in your own skin, your own thoughts and your own experiences. We are a part of a magnificent magical journey, so own it. And if you don't know how, let Kayamai be your guide.
Q: Can you tell us about the artists, thinkers, and experts you collaborate with at Kayamai Studio, and how they contribute to the community? What specific types of workshops or events have they facilitated in the past?
A: Vimukthi also known as Chaosmetry (tattoo artist), Kondeceylon (Hairstylist), Nuwan Shilpa is conducting a mindfulness workshop based on scribbling, Mind Engineers - A group of doctors and engineers in Sri Lanka with a background of meditation, curated this program as a means for people to get to the best version of their lives by understanding the hidden mechanics of the mind, Senali from Ivy Ceramics does every day functional ware adding elements of sculpture and artistry to them. Within the Kayamai space, she does workshops to introduce hand sculpting with clay and thoughtful artistic expression through a tactile material and linedemon – Roshan.
Good Life X worked with Kayamai Studio during the incubation stage after the Creative Residency hosted in April 2022 as a part of the Regenerating a Creative Future program hosted with the British Council. Since Kayamai's debut, Good Life X has spent time with me in growing the studio and its community by providing knowledge and insight as well as partners and networks for workshops and collaborations.
Q: Can you discuss any challenges you have faced in running Kayamai Studio, and how you have overcome them?
A: It has been wonderful so far. But sometimes it can get overwhelmed with the kind of work we do as a community. That is why we choose to do our practices and lean on each other.
To find safety in little pockets. To be able to release. To be able to flow.
This being a more feeling based answer.
We also look for support from people who can and are able to in terms of monetary value but also energy exchange (volunteer) to continue the work we have been doing as a community a SAFE HAVEN.
Q: What advice would you give to aspiring artists and creatives who want to create their own brand and community space
A: I would say start by taking that first step and as you go you will be able to figure it out, it's a constant ebb and flow situation which keeps you grounded. Ask for guidance if necessary. Don't be shy to ask for help.Be genuine. Start with the intention and move forward. Create and express more. There is so much strength in creativity and healing in expression. Use these tools to do better for yourself and people around you.
Be ready to give with good intentions and be ready to accept if people are not ready to receive. Find those important connections that feel safe and warm. Have those difficult conversations. Find liberation within yourself. Create a harmonious cycle of positive ripple effects.Our little goes a long way.