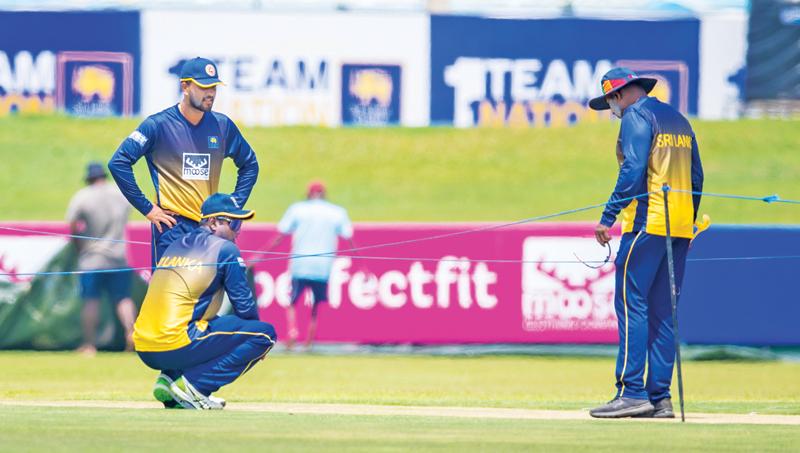 It is difficult to change the winning team after our team played really well in the first test which we won by an innings and 280 runs said Sri Lanka team head coach Chris Silverwood at the pre match press briefing yesterday at Galle International cricket Stadium.
The head coach Silverwood was really impressed with the bowlers and batters during the first test and he also mentioned about importance of bowling good line and length . The bowler has to bowl on any type of wicket and they have to maintain good line and length and this has to improve with each match said former English coach Chris Silverwood.
Meanwhile Sri Lanka skipper Dimuth Karunaratne in an interview with the Daily News said main thing is to continue winning mentality and the team is already training hard and their commitment is very good. I always said we can't relax after one match victory. After the victory we have to be ready for next game. We won by an innings and 280 runs over Ireland in the first test but we can't underestimate them. I know they will come up with new plans after learning lessons from the first test defeat. I think they will bring their experienced stroke maker Paul Stirling. He was rested after Bangladesh series and now they will recall him to strengthen the batting line up. They also have an idea to change bowlers especially spinners and put up a good challenge against us and we have to be careful and take up this challenge said skipper Dimuth Karunaratne.
I scored 179 runs in the last winning game first innings and wanted to make a double hundred as any player wanted to go for highest runs in test innings said Sri Lankan inform opener Dimuth Karunaratne.
Actually we wanted to have a look at the wicket for the second Test and finalise the final eleven. I think no need to make big changes and we want to be at full strength to win the game and whitewash the series and all players are ready for this challenge. I must thank Sri Lanka cricket, ( SLC) We requested to increase number of test matches for an year and at least they added one more test against Ireland and it is a good opportunity to play tests especially our youngsters said Dimuth .
Meanwhile Ireland Spin coach Nathan Hauritz the former Australian off spinner said Irish spinners were not up to expectations. They didn't bowl a good line and length during the first test and they have to come back strongly in this game. The conditions are different between Bangladesh and Sri Lanka wickets and we have to learn more to get experience said Nathan Hauritz who was the former Australia under 19 skipper who later represented Australia and played 17 test matches. Ireland players lack test match experience and they should learn from Sri Lanka especially on how to play on subcontinent wickets said Spin coach Hauritz.