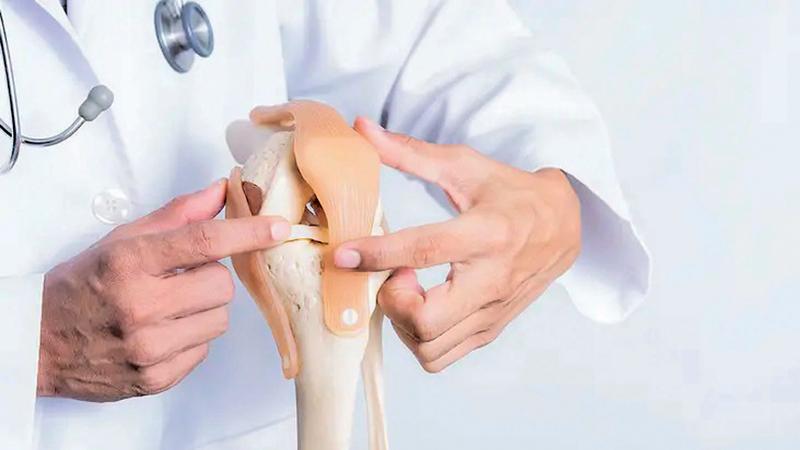 "I am truly impressed by the commitment of young orthopaedic surgeons in Sri Lanka to enhance their knowledge and surgical skill set" - Dr. Gurpal Singh
Senior Consultant Orthopeadic Surgeon at Mount Elizabeth Novena Hospital and Parkway East Hospital, Singapore, Dr. Gurpal Singh, in an interview with the Sunday Observer discusses in detail the newer research on increasing lifespan of joint replacements, latest treatment methods for arthritis, treating sports injuries and the correct use of weight machines and gym equipment.
Dr. Singh was in the country recently at the invitation of Parkway Patient Assistance Centre, Colombo to deliver speeches on Evolution of Orthopaedic Oncology and Development of Musculoskeletal Oncology as a Subspecialty at discussion sessions organised by Parkway Cancer Centre, Singapore, the Sri Lanka College of Oncologists and Sri Lanka Orthopaedic Association.
Excerpts
Q: I read that you are involved in research on increasing lifespan of joint replacements, newer materials in joint replacement, and preventing infection and early failure of joint replacements. Could you elaborate on this?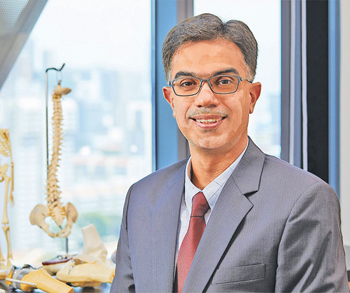 Dr. Gurpal Singh
A: I have spent two years in Germany doing advanced clinical fellowships and developing research collaborations. During this time, I was also heavily involved in research (clinically and basic science). In fact, I have spent a lot of my free time in the laboratory, discussing findings with my students and orthopaedic trainees that I was supervising during that time. Some of that work included research on potential biomarkers for implant failure, retrieval analyses of failed implants, effect of implant wear on tissues, use of sonication in periprosthetic joint infections, and surgical techniques for orthopaedic oncology. It has been a very fulfilling time that has deepened my knowledge in orthopaedic science, but also enabled me to understand tumour biology and biomechanical/engineering/biological aspects of joint failure more deeply.
Q: Is using newer materials in joint replacements, a successful method?
A: Materials used in joint replacements underlie strict quality testing and are well characterised. It is a fact though, that even the best joint replacement is not as good as a young and healthy joint. Once a joint replacement fails, a repeat surgery is required to remove the failed implant components and new implants are put in place. This is a longer and technically more complex surgery than the primary surgery. One of the factors limiting the lifespan of joint replacements is implant wear/ coupling of bearing surfaces. Hence, companies around the world are constantly working on improving implant materials even further. Strong supporting evidence is provided by lab data, and current clinical evidence is encouraging, but it is understood that eventually only a test of time will be able to confirm the success of new materials.
Q: What is arthritis? What are the key causes? How to diagnose it at a very early stage?
A: Arthritis is a common condition causing joint pain. The most common type of arthritis is osteoarthritis, which is often described as "wear and tear of the cartilage covering joint surface" and basically refers to degenerative changes in the whole joint that eventually results in joint pain, stiffness and limb deformity. Despite being so prevalent, the exact cause of osteoarthritis still remains incompletely understood. Some of the risk factors include advanced age, being female, obesity, previous joint injuries/ repeated stress on the joint, genetics, limb deformities, and certain metabolic diseases. Arthritis is diagnosed by a combination of clinical and radiological findings. In terms of imaging, X-rays are usually sufficient in advanced osteoarthritis. In early stages, magnetic resonance imaging (MRI) might be recommended.
Q: Are there non-surgical treatments for arthritis?
A: Yes, there are several non-surgical treatment options for arthritis. In fact, surgery is only the last resort. It is generally advisable to try less invasive measures first such as activity modification, physiotherapy, and medication. In some cases, injections might be considered. If symptoms do not improve or worsen despite the afore-mentioned treatments, surgery might be considered.
Q: Why is arthritis more common in women than men? What are the early signs of arthritis?
A: Literature indeed suggests that women are more commonly affected by osteoarthritis than men. This might be due to sex-specific differences in both the presence and relative risk of several risk factors. Especially body mass index (BMI), a modifiable risk factor, seems to impact women more strongly than men.
Some of the early signs of osteoarthritis include stiffness of the joint and pain that is worse with physical activity (such as climbing up and down the stairs, getting up from a chair). Some patients may also experience on and off joint swelling.
Q: Is there substantial evidence to prove that haphazard use of exercise machines or doing workouts without proper training guidance has led to more orthopaedic injuries?
A: Although exercising has many well documented fitness and health benefits, it also entails a risk of exercise-related injuries. Several military studies have looked into possible risk factors, and it seems that specific parameters of exercise may contribute to the overall risk of injuries in rough proportion to their contribution to the total amount of activity performed. To the best of my knowledge, there is little documented data with regards to potential hazards involved in exercising using fitness equipment/ machines. Generally speaking, however, equipment needs to be well maintained, and stored safely. Adequate training and safety advice is always recommended, particularly with weight equipment. In doubt, patients are advised to get a health check-up done by their trusted doctor prior to starting their exercise regime, and work together with a certified physiotherapist or experienced personal trainer.
Q: You recently delivered a CME lecture on Development of Musculoskeletal Oncology as a Subspecialty in Sri Lanka at the College of Surgeons Auditorium. Could you brief us on the content?  What is Musculoskeletal Oncology?
A: Musculoskeletal oncology is a field within orthopaedic surgery that is focused on diagnosis and management of benign (non-cancerous) and malignant (cancerous) tumours of bone and soft tissues. This also includes patients who have cancer that has spread from other organs to the bones.
Q: Do you guide/work closely with Sri Lanka Orthopaedic Association and Sri Lanka College of Oncologists?  
A: Yes, I am blessed having formed long-standing connections with many orthopaedic surgeons from Sri Lanka as I have visited Sri Lanka for teaching purposes for almost 10 years. The Annual Meeting of the Sri Lanka Orthopaedic Association has a special focus on training, and it is also a forum for international cooperations in encouraging exchange of practices. This is all part of our aspiration to improving orthopaedic care. These conferences are a treasured opportunity for clinicians, scientists, industry specialists and allied healthcare professionals to share their experiences. I have been involved in many teaching courses for Sri Lankan orthopaedic trainees and I am truly impressed by the commitment of young orthopaedic surgeons in Sri Lanka to enhance their knowledge and surgical skill set.
As I am very passionate about orthopaedic oncology, I have also reached out to the Sri Lanka College of Oncologists and have recently given a talk on the evolution of orthopaedic oncology for local medical oncologists in Colombo, Sri Lanka. Because musculoskeletal tumours are rare, it is important to work together closely among the various specialties to ensure the best possible outcome for our patients.
Q: What are the latest treatment methods available at Singapore's Parkway Hospital groups with regard to your specialty?
A: Singapore's Parkway Hospital group offers the latest technology for various orthopaedic conditions. This includes robotic-assisted surgery for patients suffering from arthritis. State-of-the-art imaging facilities (including magnetic resonance imaging, computerised scan, positron emission tomography-computed tomography) are provided to patients. For tumour patients, proton beam therapy, a novel mode of radiation therapy, is now also available. Drugs including conventional chemotherapy, and targeted therapy and immunotherapy are commonly available, and strict auditing ensures the quality of the drugs used. Most importantly, however, doctors from various specialities work hand-in-hand together as to allow decision making for patients on a case-by-case basis.
Q: What are the common Orthopaedic sports injuries and please comment on your expertise in the area?
A: Sports injuries are very common in the orthopaedic outpatient clinic. I see many patients with meniscus injuries and ligamentous injuries such as a ruptured anterior cruciate ligament (ACL) as a result of sports accidents in my practice. These injuries typically affect young and very active patients, who have a gross desire to return to high-level sports. I routinely do keyhole surgeries (arthroscopy) for these patients. Surgically speaking, there are various techniques that can be used to fix sports injuries. The key is to clearly identify the problem, determine whether any surgical intervention is needed, and if surgery is recommended, to share the rehabilitation program upfront to teach the patient as to how he or she can optimise the outcome him-/herself. Infact, physiotherapy has a very important role to play for all patients with sports injuries. Usually, these injuries heal very well, and patients get back to full sports.