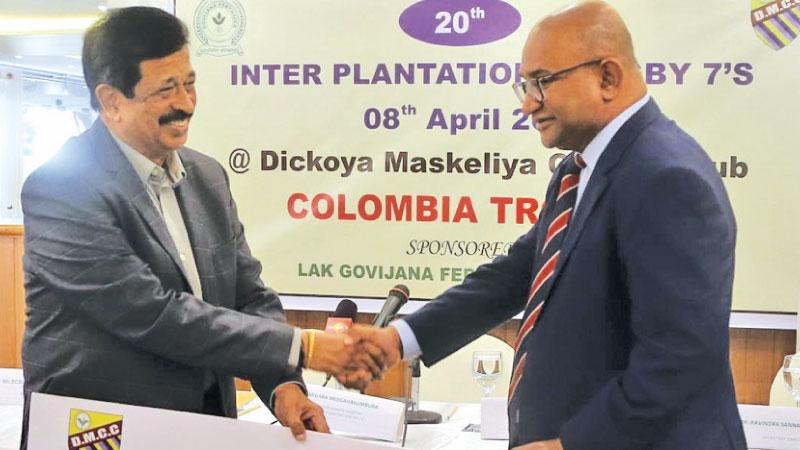 After a lapse of three years the inter plantation rugby Sevens will come alive once again on April 8 at the Dickoya-Maskeliya Cricket Club (DMCC) Dharawela ground in Hatton.
The tournament will feature 12 teams and is expected to attract scores of rugby-loving planters, their families and friends.
"We have been closely working with the plantation industry since our inception. As a responsible brand, we are always geared to assist our trade partners in their social endeavors.
"This is why we decided to extend financial support to the planters' rugby Sevens which is a prestigious sporting event among planters" said Migara Meegahakumbura the Senior Marketing Manager Lak Govijana Fertilisers who are the sponsors.
The 20th version of the tournament will feature teams known asThalawakele, Kelani Valley, Elpitiya, Hatton, Bogawantalawa, Mathurata, Malwatte Valley, Balangoda , Maskeliya , Kotagala and Agarapathana combine (Lankem), Kegalle and Namunukula combine (Arpico) and Sri Lanka State Plantation.
All these teams posses leading schoolboy players of the yesteryears and are amply supported by the regional plantation companies who are vying to grab the honours.
Well-known senior planter and sports promoter Manjula Samarakoon is the tournament convener.
"We as the DMCC are very proud to stage this tournament which is a flagship event in the planters' calendar.
"We foresee that this year's tournament will be well patronized and have lined up everything that matters for an elite rugby event", said Samarakoon.
The tournament first commenced in 2003 without any fanfare.