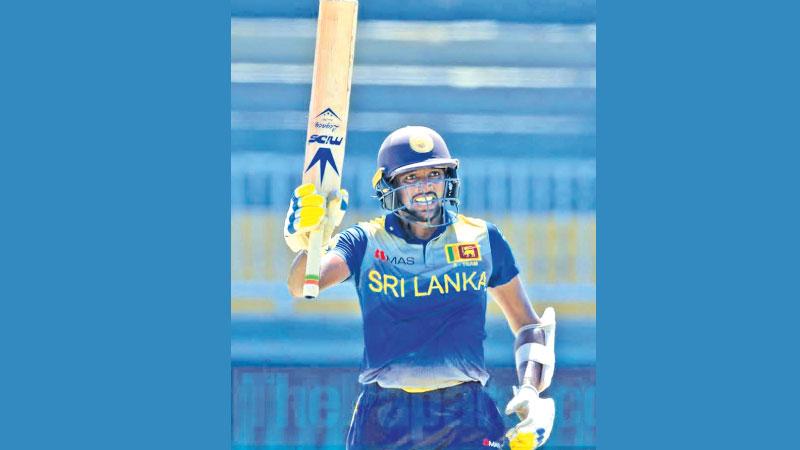 Lasith Croospulle could be the next best thing to happen to Sri Lanka cricket as he gears up for the T20 series against New Zealand starting on April 2.
He made his T-20 domestic debut for Negombo Cricket Club in the 2017/18 SLC Twenty20 tournament and made his List A debut for the same club in the same season at the Premier limited overs tournament.

In August 2021 Croospulle was named in the Greys team for the SLC Invitational T20 League tournament and in the following year Sri Lanka Cricket (SLC) named him in the Emerging Team's squad for their tour of England.
In June 2022, he was named in the Sri Lanka 'A' squad for their matches against Australia 'A' in a domestic series and in the following month Croospulle was signed up by the Dambulla Giants for the third edition of the Lanka Premier League (LPL) that bore the first signs that he has the potential for bigger things.
He will make no secret of his ambitions and that only cricket can make him realize his aspirations in life.
"Sport is my passion", he told the Sunday Observer before his departure to join the rest of the Sri Lanka players in New Zealand.
Excerpts of an interview:
Q. What made you choose sports?
I choose a sport because that's what makes me retreat from everyday hardships and brings joy and peace. It made me choose sports because it's my passion.
Q: Describe yourself in one word?
Ambitious
Q: Any words or phrases you overuse?
No Worries
Q: What is your most marked characteristic?
Flexible
Q: If you could edit your past, what would you change?
I would not change anything. Because what happened to me in the past makes me for who I am in the present
Q: What is the most important thing in your life?
Staying healthy
Q: Who has influenced you the most?
My family, especially my father, mother and brother have influenced me a lot. They are worthy of admiration
Q: Are you fashionable?
To be honest I am conscious about fashion
Q: If you had access to a time machine what would you change?
I think I would go to the future to see what it is going to be like, because no matter how hard you try you can't change your past.
Q: What motivates you in your life?
Targets and goals
Q: If you could choose any career right now, what would it be?
Professional coach
Q: What forms of music do you listen to?
I listen to a variety of music. I am open to any genre, anything that I can relate to or has a strong and inspiring meaning.
But if you were to pick, I would say that I am more inclined towards Sinhala classical music and pop/contemporary music even though they are apart from each other
Q: What's the best thing you would like to hear from someone?
You look good
Q. Thus far what was your most unforgettable sporting incident?
The most memorable sporting incident was when I scored two centuries against England 'A'
Q. What's your best school sporting achievement?
Scoring over 1000 runs in a season and becoming the most popular all-island schoolboy cricketer of the year 2017 and the best batsman in 2018
Q: What is your idea of happiness?
Happiness is a state of mind. It's just according to the way you look at things
Q: What is the trait you most deplore in others?
Egoism
Q: What has been your biggest disappointment?
No disappointment so far
Q: Most important lesson life has taught you?
The most important lesson that I learnt was the importance of patience which gave me the ability as a cricketer to wait for something significant to happen without getting frustrated due to any delay. You will have to wait for a lot of things in life without feeling negative