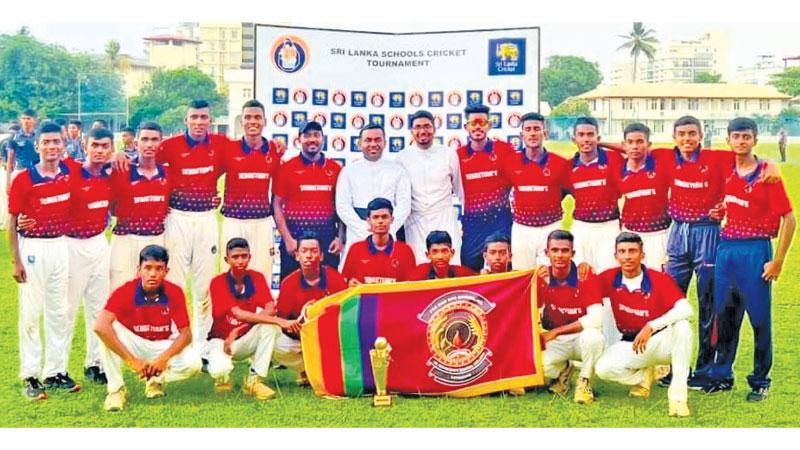 St. Sebastian's College Katuneriya squad comprising Chathumal Fernando (captain), Menura Fernando, Vishwa Fernando, Venuth Kawmira, Ashen Dinuka, Nimesh Madusanka, Sithum Appuhamy, Thisara Madushan, Lakshitha Fernando, Gayan Appuhamy, Vihanga Appumamy, Hasith Fernando, Daham Jayasiri, Rashmika Fernando, Manaram Fernando, Dinuka Sandun, Dilan Fernando, Naveen Nethsara and Oshan Marasinghe pose with Rev. Bro. Mudith Sanushka (master in charge), Samitha Costa (coach) and Shevon Jonathan (assistant coach)
St. Sebastian's College Katuneriya emerged champion of the Under 19 Inter School Division Two Tier 'A' two-day cricket tournament when they beat Holy Cross College Kalutara on Friday on first innings at S. Thomas' College ground Mount Lavinia.
Both schools earned a promotion to play in the Division One segment.
Chathumal Nimesh the skipper of St. Sebastian's passed the 100 wickets milestone this season while another feature of the match a super special feat by Holy Cross bowler Rashen Kethaka who took six wickets for six runs.
Scores:
St. Sebastian's College Katuneriya: 102 (Chathumal Nimesh 20, Rashen Kethaka 6/6, Pasindu Wimansa 3/63) and 135 (Gayan Harshana 42, Hasith Kavinda 31, Chathumal Nimesh 25 n.o., Hansaja Brayan 4/40, Rashen Kethaka 3/30)
Holy Cross College Kalutara: 93 (Pasindu Wimansa 20, Thisara Madushan 4/33, Tharuka Manaram 2/5, Chathumal Nimesh 2/26) and 132/7 (Sonal Awadika 75 n.o.)

-(YK)