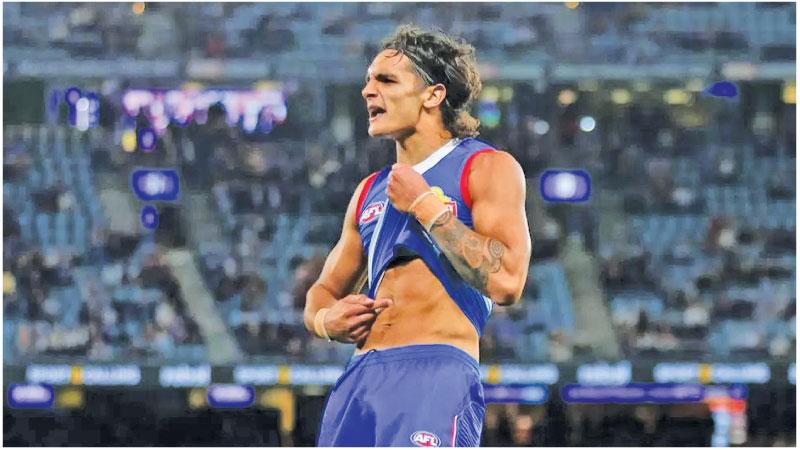 An Aboriginal Australian Football League (AFL) player has performed a powerful protest against racism, recreating an iconic sporting moment after abuse from spectators.
After kicking a goal on Thursday night, Jamarra Ugle-Hagan lifted his shirt and pointed to his skin.
It is a gesture made famous by AFL legend Nicky Winmar under similar circumstances 30 years ago.
The abuse of Ugle-Hagan, 20, comes amid a string of racism scandals in the AFL.
On Sunday, Australian Rules football's top league said it was investigating allegations that "harmful and abhorrent racist remarks" were directed at the Western Bulldogs star by a rival St Kilda fan last weekend.
Both clubs condemned the alleged comments and vowed to work with the AFL to identify those involved.
But Ugle-Hagan on Thursday night said he felt the need to "make a stand" himself. Remarkably, he also kicked five goals in what many hailed his career-best game.
"Obviously what happened last weekend was a pretty hard time," he told Channel Seven after helping his team to a win.
"[I was] just going out there and proving the point - I'm just a boy trying to play some football, so are the other Indigenous boys," he added, becoming visibly emotional.
Winmar had also been receiving racist abuse in 1993 when he performed the gesture and shouted: "I'm black and I'm proud to be black."