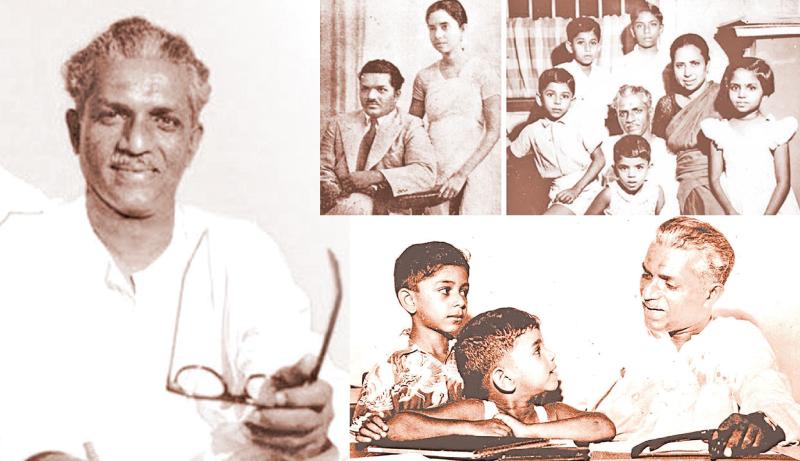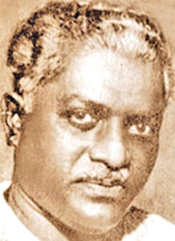 Philip Gunawardena
Don Philip Rupasinghe Gunawardena who established the Lanka Sama Samaja Party (LSSP) in 1935 was a principled politician who was committed to his political vision to the very end of his life. From the start of his political career, Gunawardena had been involved in helping the poor by every means. He was a Trade Unionist, a State Councillor, a parliamentarian and humanitarian par excellence.
Gunawardena was a founder member of the Sooriyamal Movement which was formed to reach out to the poor during the malaria epidemic in the early '30s.
A vehement fighter against the Imperial rule, he was even imprisoned along with his other Leftist colleagues Dr. N.M. Perera, Dr. Colvin R. De Silva, and Edmund Samarakkody during World War II.
However, owing to Philip's brother Robert Gunawardena's well-thought-out plan, the imprisoned Leftist colleagues were able to escape from prison and flee to India where they lived until they were arrested again to be brought back to Sri Lanka where they had to serve a jail term of six months.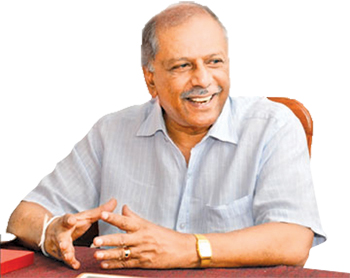 Dinesh Gunawardena
At the General Elections in 1947, Philip Gunawardena was elected to the first Parliament to represent the Avissawella seat with a majority of 22,252 votes but was deprived of his Civic Rights soon, as he spearheaded the General Bus Strike in 1947.
Gunawardena played a major role in the '1956 People's Victory' by uniting trade union activists, the peasantry, and other forces to form the MEP government headed by Prime Minister SWRD Bandaranaike in which he served as Minister of Agriculture. His main achievement during his tenure as Agriculture Minister was 'The Paddy Lands Act' which brought relief to the tenant cultivator.
In 1965, Gunawardena joined the national government of Prime Minister Dudley Senanayake and served as the Minister of Industries and Fisheries. During his tenure, the Industrial Development Board was established and he worked tirelessly to uplift the standards of State Industrial Corporations and Private Sector Industries.
Gunawardena who is also known as the Father of Socialism in Sri Lanka has certainly left an indelible imprint on our memory as an upright socialist and avid champion of workers' rights.
Nearly 43 years have passed since his demise, but he will be remembered forever for his true humanitarian vision and people-centred politics
D.B. Dhanapala in his 'Among Those Present', describes Philip Gunawardena as ' a plain man who derives his power from high character, plain thinking, and corrosive candour.'
Reproduced below are excerpts from an interview the writer had with legendary politician Philip Gunawardena's fourth son, Mahajana Eksath Peramuna leader and incumbent Prime Minister Dinesh Gunawardena which was first published in the Daily News on February 9, 2016. 
****************
The story of a real-life 'prison break' is certainly far more exciting to read or hear, than an American fictitious one made for television! In a real and sensational episode that unfolded in Bogambara Prison in the heart of Ceylon's Hill Capital, Kandy more than 73 years ago when the country was still under British Colonial rule, four strong members of the Lanka Sama Samaja Party imprisoned by the British authorities, were able to escape from the prison and flee to India taking a dangerous, but adventure-filled boat ride across the Palk Straits!
The protagonist and his colleagues are long dead and gone, but the account of the 'real-life prison break of 1942' will never get buried beneath the sands of time as it has given the patriot Sri Lankan strong reasons to look back and ponder on the courage their forefathers possessed to challenge the authority of an empire, on which the sun never meant to set!
The story has been told and retold, but definitely deserves to be listened to, especially when it's narrated by the protagonist's own son! It was with great excitement that Dinesh Gunawardena, the fourth son of Philip Gunawardena shared with the writer the story of 'the famous jail-break' which let his father and comrades Dr. N.M Perera, Dr. Colvin R. de Silva and Edmund Samarakkody escape from the prison and flee to India where they lived underground till they were finally caught.
It was Dinesh Gunawardena's mother Kusuma who played a key role in securing the imprint of the prison key.
"The Jail break in Kandy is an exciting story. The detention order came for my mother because she was the last visitor to visit the prisoners (Dr. N.M. Perera, my father, Dr. Colvin R de Silva, and Edmund Samarakkody.) She had visited the cell the previous week and since she was a lady they did not check her. So she carried a bar of soap and it was cut and the key was kept in the middle so that the imprint was clear," he said.
The imprint was given to Robert Gunawardena and the key was produced somewhere in Battaramulla.
"She [Kusuma Gunawardena] had to go once again to see whether this [the key] was correct and the previous day she had visited and got back to Colombo. Smoothly at midnight my uncle, Robert Gunawaradena, and the group opened the cell from inside and got the four out of the cell, and were brought to Colombo along with the jailors (both jailers joined the LSSP) in a vehicle which was driven by Robert Gunawardena," he said.
The story on the way to Colombo was equally exciting and adventurous.
"On their way to Colombo, at the Kelani Bridge, they had been stopped by the British-the Navy because they had beards. Then my uncle Robert who was dressed in an Admiral uniform got down and asked them in English as to why the vehicle was stopped. Then they had saluted him and said 'please go'," recalled Gunawardena with a wide smile on his face, still enjoying the excitement-filled 'fleeing expedition' of his father and friends.
As they reached the city their first stop was at a wealthy landowner's place which was later turned into a gallery (Behind Green Cabin.)
He narrated how his mother used to go there to see his father on a rickshaw dressed as a schoolgirl.
The four of them had even visited D.M. Rajapaksa, the uncle of former President Mahinda Rajapaksa, Down South and had gone to Jaffna where the LSSP had a sound political base, and from there they crossed the Palk Straits in batches.
"They crossed the Straits in batches, not all four together. They had a lot of friends and political associates in the Indian Freedom Movement such as Jayaprakash Narayan. I remember my father telling me when they were reaching the Indian coast the advice for them was to get down and not to allow this small boat to take them to the coast because they could have got caught. So they jumped and swam about 150 metres. Others were waiting on the other side. They were received and from there they moved to Mumbai. Their centre was mainly Mumbai and they were in Mumbai (underground) under false names."
It was months later that Philip Gunawardena's wife Kusuma crossed the Palk Straits to join her husband. She was dressed again as a schoolgirl and was accompanied by Florence Senanayaka (who later became a Member of the first Parliament) and her husband who appeared as her parents.
"My mother was very young then. And the other who accompanied them was [former] President J.R. Jayewardene's younger brother. He was an active Sama Samajist who later became a lawyer. After having joined the professionals he gave up party politics and became a judge. After retirement he went into the Priesthood," Gunawardena recalled. The life in Mumbai though spent in the underworld was exciting and interesting.
"In Mumbai, there is another interesting episode I must tell," Gunawardena went on.
"They were very close associates of the present Prime Minister's father and mother, Mr. and Mrs Esmond Wickremesinghe who were in Mumbai at that time. Mr. Esmond Wickremesinghe in his university days was very much a Sama Samaja activist."
Gunawardena recalled how they maintained contact with Left Stalwart Dr. Vinayak Purohit, an Indian who later became an artist and poet. [He passed away in 2009.]
"So I still remember whenever he used to visit Sri Lanka in later years, he used to go and see the Prime Minister's mother."
In 1943, Philip and Kusuma Gunawardena and their first child Indika who was born there were taken into custody in Mumbai to be sent back to Ceylon where they served a jail term of six months.
It was years later that Dinesh was born in Sri Lanka. He was the fourth child of Philip and Kusuma Gunawardena couple who was blessed with four other children. Indika, Prasanna, Gitanjana and Lakmali.
The day his father took him to enter him to Royal Primary was fresh in his memory.
"I still remember him taking me to enter me to Royal Primary. That was in or around '54, I think. Before that, I was at St. Paul's, Milagiriya Nursery. [Those days' boys were allowed.] He used to take me to the nursery and some days he used to come to bring me back. Whenever I asked for 'Kadale' or something he used to buy it for me."
Back then too the nursery was located down Dickman's Road, but the street was less noisy and busy, he recollected. Philip Gunawardena and his wife both led busy lives dedicating their time and effort to uplift the conditions of the poor. At the General Election in 1947, he was elected to the First Parliament to represent the Avissawella electorate. However, he was soon overthrown on charges of organising the general strike in 1947 and lost his civic rights for seven years as a consequence. And it was in a way a 'blessing in disguise' for little Dinesh as his father used to spend more time with him and the family!
Civic rights
"That was a time he had been deprived of his civic rights for participating in a strike. So he had more time to be with the family. My mother was in Parliament and as a result, I think he took over some other household duties." Gunawardena still remembers how he participated in a May Day procession clinging onto his father's arm.
"I think that was the first May Day procession I had ever walked because I could not walk halfway and had to leave because of being so small!", he smiled. His memory rolled back to those playful carefree years when all of them used to visit Kataragama in their virtual annual pilgrimage.
"It was a difficult trek from Tissamaharama to Kataragama because there were only cart roads and things were being repaired." his eyes sparkled with child-like mischief as he took a stroll further down memory lane.
The road from Kataragama, where the shrine is today to Kirivehera was in a more shabby form unlike now, he observed.
"Right along, on either side, there were places where they sold Polpala and local herbal drinks with jaggery. I still remember sitting on his lap and enjoying a drink. Even though we had more jaggery than Polpala it was a good experience indeed," he said with a smile.
"My mother's hometown is Tangalle and the whole family used to go and stay there. We used to go to the beach and enjoyed the beach and the sea."
In addition to going to Tangalle to spend the holidays, Gunawardena recollected how the whole family went upcountry and also to his father's friends' places in Bandarawela, Deniyaya, and Anuradhapura.
Mother in politics
Women have always been underrepresented in Sri Lankan politics. However, back then in the'40s, Kusuma Gunawardena was actively involved in politics. She was an active member of the Sooriyamal Movement and served as a Member of Parliament from 1948- 1960. When her husband was jailed and was deprived of his civic rights as a result of supporting the general strike in 1947, he was replaced in Parliament by his wife.
Gunawardena recollected how his father was very supportive of his mother and how he helped her engage in politics.
Having been involved in politics right from the beginning and having been on the 'wanted list' of the British authorities after fleeing to India where they lived in custody until they were taken into custody, his parents had always been supportive of each other.
"My mother was also a party member. She was one of the early Sooriyamal women's group members along with Selina Perera, Mrs N.M. Perera, later on Vivienne Gunawardena, and Ruby de Mel. My mother and the group later entered different representative bodies of Parliament and local authorities," he reminisced.
Gunawardena recollected his childhood spent with his siblings and relatives. He explained how his parents always found time to look after all of them while allocating time to the people and politics.
"They had a lot of nieces of both sides schooling in Colombo who were much more elder to us boarded at our place at No: 130, Reid Avenue. The house still exists. It is a fairly big, very old house. Of course, the father and mother always took an interest. But the family had cousins and all were living together. So I guess it went on."
There had been days when his mother had come home very late from Parliament because those days Parliament used to sit from two to seven or eight. "My father also had his political Trade Union work, but spent time with us till we were on our own," he said.
"He had the lectures and classes- political classes to different groups of society in our big verandah. I still remember that verandah. On and off we visit our old house just to bring our memories back. The verandah is still there," he noted with a tinge of nostalgia. Even though there were domestic aides to look into their needs they were never left alone with them.
"My elder brother Indika was very much senior to us. Next was my second brother, Prasanna (later Mayor of Colombo), and then between my sister, Lakmali, myself and the younger brother [Geethanjana] there was a gap of about five years. So they were also looking after and guiding us. Whenever there was a wedding or any other family function or an outing my parents used to take us always."
He also recollected how one of his uncles who was a doctor (maternal) used to drive to Colombo daily, used to drop by in every two days to look into their needs. "So it was how the years passed by," he recalled.
Most admired quality
Gunawardena remembers his father as "very brave and upright."
"He never wanted to allow any injustice to happen to anyone. Also, he had nothing in his heart against anyone, in politics who criticised him or with whom he had political battles. Later on, he used to tell us never to remember these unnecessary political arguments because those are arguments built in order to pursue another step and asked us to have no animosity towards anyone."
Lanka Sama Samaja Party
Gunawardena recalled how his father pioneered the founding of the Lanka Sama Samaja Party.
"The Lanka Sama Samaja Party was established in 1935. He was one of the leading pioneers of the party. Before the Sama Samaja Party was established they worked as volunteers on the Anti Malaria campaign, helping the poor and helping the villagers of those areas- especially the Kelani valley where thousands died of Malaria. My father, Dr. N.M. Perera, Dr. Wickramasinghe- all of them and the teams were involved in this."
"Being a socialist party, the LSSP challenged the British to leave the country," he noted. However, in later years the LSSP split as a result of theoretical disagreements.
"The first split was when Dr. Wickramasinghe and the group left the Lanka Sama Samaja Party in the early '40s. Later on, the party split again when they were underground in hiding, into two parties - the Lanka Sama Samaja Party with my father and NM on one side and Dr. Colvin R de Silva and others forming the Bolshevik-Leninist Party. Even the '47 elections they contested from different parties."
"Again in the early '50s the party split and Dr. N.M. Perera's faction went back and restored the Lanka Sama Samaja Party and my father remained in the Lanka Sama Samaja Viplawakari Party, the VLSSP and finally he left the VLSSP to join the broad alliance, the MEP that brought the historic 1956 victory."
Mark Anthony Bracegirdle, the young Anglo-Australian Marxist revolutionary who worked in Sri Lanka as a planter when the country was a British colony was horrified by the way the plantation labourers were treated by the British authorities. The Bracegirdle case has gone down in the annals of Sri Lankan history as he was not only able to challenge the British authority but also to win.
It was with great excitement that Gunawardena narrated the story of Bracegirdle, who joined the Sama Samaja Party in order to fight for the rights of the estate workers.
"Bracegirdle was a planter who supported the workers' rights. And as a result, he was given a deportation order. It was a famous case where the LSSP challenged the British government. Philip Gunawardena and Dr. N.M. Perera were in the State Council and they were able to bring about a broader alliance to condemn the Governor and challenge the Order in the Supreme Court. The Supreme Court held with that. Of course, the LSSP was so strong as an underground movement that they were able to hide Bracegirdle for months or weeks until they organised a massive rally at Galle Face where Bracegirdle made a sudden appearance!", Gunawardena shared the story which had been narrated to him by his father long ago.
"The Police could not arrest him and I think my uncle Robert Gunawardena was the man who really managed the whole thing. When we go to places in Kaduwela, Hokandara, and even in Badulla we hear of the places where Bracegirdle was being kept in security and custody," he said.
"I think in a way it was a big uphill battle as written by Reggie Siriwardena in his interesting book [Working Underground: The LSSP in Wartime] published by Lake House Foundation."
Bracegirdle finally left the country. The greatest achievement was that he left after he had won! And the Governor also had to leave. Many years later Gunawardena met Bracegirdle in London.
"My brother Geethanjana when he was studying in London sent me a note saying that he had been able to contact Bracegirdle who was then lecturing at a technical university. So I met him when I was an MP in 1985. I met him in London twice and it was a very interesting experience," he recollected
It was indeed an unforgettable experience for Gunawardena to have dinner with Bracegirdle with whom his father launched a revolutionary campaign against the suppression of plantation workers and with whom he was able to challenge the British government.
"We had dinner together. Some friends from the university too joined. First, he said I would like to sing the Sama Samaja song in Sinhala Dan Yamau Api Sama," Gunawardena went on retaining the victorious smile on his face even further.
"Thereafter, he was telling us about my father and Robert Gunawardena and how the latter put him in the vehicle and was driving him to a destination unknown!"
It was much later that Bracegirdle shared the 'best part of the story' with Gunawardena.
"After Bracegirdle left Sri Lanka, he had gone to Rhodesia. One day at an evening dinner when they were all lined up, suddenly came the man who happened to be in charge of the massive British company and he was the former Governor who gave the deportation order to Bracegirdle! And when they introduced Bracegirdle to him he had said, "I think your name reminds me of a very familiar name in Ceylon." Then Bracegirdle had said, "Yes, I am Bracegirdle whom you deported!"
Bracegirdle had yet another interesting story to share with Dinesh Gunawardena..
"Your [former] President Jayewardene was a supporter of our [Bracegirdle] battle in court, but his father was on the Bench. I was driven by President Jayewardene in the father's official car to places in the city of Colombo till the calling date for the case reached. So if I come to Sri Lanka now to make a speech it would be very embarrassing for the President of the country!,"Gunawardena recalled Bracegirdle's words.
Paddy Lands Act
One of the main achievements of Philip Gunawardena as Minister of Agriculture was the Paddy Lands Act in 1958 which provided security of tenure to the tenant cultivator who worked on the paddy fields and paid at most times half the crop to the landlord. However many landowners were initially against this move.
"When he was the Agriculture Minister, he introduced this Paddy Lands Act (Kumburu Panatha) where the tenant cultivator was to be given a guarantee of continuation plus a share of the crop which obviously the elite of our country did not appreciate because they owned most of the paddy lands. They feared this would deprive them of many benefits they were enjoying."
When asked whether the wife of the then Prime Minister, S.W.R.D Bandaranaike did oppose the Bill, Gunawardena said that as he had heard even though Sirima Bandaranaike being the wife of the Prime Minister could not appreciate some of the clauses of it, her brothers Dr. Mackie and Clifford Ratwatte used to discuss the issue while also trying to explain it to their sister.
"But there was anyway a little resentment not only from Mrs. Bandaranaike's family but also from a lot of people in the government because the landowning elite did not like it as the tenant cultivator was not only a tenant cultivator, but virtually a slave in our society back then."
The whole scenario changed when the legal security was given. The Kumburu Panatha finally got through with various clauses being diluted. It became one of the biggest social changes - Acts of Parliament which is even remembered today," Gunawardena noted.
To be continued...