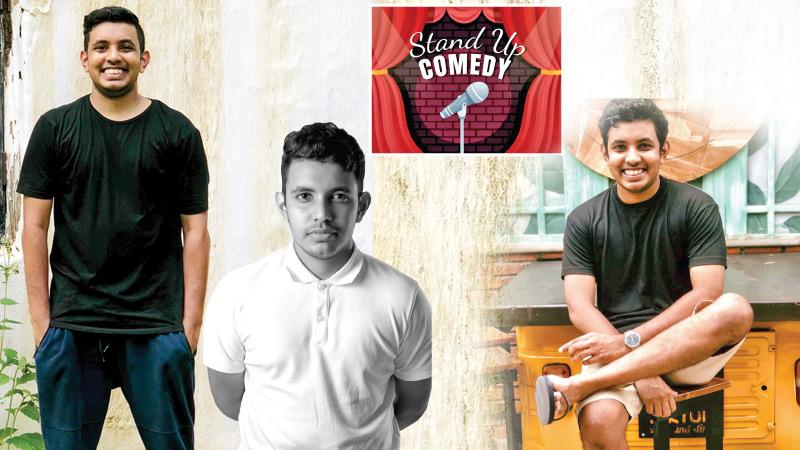 Commemorating comedians all over the world, Colombo Comedy Central with Event Cloud presents, 'Fools' Pride', a Sri Lankan standup comedy featuring young and talented Standup comedians Hasalaka Thushara, Chamara Guruge, Nathasha Edirisooriya, Ravindu Amendra, Taniya Lewwanduwage, Sathees Nadesan and Ishan Kawmina.
'Fools' Pride' will be held on the 1st of April 2023 at the Bishop's College Auditorium Colombo 3. Keeping in mind this event and the talent it is about to unfold, this week, the Youth Observer reached out to a member of Colombo Comedy Central and the youngest comedian presented by 'Fools' Pride', Ishan Kawmina.
Ishan is a business analyst by day and a comedian by night, he is known for his specific dark comedy, and a tantalizing theatrical persona that frequently takes on unethical positions.
In conversation with Ishan, here's what we found out: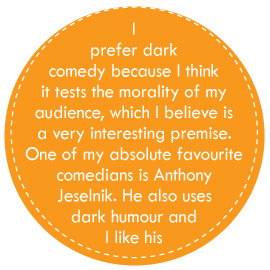 Q: How did you get into comedy? 
A: I was in China for my bachelor's degree and I had to use a VPN to use Youtube. I used a VPN and developed an addiction to Youtube. This resulted in an obsession with Podcasts such as Joe Rogan, Jordan Peterson etc and most of the guests that came on these shows were comedians. I started to see the beauty of these personalities and what made them click which led to me following several comedians and developing a taste for comedy.
Thereafter, when I came back to Sri Lanka, I was exposed to comedians such as Blok and Dino and Asalaka Thushara from Sri Lanka Comedy Club. Watching Asalaka was the first time I had seen Sri Lankan standup and it was very exciting and interesting to me. One day he put up a post requesting new comedians for a show, I responded and the rest is history.
Q:  How was it like breaking it to your parents that you wanted to pursue comedy?
A: It wasn't great, it is a hard pill to swallow for them. They are glad I have a day job. But they have been supportive of my decision.
Q:  Who are your inspirations when it comes to comedy?
A: My favourites are George Carly and Bill Burr.
Q:  So far how do you feel about your journey as a comedian?
A: I am very happy about it. I am doing it for myself, for mental peace and satisfaction. I have realized that there is no specific technique for standup comedy, it is about speaking what you feel works and I think it is the highest form of freedom of expression.
Q:  Why have you chosen black/dark comedy as your style?
A: I prefer dark comedy because I think it tests the morality of my audience, which I believe is a very interesting premise. One of my absolute favourite comedians is Anthony Jeselnik. He also uses dark humour and I like his style. I was inspired by his style. He is not a natural storyteller just like me but he makes it work and I love to incorporate his style into my standup.
Q:  What is it like juggling your work as a business analyst and doing comedy?
A: I work with a start-up company and I am really enjoying the work that we have done so far. One of the biggest advantages I have is that I am working from home, which leaves a lot of room for me to pursue my career in comedy.
Q: Do you believe in using your comedic platform for social justice?
A: Yes, I believe comedians are social destructors, they challenge the way people think about certain things. For right now it challenges the PC culture. I don't agree with what every comedian says but I respect their opinion. They have a specific way of expressing themselves and the important thing is to make people think using your comedy.
Q:  As a comedian what do you want for comedy in Sri Lanka.
A: I want more people to do more comedy. I want to see people of different cultures and backgrounds getting into comedy. For example, we would love to have a Muslim girl doing comedy in Sinhala.
Q: How would you describe 'Fools' Pride'?
A: As Comedy Central, we want to make comedy a niche but also a premium product. If I am to give an example, we want it to be like Charitha Attalage's or Kasun Kalhara'smusic, it uniquely wonderful but is also not for everyone. So 'Fools' Pride' is a step ahead in this big plan we have for comedy in Sri Lanka.
Q:  What are the plans for this year?
A: We have a lot of plans for the coming year, specifically, we have planned a roast of a famous musician in Sri Lanka.
Colombo Comedy Central is attempting to make stand-up comedy more common in Sri Lanka. It has started a number of initiatives to improve Sri Lanka's comedic culture, including stand-up comedy performances in theaters, bars, open mics, roasting events, humor podcasts and vodcasts, etc. Colombo Comedy Central is on the constant look out for fresh comedians and anyone interested could reach out to them.
Pic: Tharindu Wijesiri and Uditha Kalhara