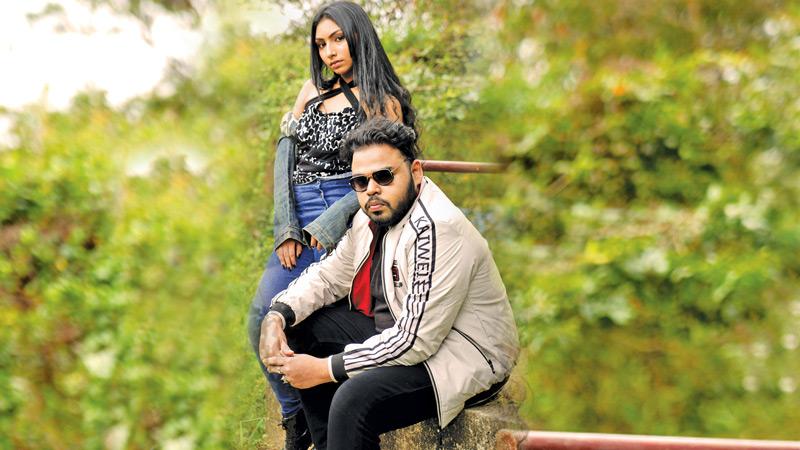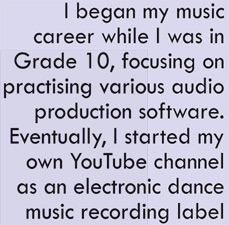 Q: Give me a brief introduction about yourself.
A: I'm Jizzy from Hanwella. I am a DJ and producer and also a songwriter.
Q: As a child, did you always have a passion for music? What inspired you to pursue a career in this field?
A: Music has been a constant presence in my life since my school days. I participated in numerous singing and instrumental competitions, which helped me discover my talent and passion for music.
For me, creating music is a liberating experience that makes me feel more confident and empowered than any other profession could. Although I explored different avenues after completing my studies, such as working in various jobs and pursuing higher education, I never felt the same level of enthusiasm as I did for music. It was my unwavering dedication to music that led me to pursue it as a career.''
Q: As a musician, can you describe your creative process for songwriting and music production?
A: Well, it varies from time to time, but typically I start with a blank canvas. I'll open up my Digital Audio Workstation and start experimenting with different sounds and instruments, just letting my creativity flow. I'll often spend hours working on a demo until I have something that's about 70% or 80% complete.
Once I've got the basic structure down, I'll export the demo and listen to it several times. If I feel like the track would benefit from vocals, I'll start looking for a vocalist to collaborate with. My ultimate goal is to create the best possible output for my tracks, so I'm always open to bringing in other talented musicians to help bring my vision to life.
Q: Have you written songs or composed music for any other artists?
A: Yes, I've had the pleasure of collaborating with several well-known musicians, such as Dimi3, DJ Mass, Kochchi, Kaizer Kaiz, Upeka Nirmani, and many others. I've also had the opportunity to work with numerous talented, yet underappreciated musicians throughout my career.
Q: Can you tell us about your musical journey so far?
A: I began my music career while I was in Grade 10, focusing on practising various audio production software. Eventually, I started my own YouTube channel as an electronic dance music recording label called Sri Nation, along with my teammates Abhiman, Amizio, and Mechanic - who are also DJs and producers.
Through my years of music production, I had the privilege of meeting the talented DIMI3, who has a unique and innovative approach to song-making. Together, we created the hit record "Adiddi", which was a turning point in my career as a musician.
After the success of "Adiddi", I decided to pursue my own career as a DJ and producer under the name "Jizzy". I have had the pleasure of working with many talented artists, including KAALI and the aforementioned Abhiman, Amizio, and Mechanic.
Last year, I had the opportunity to perform with Mechanic at Club Space in Singapore - marking the first time Dubstep artists from Sri Lanka had performed at the venue. It was an unforgettable experience and solidified my passion for music.
Q: What have been some of the biggest challenges you've faced in your music career so far?
A: One of the biggest challenges has been finding my own unique sound and style. There's so much competition in the music industry, and it can be difficult to stand out from the crowd. But I've been working hard to develop my own sound and vision, and I'm excited to see where it takes me.
Q: Can you tell us about the significance of this song?
A: Sure, this song is not actually about love or romance, but rather about the theme of freedom. It's about a young girl who is carefree and unburdened by responsibilities such as relationships. The song expresses the feeling of how great it is to have a life free from such obligations and instead embrace the freedom to simply feel and enjoy life.
Q: Were there any inspirations that influenced the creation of this song?
A: For me, personally, not really. However, the performing artist of the song, Madhara, had a specific idea in mind and I allowed her creative freedom to explore it. I enjoy collaborating with others and hearing their unique perspectives during the recording process. are making a record.
Q: Will this song be included in an upcoming album, or will it be released as a standalone single?
A: No, it will be published as a single.
Q: As a young artist, what is your opinion on the contemporary Sri Lankan music industry? What are your insights on improving the industry's status through the talented young artists?
A: The Sri Lankan music industry has shown significant improvement in the past four years. The turning point for the industry was the album by Charitha Attalage and Ridma Weerawardene. Their collaborations with friends like Supun Perera and Ravi Jay, which combine good music with EDM, have been particularly noteworthy.
I have observed superb releases featuring new music and technology, with a great listening community. However, some Sri Lankans are not yet accepting these changes, but I believe they will with the passage of time.
To upcoming artists, I advise against being a toxic person who looks down on others. Instead, remain humble towards everyone, regardless of their status. Some people may not be able to reach your level, while others may be above you. Therefore, try to help those who are less experienced, while striving to improve yourself. Networking with other artists, producers, songwriters, DJs, and others is crucial, although it can be competitive. Keep in mind that success takes time, but with dedication and persistence, you can achieve your goals.
Q: So, what are your plans within the field of Music?
A: Well, as with any artist, my ultimate goal is recognition. Until then, I will continue to be creative and develop my skills.
Q: That's understandable. Can you tell us about your current projects in the music industry?
A: Absolutely. I am currently collaborating with both local and international musicians, many of whom are underrated. We have some exciting projects in the works, so stay tuned for more!