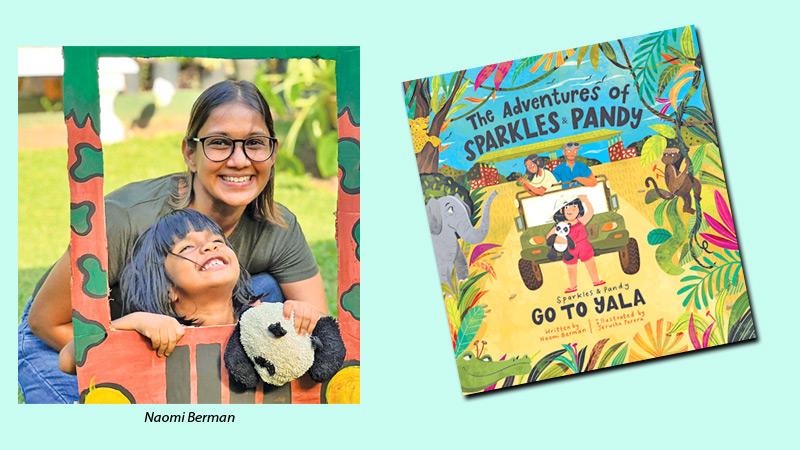 'Sparkles and Pandy Go to Yala' is the first of a series of 'The Adventures of Sparkles and Pandy', a beautifully illustrated book that tells the tale of Sparkles, a lively and spirited little girl and her favourite soft toy, Pandy, as they go on an exciting adventure where they come face to face with many wild animals as they explore the beauty and majesty of Yala.
"The book is about Sparkles (my daughter Natania) and her very real, soft toy Pandy (a panda). She carries it wherever we go," says Naomi Berman, author of the book. "The series will follow them through their many adventures around Sri Lanka. This will also give us, especially Natania, the opportunity to travel and see Sri Lanka.
Naomi's daughter Natania is the inspiration for her stories and she has just turned four. As an avid reader herself, Naomi reads to her daughter a lot. Combining Natania's love for animals and Naomi's love for traveling around Sri Lanka into this series, Naomi has created something her daughter would enjoy reading and Naomi would enjoy reading to her. "I think it's important for us to inculcate a culture of reading, and as I loved reading, I wanted to pass that passion on to her," says Naomi.
Naomi told us about her writing and where she believes it all began. "I've been writing for as long as I can remember. I think it started in my preteens when I used to pen my thoughts in my diary/journal. I also used to write a lot of poems back then; with no thought of publishing, but I did circulate my verses amongst family and friends."
Therapeutic note
Writing takes on a more therapeutic note for Naomi through some of her toughest times. "I've battled dealing with endometriosis for more than ten years and I've had a couple of my poems published with regard to what I was going through back then. During this time I think I wrote the most. I used to pen down my struggles and frustrations. I found writing it down therapeutic. It has always been a healing outlet for me."
So what led her to make that final leap into becoming a published author? "What got me motivated into taking the leap was my mom. She has always been my biggest fan. And she used to constantly tell me that I wasn't using my talents to its potential. Every time I wrote something she would always sing praises and think it's the best thing she's ever read and then send it on to about fifty of her friends!"
Naomi says she began writing this book while she was recovering from Covid back in 2022. "So basically, I wrote this book for my mom; she is my inspiration."
Naomi goes on to say, "I chose to start with Yala because that was the last trip we did before Covid hit in 2020. Natania was still small but she had an absolute blast. In the book I wanted to capture her excitement and transfer it onto paper. Natania loves the book! She goes around telling everyone it's her book and will point herself out. We have multiple copies at home as she wants it read to her all the time. She even reads it to our dog Shadow, who will make an appearance in future tales in the series.".
Teaching point
Naomi is a teacher by profession, I always try to impart some sort of teaching lesson wherever possible. So she has included a small teaching point in each story. These teaching points range from learning how we can help protect or learn about Sri Lanka, so children can learn to start giving back in small ways, and hopefully one day make a change in this country. That is something important that Naomi wishes to convey through her books.
"It could be something as small as being respectful to animals, to learning about our different cultures. So it's not only fun but you actually learn something through each book," says Naomi.
"I also wanted to showcase the beauty of Sri Lanka through this series. I grew up in Sri Lanka but never travelled much until I was much older. We moved as a family to Singapore when I was a teenager, and the travelling began when we used to come down on holiday.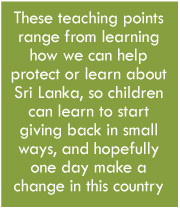 "But my love for travelling grew when I moved back to Sri Lanka and started working in the NGO sector. I got to see many different parts of Sri Lanka and interact with people from different walks of life. This is something I would love for Natania also to experience. Not just to travel and discover new places, but also learning and growing through interaction with different people. I want to highlight all the amazing things about Sri Lanka and what makes it unique," she said.
About the production of the book, Naomi says, "Working on this book was extremely exciting. Working with my illustrator Jerusha Perea was a lot of fun and a learning experience for me too. To watch the words come alive was very special. She did a fantastic job in capturing exactly what I wanted. I have to make special mention of my friend Dulanjali, who has been with me throughout this entire journey.
"From sitting in with me during all my meetings to keeping me calm during various moments of panic! I didn't realise how much work it took. Therefore, I am really grateful to Jeremy and 'The Jam Fruit Tree' for helping me throughout this whole process. What I found really important was how he was committed to protecting my authenticity as an author.
"He made sure that my voice was protected and the story being told, was the one I wanted to be heard. This was really important to me as an individual. I've had the privilege of working and meeting multiple lovely people during this journey to which I am really thankful," she said.
As for future projects, Naomi says there are many more books to come, the next one about Galle, which she has hinted at in the current book. "Not to mention, we just went on a holiday/fact-finding mission in preparation for the book. It was lovely and beautiful and I hope to capture those elements in the upcoming book," says Naomi.
"Another really important thing that I wanted to do by publishing, was to show my daughter that at no matter what stage in life you are, your dreams can be achieved. You can do anything and be anyone you want to be. It just takes some hard work, time and a good support system…" Naomi says with well-earned pride. "Almost like a love letter to my daughter…"
These teaching points range from learning how we can help protect or learn about Sri Lanka, so children can learn to start giving back in small ways, and hopefully one day make a change in this country