Sufficient food and water is vital along elephant corridors to curb the human- elephant conflict in the North Western Province, President of the Polpithigama Peasants' Welfare Organisation H.P.P. Pathirana said.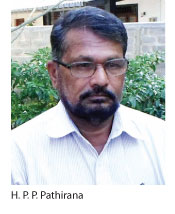 He said this would help prevent further loss of lives of both jumbos and humans. He mentioned this as a suggestion in a project report submitted to the North Western Provincial Council on the human- elephant conflict in the province.
The project report states that hunger and thirst are the main reasons for elephants to invade human settlements. An elephant needs at least 150 litres of water and 180- 200 kilograms of fodder per day.
An official of the Wild Life Conservation Department said that elephant corridors should be enriched with enough food and water resources in order to prevent them from invading human settlement.
The project report also suggested that villagers should be encouraged to cultivate more and more crops such as lime, orange, turkey berry, gingerly, cactus and palmyrah that are not consumed by elephants.
The report also suggested that villagers should also be made aware of the value and importance of elephants.
It was also recommended to grow four rows of palmyrah palms in a zigzag manner at the territorial boundaries of elephants or around farmlands and human settlements prone to wild elephant attacks.
It also suggested that if electric fences were built, they should be maintained regularly as wild elephants often damage them.
Speaking to the "Sunday Observer " Pathirana said that the human- elephant conflict was one of the biggest environmental and socio economic crises in rural areas.
He said that according to statistics of the Wild Life Conservation Department nearly 300 elephants are killed annually by villagers and nearly 150 humans are killed by wild elephants.
Most of the elephants are killed by guns and explosives such as hakkapatas. Many elephants also die either by falling into unprotected agriculture wells and irrigation channels or by being hit by moving trains.
The conflict has become worse in the Wayamba wild life zone including the Kurunegala, Puttalam and Anuradhapura districts.