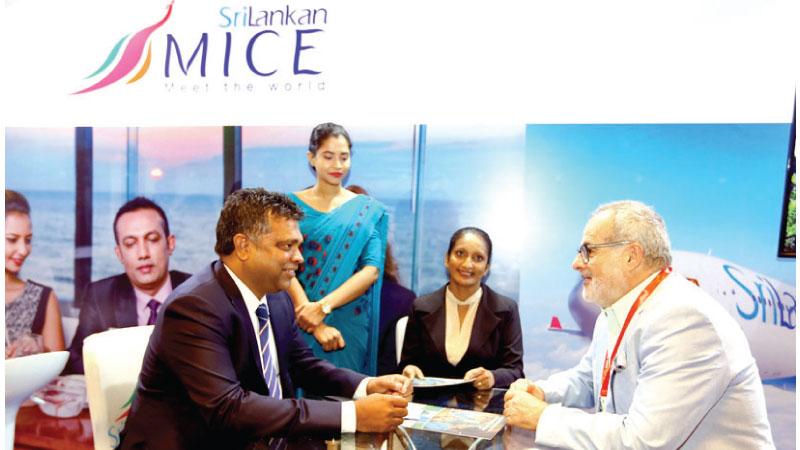 Sri Lanka plans to attract over USD 3 billion by hosting (Meetings, Incentives, Conferences, and Exhibitions (MICE) events this year, said General Manager Sri Lanka Conventions Bureau, Krishantha Fernando.
He was speaking to Sunday Observer Business on the sidelines of the MICE Expo at the Shangri-La Hotel, organised by the Sri Lanka Convention Bureau (SLCB) and Srilankan Airlines.
He said that India has emerged as a key player in the MICE segment for Sri Lanka.
One of the first mega events that was hosted this year was the Tata Tiscon event where over 400 Indian representatives participated. These included their sales agents and top management who stayed in Sri Lanka for more than three days.
Another event was the participation of members of V institute of India last month where representatives from 29 distributors participated.
"We have the Lupin and Pfizer conferences earmarked to be held in Sri Lanka this year which would be high profile MICE events."
Fernando said that one of the other major events to be hosted in Sri Lanka will be the India Travel Agents AGM where over 400 would participate.
"There are more such events happening this year and we target over USD 3 billion to come to Sri Lanka from these events."
Other than the dollar value that is brought to Sri Lanka these MICE events also give a huge boost to Sri Lanka as a destination as the participants carry a positive message about Sri Lanka.
"Also they come back with their families to Sri Lanka." Sri Lanka provides indoor and outdoor event facilities, hotel venues, resort, state-of-the-art convention centres and bespoke offerings, staffed by qualified personnel who can deliver according to global standards.
World-class infrastructure from hotels and many in-progress developments, such as Cinnamon Life, ITC Hotels and Port City Colombo, is also slated to open more doors to growth and investment in the future.
Commenting on the MICE Expo he said that the multi-day expo drew operators and stakeholders from all over the world, establishing Sri Lanka as an ideal MICE tourism destination.
Sri Lanka has been identified to provide a distinct blend of business and pleasure, as well as a geographically strategic location, making it ideal for corporations and organizations seeking to hold events, meetings, and conferences in a professional, yet exotic and vibrant setting.
The Bureau provides assistance and services to all industry stakeholders and works to promote and position Sri Lanka's suitability for MICE tourism on a global scale.