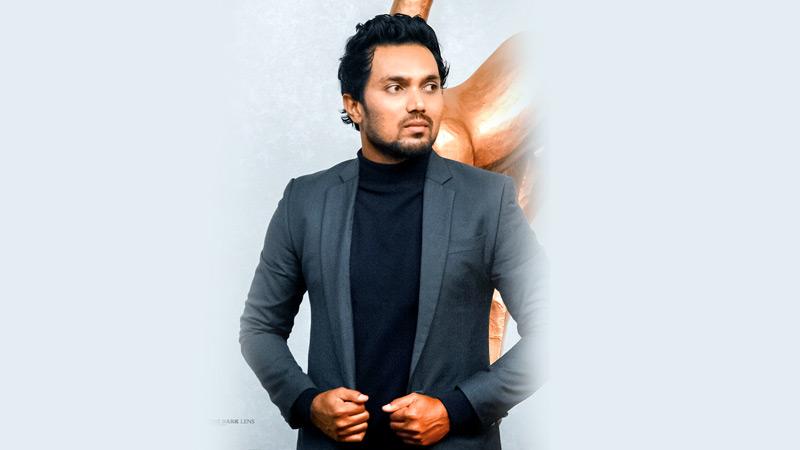 Certain opportunities are rare. This is why we do not miss opportunities. Receiving an opportunity to portray one's own life in a teleplay shot in his ancestral village is one of such rare opportunities.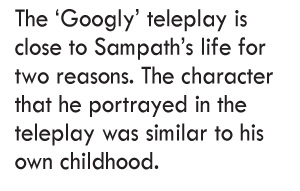 Today we had a chat with an upcoming actor Sampath Dadallage. Nestled in the lush greenery and sky-kissing mountain ranges, Uduwela is blessed with picturesque sceneries. Born and bred in Uduwela, Sampath studied at Uduwalawa Maha Vidyalaya and Embilipitiya National School. He holds an external degree from the University of Ruhuna.
Acting life
Not that Sampath had a craze for becoming an actor from his childhood. He embarked on his acting journey by accident. However, it has been four years since he entered the acting field. "I received this opportunity through my friend Saranga. His maiden teleplay was 'Queen' in which he played the role of an underworld criminal.
"I did not think that I could get more teledramas after 'Queen'. Anyway, unexpectedly many directors invited me to their teledramas. On one hand, I was lucky enough to play various roles. One of such teledramas is 'Thumpane' in which I played the role of a news reporter."
Not only that, he has contributed to several teleplays like 'Chalo', 'Messa', 'Googly' and so on.
Speaking of 'Chalo' which was telecast on Swarnawahini. No doubt you would remember Sampath Sir ( PE sir) in this teledrama. It is Sampath Dadallage who gave blood and breath to this character. In addition to these teleplays, what was more important to his life was the Googly teledrama.
'Googly'
Born in a village called Uduwalawa he spent life with great exposure to the natural environment. Playing cricket with village lads and bathing in rivers, he has spent evenings in his village. The 'Googly' teleplay is close to Sampath's life for two reasons. The character that he portrayed in the teleplay was similar to his own childhood.
The second reason is that Googly was shot in his own village. "It is a rare opportunity that one can grab. Googly was shot in various places like Sevanagala, Katupiligama, Kowul Ara and so on. Apart from these telephone dramas, you will see Sampath in more teledramas in the near future. For instance, 'Apey Amma', 'Pas', 'Yakkanada', 'Give me a second', and 'Oh my God'. When asked about the music videos, Sampath mentioned that he is being invited to several music videos.
Unforgettable experience
"It is regrettable to say that some artistes are unbecoming. This is one of my unforgettable memories in my acting life. I acted in 'Queen' teledrama which revolved around an underworld leader. In one of the sequences I had to keep on massaging my boss's feet. Unknowingly I had kept on massaging his feet even after the relevant take. Actually at that time I did not have any idea of the field. But, other actors should have told me that the take was over. But it did not happen. I kept on massaging his feet for around 20 minutes even after the take was over.
"You know who played the role of the underworld leader in the teledrama. If this trend continues any longer, right thinking artistes will have to pay for the sins of others. Therefore, it would be better to expel the bad eggs. If not, Sri Lanka 's teledrama industry will not be second to the Beira Lake.
Time management
Dadallage works at the Department of Prisons. No wonder that he is up to his eyeballs in his career. In response to my question about his time management, he said that all the officials and the staff members should deserve a big thank you for giving him enough freedom. Neither did he forget to mention his better half and beloved kids.
Even though I am working in a fast-paced environment, it is my wife Nadeeka who sweetens my career. I have two kids, a son and a daughter. Both study at Bodhiraja International School, Embilipitiya."
Winding up our conversation, Sampath,with respect and love, paid his gratitude to everyone who helps him. "I would like to thank producer Janaka Sampath, Lasantha Madhushan, Saranga, Dinidu Sameera and also my fans."