Rudeboyray, the independent, conscious rap artist who has been making significant strides in Sri Lanka's music scene since 2014, is quickly becoming a force to be reckoned with in the country's creative industries.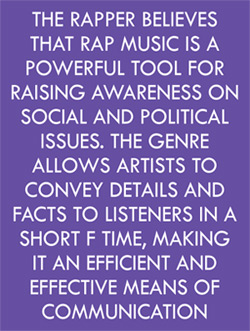 Born Rayviyan Floyd Driyon, he is also affectionately known by his old fans as Ruda. With Chilaw being the hometown and a background studying at Royal College in Colombo 7, he is a multi-talented creative person whose socially conscious music, creative vision, and thought-provoking content have captivated audiences.
As a lyricist and rap artist, Ruda has developed a unique style that resonates with the experiences and struggles faced by many Sri Lankans. His sharp lyrics and unwavering commitment to authenticity have garnered him a loyal fan base drawn to his powerful voice and message.
Beyond his music, Rudeboyray is also a gifted scriptwriter, director, and editor, having lent his creative touch to all aspects of his artistry. He is also the host of the popular 'Adikaram Sithivili' podcast and the curator of the thought-provoking 'Adikaram Sithivili' blog, where he continually engages and challenges audiences with his ideas.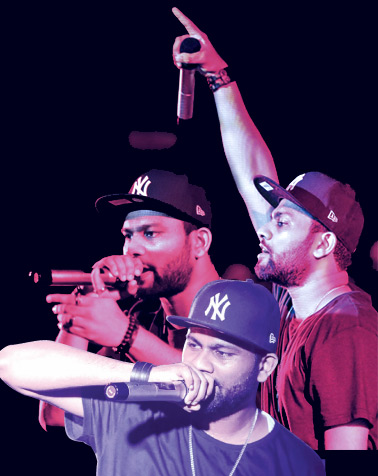 The rising star's unique perspective and creative insights are sure to leave a lasting impact on the Sri Lankan creative scene. In an interview with Youth Observer, Ruda shared some of his thoughts and ideas.
From a young age, music had always been a passion for Rudeboyray. However, it was not until he received a CD from a friend in grade 7 that he discovered his love for rap. The CD contained several English songs, including three by his idol, Eminem, namely, 'Lose Yourself', 'Mockingbird', and 'How Come'. The young artist was instantly inspired and began to pen his own rap verses. Rudeboyray and his friends would often rap together for fun during school.
"My biggest influence is Eminem. If it wasn't for him in 2004, I wouldn't be rapping today. His lyrics made me wanna write what I had in mind and to be creative. I learned a lot by studying him, the rapping and breathing techniques, writing, rhyming, and more than everything, to have the guts to speak out my mind and be myself," he said.
The beginning
After completing his Advanced Level exams in 2014, Prasa KG from 'Ahasa Crew' invited Ruda to join the group. This was the beginning of his journey as a Sinhala rap artist. He stayed with the group until 2018 when he decided to embark on a solo career.
For Rudeboyray, music is not just a career but passion that he purses with dedication and commitment. He considers himself fortunate to have discovered his love for music at a young age, and Eminem's influence has played a significant role in shaping his journey towards becoming a successful rap artist in Sri Lanka.
Through studying the lyrics and music-making process of these influential artists, he has gained valuable insights and confidence in his own abilities. His dedication and commitment to his craft have made him a rising star in Sri Lanka's music scene, and fans eagerly anticipate his future projects.
Ruda's creative process is no easy feat, as he takes his time to craft each song with care and attention to detail. When it comes to his approach, he likes to take his time to fully immerse himself in the songwriting process, never rushing the creative process.
"Pushing my mind to make a rhyme out of nowhere, make a wordplay in a space that is too tight, and give a banging set of punch lines. It's a huge process, to be honest. And I get ideas from loads of things, in fact, I get ideas from everything I see, read, or feel, from the incidents I see around the world, my personal experiences, my imaginations, fantasies, etc," he said.
He spends hours, weeks, and sometimes even months listening to the instrumental track on repeat, allowing the beat to sink in and inspire him. From there, he begins to write the context and story that he wants to convey in the song. It's a meticulous process that involves fitting together every piece of the puzzle, word by word.
For Ruda, crafting a song is not just about the final product, but also about the journey of bringing the story to life.
His debut studio album 'Trvcknvtion' released on February 4. The album features ten tracks, all of which were written by him, except for the verses from the featured artists. The album includes collaborations with several prominent conscious rappers such as Mihindu Ariyratne, Ajith Kumarsiri, Minol Witharana from Drill Team Westnahira, Master D, Pavithra Rasanjana, and Xyren. The album's production was handled by Harindu Fernando, who is known as Shredder Beatz.
Trvknvtion
"The album focuses on social politics, consciousness, social issues, philosophical topics, and more. Trvknvtion is a play on the words 'Track-nation' meaning a nation that is sick, naive, or stupid. This name has been chosen to reflect the lack of judgment and ridiculous actions of politicians and the public, which have led the country down the drain over the past few decades," he said.
Through this album, his goal is to raise public awareness and encourage listeners to look at situations from a different perspective. As a young artist, he sees it as his responsibility to point out what is right in front of our eyes that we have been ignoring, and how it has affected the country's future.
One of the album's featured tracks, 'Kesarek' has already been released along with a music video that features rapper Master D. The album is now available for streaming and purchasing on all major music platforms such as Spotify, Apple Music, Google Play, and Amazon.
Rap music, a genre that emerged in the early 1970s at block parties in NewYork City, has a unique ability to raise awareness on social and political issues, according to Rudeboyray.
He explained that rap music was a way for those from lower socioeconomic classes to make themselves heard and noticed, as well as a way to deal with difficult realities and find like-minded people.
In summary, the rapper believes that rap music is a powerful tool for raising awareness on social and political issues. He noted that the genre allows artists to convey details and facts to listeners in a short period of time, making it an efficient and effective means of communication.
Despite the recent surge in popularity of rap music in Sri Lanka, the genre is yet to gain widespread acceptance as a serious and meaningful form of expression, he added.
It is imperative that rap music is viewed in a more serious light in Sri Lanka. The lack of knowledge and understanding of the genre among the populace has contributed to a negative impression of rap culture.
"The prevailing perception among the general public is that rap music is simply a vehicle for showcasing braggadocio, with rapid vocals and rhyming serving as mere fillers in songs. This perception has resulted in conscious rap music receiving little attention or recognition in Sri Lanka, remaining largely confined to underground circles. In order to address this issue, individuals like us must take the initiative to promote and educate the public about the significance and importance of conscious rap music," Rudeboyray concluded.