This was one for the history books, as five bands brought the house down at Darley Rd last Saturday, March 4. Rock 'n' Roll is one of the spiritual successors to Rock Company and their recent show captured some of that nostalgia of the Rock Saturday events in the 2000s. The show was jam packed with long-time rock and metal fans and some newcomers. The Darley Rd restaurant lent a great vibe to this musical evening in downtown Colombo.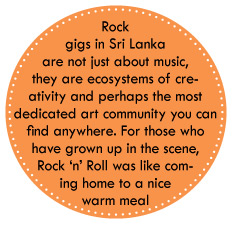 The atmosphere was heavy with the usual rocker camaraderie with many hugs and hellos shared among the musicians and the attendees. Rock gigs in Sri Lanka are not just about music, they are ecosystems of creativity and perhaps the most dedicated art community you can find anywhere. For those who have grown up in the scene, Rock 'n' Roll was like coming home to a nice warm meal; it didn't disappoint.
Kalm is a band that had been in the game for a couple of years now; 'Youth Observer' spoke to the band's lead singer Kanishka for his thoughts before the gig. "I have a different outfit, but Kalm is my classic rock and rock and roll outfit. We started back in 2013 and we stopped after two years broke up and we all wanted to explore some other stuff. And we got back together for one-off kicks after seven years in 2022. We also played for the first Rock 'n' Roll gig ever. I was also part of the team that started Rock 'n' Roll with Nauwwa".
Artified
The gig opened with electronic music duo 'Artified' featuring Paranoid Earthling's Kasun 'Kassa' Nawarathne and Wan Ni. 'Artified' set the tone with a range of sounds; combining aggressive electro-dance music, trap, psytrance, traditional 'Hewisi' drumming and religious chanting. 'Artified' eased the audience with ambient waves, building up to a cumbersome crescendo and blasted back angry psychedelic beats that got the floor dancing.
Mess of Things
Next up was 'Mess of Things' in their debut show looking and sounding flamboyantly punk rock with their early-2000s pop and alternative covers. Opening with a cover, the band got the audience to sing along with throwbacks like 'Make Me Wanna Die', Skater Boy and the Police's classic hit 'SOS'. They also cut their teeth with new material by giving their own twist to the Weekend's hit song 'Starboy'.
Kalm
Kalm started with a slow and powerful 'Voodoo Child' texturing the rest of the song with a heavy bass line and funky guitar work that had the crowd's heads bobbing from start to finish. Kalm also played an explosively groovy take on Pink Floyd's 'Another Brick in the Wall' and topped off with decent 'Whole Lotta Love'.
Ilaya Nila Isaikkuzhu
'Ilaya Nila Isaikkuzhu' followed, introducing themselves as 'INIK' since a lot of people, including this writer, have had a hard time pronouncing this name. 'INIK' had been making waves in the scene. Referred to as "that Tamil band" they have been playing the local pub circuit for some time and made a sound of their own. The band took it off with a really powerful cover of the Vikram film's theme song adding angst as they went.
They played a couple of hit film songs including 'Pudu Vellai Malai' by A.R. Rahuman and Rounding off with an emotional ballad; 'Loosu Penne' from the film 'Vallavan'. We spoke to INIK's Keyboardist Chrishan Rasiah and he said the show was a learning curve for the band. "We are really happy that we got a stage to showcase. This was a medium to reach out to new people. We also learn about other bands; how they perform and how they perform. We've been to other events like MSR, but we've never had the chance to share the stage with bands from other genres until Rock 'n' Roll".
Paranoid Earthling
The show's final act was 'Paranoid Earthling (PE)', following up on Salvage. It's been over two decades since PE's humble grunge origins in the hill capital in Kandy and its lineup has changed a few times in its evolution. Its current iteration includes original member Mirshad Buckman (vocal/guitar) 'Kassa' (guitar), Harshan Gallage (drums) and newcomer Riyal Riffai from Dot Dotay. PE's sound has been transitioning since the 2010s when it grew loader and angrier with hardcore punk and metal influences and the band's tours abroad, including one to Kabul, Afghanistan in 2012.
It's been a year since the veteran rockers took to the stage. Their last appearance was an impromptu show at the Gota Go Gama protest site. The PE's didn't disappoint as the crowd went crazier with each number. The politically charged songs like 'In Black and White' which featured crusty, hard-punk guitar riffs accompanied by blast beats. The band also premiered its new song 'Rein' and ran through 'Deaf, Blind, Dumb' and 'Open up the Gates' until the fans demanded an encore. This request was fulfilled and Asela Bandara was invited on stage to play bass to finish up the night with the PE classic 'Rock and Roll is my Anarchy' which got a massive ovation.
We asked Riyal Riffai what he feels about working with PE. "I'm finding different mediums to channel my emotions. With Paranoid Earthling I like to retain the identity of the band and not highlight myself because at the end of the day I'm a new member and I have my own flavour."