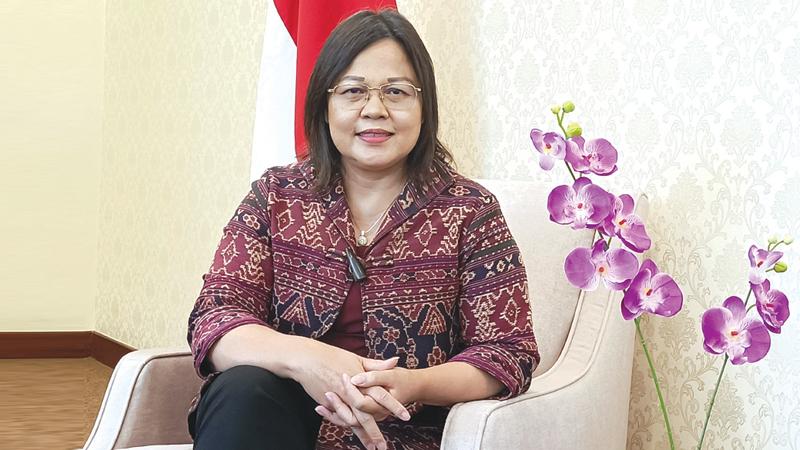 Indonesia is keen to help revive Sri Lanka's agriculture sector, especially the palm oil industry that could bring in huge amounts of foreign currency, said Indonesian Ambassador to Sri Lanka, Dewi Gusting Tobing.
She told Sunday Observer Business that Indonesia supported Sri Lanka during the C-19 pandemic providing essential medicines and other necessities.
She said that one of the priorities for Sri Lanka is to bring in more foreign currency to breach the import-export gap. "One area for this is to take a re-look at palm oil plantations which was cold shouldered by the last regime.
"We see tremendous opportunities in restarting the palm oil plantations in Sri Lanka as it could firstly reduce the USD 50 million import bill on palm oil and then go on become another country that earns foreign exchange through palm oil exports adding a new product to Lanka's export catalogue."
Indonesia is the world's largest exporter of palm oil. In 2021, its total palm oil exports amounted to 26.9 million metric tons brining in a revenue of around USD17 billion.
The palm oil industry has grown to become an important part of Indonesia's economy, representing 4.5% of GDP and lifting millions of Indonesians out of poverty.
"This is why we are keen to promote this in Sri Lanka as a friendly country."
She said that in Sri Lanka the less effluent people could benefit from them and they are even ready to provide Sri Lanka with Palm oil seeds and all the necessary technical advice as well.
Oil palm plantations stretch across 13 million hectares and are projected to reach 14 million hectares by 2023. "This clearly shows that the common accusation made against palm oil cultivation that it has severe environmental impacts and dries water generating resources is totally false."
She also recalled that India too has stated an aggressive campaign in growing Palm oil trees and this too proves that value of the crop.
She said in addition to Palm oil the Indonesians are ready to assist Sri Lanka in other agro aspects as well.
She also said that Indonesia is keen to formulate a Preferential Trade agreement (PTA) leading to a (FTA) between the two countries.
"Indonesian counterparts are ready for a PTA and we need initiative from Sri Lanka in this regard.
She also disclosed that a budget airline originating from Indonesia will soon operate direct flights to Sri Lanka.
She also informed the public that Indonesia is now offering Visas in just five days and a lot of red tape has been removed.