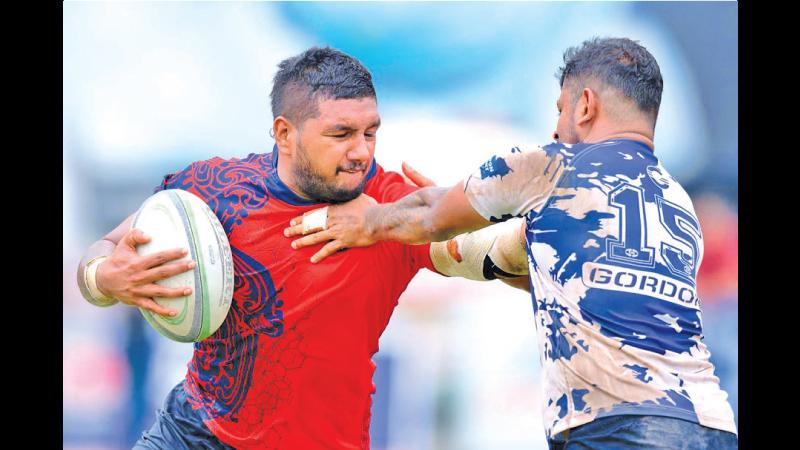 Sri Lanka's best and most prestigious prize in rugby, the Clifford Cup, will be up for grabs today at the Race Course ground in Colombo when two of the hottest teams the Ceylonese Rugby and Football Club (CR and FC) and Navy SC scrum down in the tournament's much awaited final.
Both teams went through some of the hardest moments on the rugby field this season and move out as the toast of the clubs in Sri Lanka.
CR will be at full strength and their captain and scrum half Kavindu de Costa has some of the best players at his command against a Navy opponent that will stop at nothing in their quest to lift the trophy.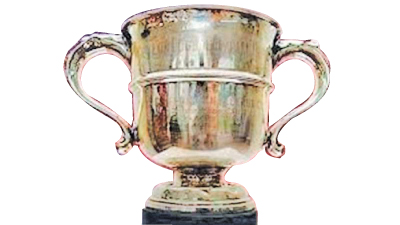 Clifford Cup
Players in the mould of fly-half Thenuka Nanayakkara and playmaker cum centre Chathura Seneviratne, Manelka Ruberu, Number Eight Lasindu Ishan Karunathilake, hooker Amith Gunasinghe, winger Gamunu Chethiya, flanker Raveen de Silva and full back Mursheed Doray will have to be at their best this evening for the Red Shirts should they hit rough seas.
Navy SC went into the semi final against Army as the underdog and thanks to a spectacular drop-goal from full back Thilina Weerasinghe snatched victory in extra time after the scores were deadlocked at 13-13 at the end of the match. But today they move out on an equal footing.
Likewise CR's playmaker and centre Chathura Seneviratne's kicking boot will have to play a major role in this game.
"In the final whether we face Army or Navy, it is almost equal. Both are very good sides and especially in this knockout tournament they have improved a lot and playing far better rugby than they did in the league tournament," said CR head coach Dushanth Lewke in an interview with the Sunday Observer.
Lewke's CR last won the Clifford Cup in 2006 when they thrashed traditional rivals Havelocks 37-5 in the final and there can be no guarantee they can romp home winners that easily as Navy can be more challenging than Army did.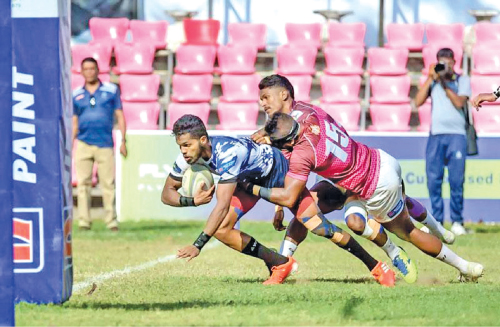 Harsha Maduranga, Navy's scrum half and captain for today's final breaks through the Havelocks defence to score a try during their League match
"We anticipate a strong battle up-front from the Navy boys and we are prepared to overcome the challenges. This is CR's centenary year and hopefully we can win the trophy after 17 years", said Lewke.
The experts touted Navy as the Dark Horse of the Clifford Cup and their skipper and scrum half Harsha Maduranga who is not short of leadership qualities with much to deal with.
"Navy is playing far better rugby that we did in the League and we know that CR is the team to beat.
"We lost to CR in both League games after leading in the first half. This time we take them on after doing our homework and we want to take this Clifford Cup back to Welisara," said Navy coach Saliya Kumara.
Going by their performances so far, the encounter is expected to be a close tussle for supremacy with CR holding an edge over Navy SC in a final fit for a king.
CR & FC (Probable XV)
Ashan Darling, Amith Gunasinghe, Lahiru Pavithra, Soyuru Anthony, Raveen de Silva, Achitha Radeshan, Shehan Kelaniyagoda, Lasindu Karunathilake Kavindu de Costa (captain), Thenuka Nanayakkara, Ruchira Ekanayake, Chathura Seneviratne, Manelkar Ruberu, Gemunu Chetiya, Mursheed Doray
Navy SC (Probable XV)
Charith Silva, Pulasthi Dassanayake, Deshan Wimukthi, Dananjaya Seneviratne, Nirosh Perera, Adeesha Weeratunga, Gihan Perera, Harsha Maduranga (captain) and Dinesh de Silva, Thilina Weerasinghe, Musheen Faleel, Lahiru Herath, Thanuja Maduranga, Samuel Maduwantha, Janith Laksara