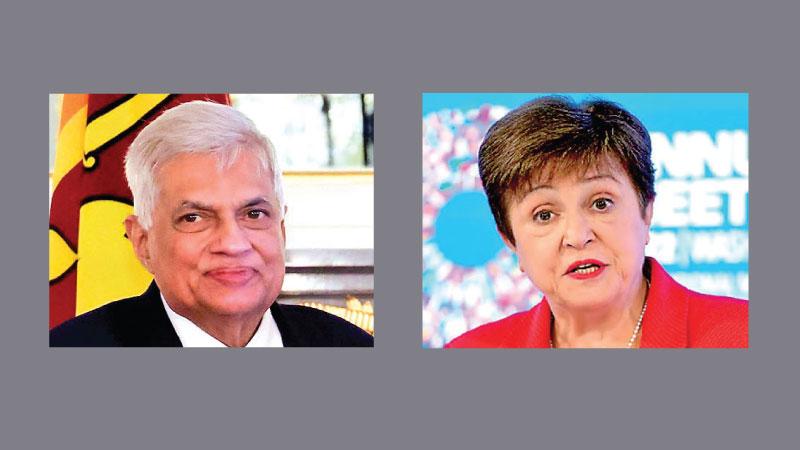 Sri Lanka edged closer to securing a US$ 2.9 billion Extended Fund Facility (EFF) from the International Monetary Fund (IMF), following an extensive Zoom discussion on Thursday between its Managing Director Kristalina Georgieva and President Ranil Wickremesinghe.
The discussion focused at length on the IMF financial facility and the expected debt restructuring for Sri Lanka, which has received the support of most lending countries and multilateral agencies.
This conversation has augmented the prevailing sense of optimism among all stakeholders involved in Sri Lanka's debt restructuring and IMF financial facility.
It is noteworthy that the IMF Managing Director held this discussion with the President in the aftermath of the recent discussion with the Chinese Prime Minister on the issue of debt restructuring. According to a recent report by Bloomberg News, Chinese Premier Li Keqiang has expressed China's willingness to participate in multilateral efforts aimed at constructively contributing to debt-ridden countries during a discussion with the IMF Managing Director. The report further suggests that debt-ridden countries such as Sri Lanka and Pakistan, which also requested IMF assistance, are taking steps towards taking joint action in this regard. Meanwhile, the Central Bank of Sri Lanka (CBSL) said that it is ready to adopt the IMF program in March, during its Monetary Policy Review on Friday.
The CBSL unveiled new concessions on the debt of micro, small and medium enterprises (MSME) and individuals including fixed income earners and pensioners affected by economic hardships. While noting that ongoing issues pose challenges to banks' ability to recover outstanding loans and advances, CBSL Governor Dr. Nandalal Weerasinghe on Thursday (2)called upon all banks to restructure and reschedule credit facilities on performing and non-performing borrowers.
There have been discussions between the CBSL and IMF staff on inflation outlook and both parties have been continuously negotiating on monetary policy amid high inflation and uncertainty surrounding inflation projections and near term outlook.
However, given the need to fulfil prerequisites to finalise the IMF's Extended Fund Facility (EFF), the CBSL's Monetary Board and the IMF staff reached an agreement to raise policy interest rates, on a smaller scale, compared to the adjustment, which was ideated during the initial stage of negotiations. The IMF Mission in Sri Lanka said the Central Bank's decision to raise the policy rate is appropriate and in line with its objectives set under the inflation targeting framework.
Senior Mission Chief for Sri Lanka Peter Breuer and Mission Chief for Sri Lanka Masahiro Nozaki said that it reflects CBSL's commitment to the inflation target and an important part of the disinflation strategy in the EFF program. CBSL's projections show relative contribution to inflation from the main factors, such as transport and food and non-alcoholic beverages, to be decreasing in recent months. Its indicators also project that core inflation would also follow a similar disinflation path.
The finalisation of the IMF's arrangement is expected to benefit all stakeholders and bolster confidence, which would help restore economic stability and draw in much needed forex inflows to help Sri Lanka overcome the prevailing economic crisis.
According to the CBSL, the external sector outlook remains positive with the expected improvements in monthly export performance, worker remittances and tourist arrivals.
Sri Lanka's decision to raise interest rates shows the crisis-hit country's commitment to reducing inflation quickly towards single-digit levels, the IMF said on Saturday.