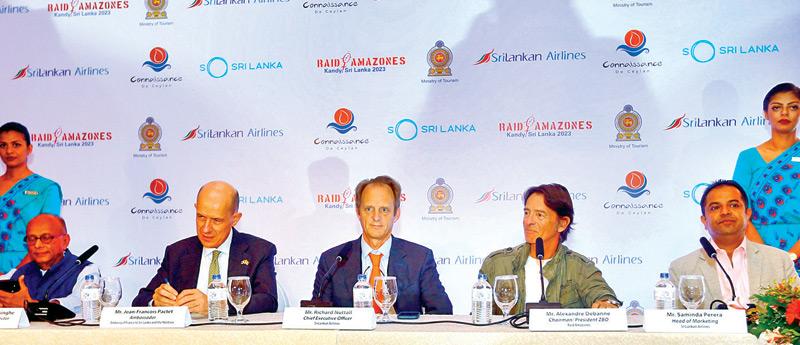 As the Presenting Partner, SriLankan Airlines will welcome Raid Amazones, the only travelling women's adventure race in the world, to Sri Lanka for the second consecutive year.
Almost 250 female athletes will compete in Raid Amazones, which will take place between March 19 and March 29 in Kandy.
The tourism business is being revived by Sri Lankan Airlines, in part through luring significant international events that highlight the island's attraction to a variety of travel preferences on a global scale.
French-born Raid Amazones is a yearly destination adventure event where female athletes compete in a variety of sports, including orienteering, mountain biking, canoeing, horseback riding, jogging, and archery. The founders of the event chose Sri Lanka over competing locations because of the friendliness of its people and the help available locally to organise a successful event.
Their choice is also a result of the airline's persistent marketing efforts to repeatedly secure the well-travelled route for Sri Lanka when it needed assistance from the world tourism community. As they travel through the Kandyan plateau on the 21st iteration of the route, participants will have the opportunity to interact with a variety of historical and environmental features. But, their voyage would start as soon as they board SriLankan Airlines' aircraft for the flight from Paris to Colombo, which will be outfitted with a special livery for Raid Amazones 2023. "I decided to organise the 21st edition of Raid Amazones back-to-back in stunning Sri Lanka after my experience with the 20th Raid Amazones there and the positive response I received from the competitors last year. Without partners like SriLankan Airlines and others, this would not have been possible, said President and Co-Founder of Raid Amazones, Alexandre Debanne adding, "I made a vow to come back to Sri Lanka again, as I believed this is the greatest time to show the world how safe and true Sri Lanka is."
Chairman of SriLankan Airlines, Ashok Pathirage, said, "We are delighted to welcome the Raid Amazones 2023 competitors to Sri Lanka once more. Each participant will undoubtedly discover their adventure in Sri Lanka, and I hope that when they return to their home country, they will have incredible experiences that will inspire other intrepid travellers to travel to and explore Sri Lanka. Our goal as SriLankan Airlines is to move the nation ahead as well as to grow as an airline, and working with international events helps us achieve this goal in a big way."
Chief Executive Officer, SriLankan Airlines, Richard Nuttall said, "SriLankan Airlines surely makes no exceptions when it comes to bringing attention to Sri Lanka on a global scale. By collaborating with Raid Amazones again this year, we hope to spread the word that Sri Lanka has something to offer any adventure traveler.
"We hope to work with Raid Amazones for many more years since we believe in creating long-term relationships that pay off with ongoing possibilities to showcase the airline and nation," he said. Soon after beginning service to Paris again in 2022, SriLankan Airlines collaborated with Raid Amazones. The Airline and Sri Lanka are probably going to profit over EUR 10 million from the 21st edition this year. Particularly in France and the rest of Europe, where Raid Amazones is popular, the anticipated media coverage will help promote Sri Lanka as an adventure travel hotspot and draw adventure-seekers. That represents SriLankan Airlines' ultimate objective.