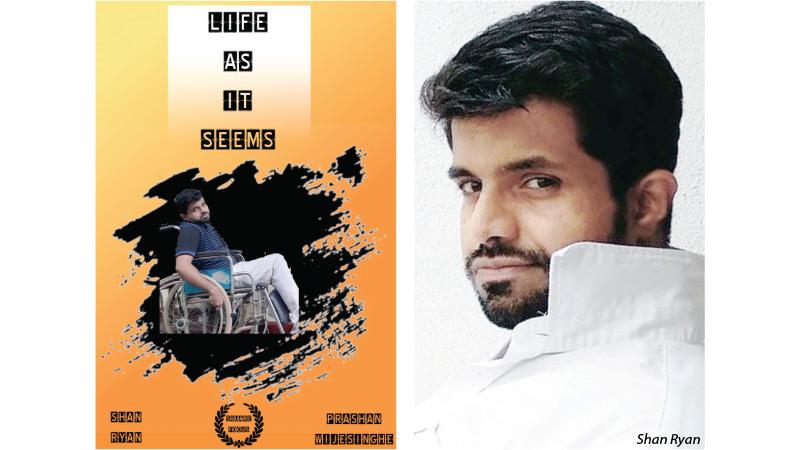 'Life as it seems' is a short-film directed by a young film maker Shan Ryan and produced by Square Focus Creations.
Ryan is currently pursuing a MBA degree at the University of Metropolitan. This short film revolving around a person in the marketing field has been based on personal life and career life.
The plot
As noted by director Shan, the plot of the film 'Life As It Seems' has been woven around a person who works in the marketing field. (Let's call him X for now.) The director has captured the rise and the downfall of his life.
The main role is played by Shan himself and Prashan Wijesinghe plays the second lead role in the film. However, X (played by Shan) works in a fast-paced environment under unbearable pressure. This is because he has to cover business targets without delay.
On one hand, he has been trapped in a rat-race. Unfortunately, X fails to cover his targets on time as expected by the top managers of the company. Eventually, his boss showed him the door. Hopelessly, when he was returning his home, he met with a road accident.
As the old saying goes, he fell from the frying pan to the fire. Being self-motivated, he steels himself to face the cruelty of his destiny. Never did he get overcome by the hardships. As highlighted by the director, one should face problems and tragic incidents with confidence.
"This film gives an example to everyone, no matter who you are or what you become, you still have to lead a perfect life by facing every obstacle that obstructs your path."
The film was first released online on the 4th of February.
Message
Life is a sea of troubles and hardships. Thorny and bitter but every cloud has a silver lining. Our sky-high hopes for that single silver lining keep us alive and happy. When problems and hardships test our stamina, we should take up those challenges with our inner strength. It is correct to say that this short film instills self-determination in our minds.
The film director Shan is of the view that one should rise from the ashes. He symbolizes the life story of a determined person through these two characters in his film.
Future plans
Surprisingly, Ryan has made this short film not for money. His curiosity of the Sri Lankan film industry enabled him to make a film.
When asked about his future plans, he said, "We made this short film not for money but for our enthusiasm in the Sri Lankan short film industry. Apart from that, I will make similar short films based on our life experiences in the future. 'Nothing's Forgotten', 'Life Online' are some of them. In addition, we would like to participate in any talkshows, podcast sessions, press conferences or any sort of programs to share our ideas and opinions."