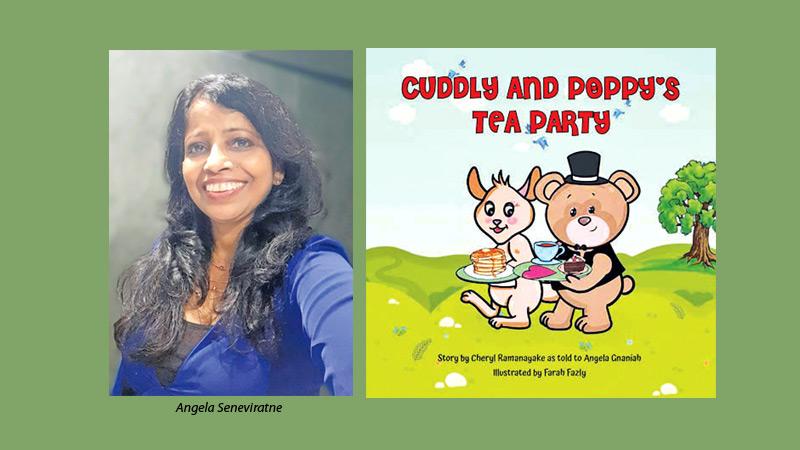 Cuddly and Poppy are a teddy bear and a kangaroo are whiling away their time during school holidays and, as you would expect, as much as you look forward to the hols, if you don't find ways to keep yourself occupied, you can quickly get bored! And so, it came to be that Cuddly and Poppy came up with a glorious idea… they were going to throw a tea party.
The author of 'Cuddly and Poppy's Tea Party' is storyteller Angela Seneviratne. Speaking to Angela about her inspiration and love for storytelling she tells us, "As a child, I was captivated by the stories that were told to me. And who were my storytellers? My great grandmother, grandma, dad and mom! I listened to tales of ancient family history and life in South India and their tales of war time heroics were my favourites. I also loved the spooky ghost stories that my grandma and mom were so good at telling."
So influenced, Angela entered school, but peculiarly enough, she remembers she didn't like writing as a child. The rules she was doled out were more restrictive and adverse to her vivid imagination.
Breaking out
"It was at a book launch of long-time friend and classmate, Dr. Carmel Miranda Wikramanayake of 'Crossmatch' fame, commented that she thought "Angie has been a writer, not just an author! For as long as she can remember she said I wrote extensively!" which I found quite inspirational," says Angela.
Breaking out of the dislike for writing, she eventually wrote poems, composed songs and started writing an autobiography. Angelahas a personal blog too but shares it only with trusted family andfriends. Aside from her debut children's book, "There's an adult novel on the back burner..." says Angela.
Speaking about how she came about writing her first children's book, Angela has this to say, "I wrote to please myself and express situations and events. A friend encouraged me to share some of these at Poetry Pilau and the WadiyaWriters Club...I think I got put off with the criticism about my writing, but what gave me the confidence is just one person's belief in me. That's my friend Cheryl Ramanayake whom I shared a lot of time with.
"The book I finally authored and published was a result of a conversation I had with her. Since we were in lockdown I used to call her frequently and Cheryl Ramanayake went on a thought trail talking about Teddy bears and lovely food and a Tea Party. I suggested we write it all down, and her reply was, "You are the writer; you write!" So I jotted the outline and shared it with her. She sounded excited and very happy. I had motivated her in the end, which was all I wanted to do and I had achieved it for the day.
"I then added Teddy's friend the Kangaroo and a host of other animals to represent our common friends from diverse backgrounds and different personalities. This is how the storyline came about – toinvite those who may not be that popular, those who were shy and different!," she said.
Her friend
Angela tells us about her friend Cheryl, who had limited mobility due to an illness she suffered at a very young age. "Our friendship spanned over 38 years. She was brave and cheerful and always looked forward to my visits. Sadly, Covid put a temporary end to that for two years. She passed away less than three weeks after our conversation. This spurred me onto completing the project in her memory… I'm glad I did it and launched the book exactly a year later."
Ten percent of the proceeds of the sales of this book goes to a Charity called LEADS, which brings awareness on Child Rights and protection nationally.
"Today I enjoy doing my own marketing of the book, ably assisted by my publisher. It's great to see my banking experience also paying off! The networking I learned to do and the word-of-mouth marketing have been invaluable and, as a result, my books have reached Canada, the Czech Republic, the US, the UK and Australia," she said.
In terms of future plans, Angela tells us that she is looking forward to going into two government schools close by to where she lives, as the principals want to elevate the reading interest among the primary school.
"I will be publishing a Sinhala version soon which is almost complete and a Tamil version is to follow," says Angela. My second book in the series, Cuddly and Poppy's adventures in English is already being edited… and the last is set on a n adventure in Sri Lanka and a plane ride for Cuddly and Poppy," she said.