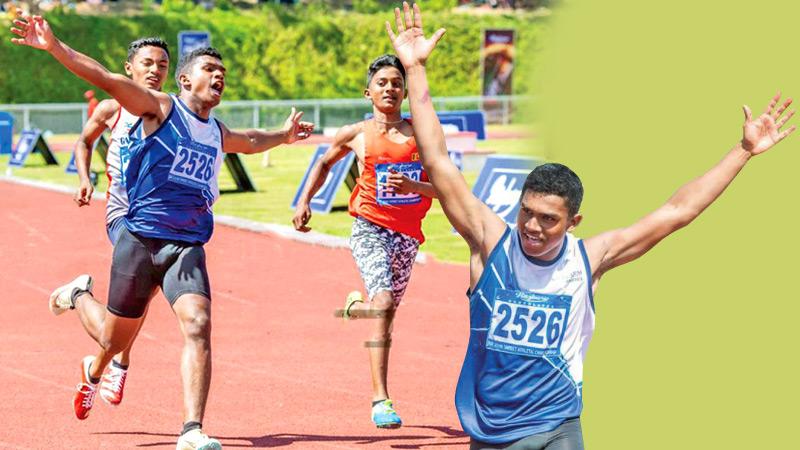 Perfect balance between sports and studies no doubt creates perfect personalities with brilliant performance. Seldom do we encounter such personalities.
The truth is that our energetic youth are second to none. The Youth Observer had a chat with Kenul Dulmin who belongs to the calibre of multi-skilled athletes.

He is studying at Lyceum International School, Wattala. Born on 4 December 2007, Kenul has showcased his inborn skills and talents in sports. Being a bright student among other students at the school he has garnered an immense popularity as an all rounder.
He has distinguished himself in his studies and sports. Kenul began to shine in the under-12 relay events at his young age. In 2020 he brought pride and glory to his parents and school by winning the gold medals at the 200m running event.
What is surprising is that he was able to prove his same commitment for his studies as well. He starts off his practices at 5.30 a.m and continues until 8.00 a.m. If you happen to go to the Torrington ground around 5.30 a.m, you will definitely meet him.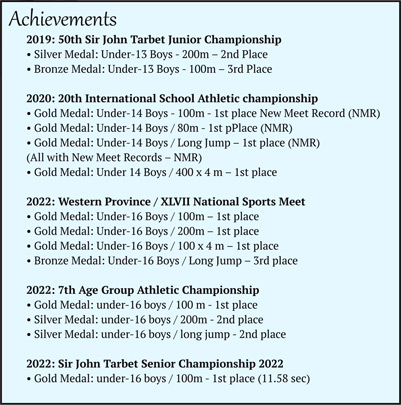 Speaking of his parents' commitment, his father provides him with everything he needs, while his mother drives Kenul to the ground every morning. On one hand, Kenul is lucky. However, it would not be correct to expect that life journey is rosy for all. we can not turn a blind eye to unanswered issues among our youths.
There are skillful youths who hail from deprived families. The harsh truth is that those who fail to afford three square meals a day can not be expected to spend money on sports. Kenul's stance on such loopholes in our society is worth mentioning.
"Those who show much passion and love for sports during their childhood tend to give up their dreams as they grow up to adulthood due to their economic problems. Rarely, some youths grin and bear it and accomplish their goals despite all the hardships.
"My intention is to support our talented youths who hail from depressed classes so that they can put Sri Lanka on the world map. That is what I want to do," said Kenul.
True that our young generation, if guided properly, can win the world. This is what I gathered in the conversation with Dulmin.
Q: Tell us about yourself?
I am Kenul Dulmin from Makola. I am studying at Lyceum International School, Wattala.
Q: How did you balance studies and sports?
I have a personal timetable. Therefore, I can allocate time for my studies as well. Play is important for a healthy life. Those who are not contributing to extracurricular activities at schools surely have plenty of time for their studies. But, we have to manage time for sports and studies. I am not doing sports at the expense of my studies. My teachers are supporting me to balance both. They teach lessons which I had missed. My school lets me participate in running events.
Q: Do you take supplements to boost your energy?
No. I never take drugs or supplements to boost my energy because it is a temporary stimulation. If you want to win, you have to achieve that goal through your efforts. I do want to improve and sharpen my skills to achieve more targets.
Q: Can you talk about the support from your parents?
My parents are very supportive of me. My father provides me with everything. My mother drives me to the ground every morning. I feel that I am lucky because my parents give me whatever I want. In addition, I should remember my coach. He is Umanga Surendra. I have to mention that my friends too support me. They always encourage me.
Q: Who is your role model?
Speaking of role models, a name springs to mind. He is Usain Bolt. I follow Usain Bolt to learn techniques. I watch his tutorials on YouTube to improve my skills.
Q: What is your take on talented youths from deprived families?
There are talented youth in our country. Some of them are from poor families. They cannot spend a lot of money on shoes. As a result, they give up sports. That is the problem. Even though they are talented, they can not continue sports activities due to economic difficulties.
Q: Do you have a solution to it?
My intention is to support such athletes so that they can achieve their goals. If we can lend them a helping hand, they will definitely put our country on the world map. This is what I learned from Yupun Abeykoon. We should not be selfish. There is no need to show your generosity but you have to prove your generosity and loyalty.
Q: What is your goal?
I wish to participate in the Olympic Games one day and win a Gold Medal. It is my goal. I need to run for my country and lend a helping hand to other athletes. To be honest, I am not satisfied with what is going on in the country. Those who are from poor families become helpless. Therefore, I am ready to support them and rejuvenate our younger generation.
Q: Can you recall your unforgettable memories?
Yes, When I was getting ready for a running event, I faced a hamstring injury. At that time, one of the well experienced physical therapists Dr. Nimal guided me to win the game despite the injury. He motivated me in many ways. I still remember Dr. Nimal.
Q: What is your message for other athletes?
If you are talented, prove your skills and talents to the world. Don't give up. Try to achieve your goals with your dedication and commitment.