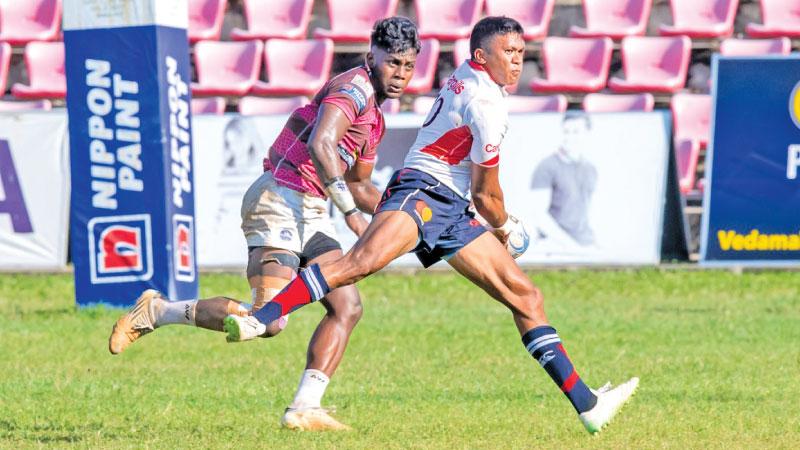 Kandy SC maintained their clean sheet as they defeated Havelocks by 35 points (4 tries, 3 conversions, 3 penalties) to 15 points (2 tries, 1 conversion, 1 penalty) in their Nippon Paint 'A' Division inter-club League rugby first round fixture played at Havelock Park yesterday.
At half time Kandy led 22-3.
The match got off to a fabulous start with both forwards engaged in a hectic battle for possession.
Kandy opened scoring in the second minute of the game and went into a 7-0 lead when their experienced wing three-quarter Kavindu Perera went over for a superb try. Centre Tharinda Ratwatte made the conversion. In the 13th minute of play Havies cut down the lead to 3-7 when full back Chanaka Chandimal slotted in a 35 metre penalty.
Kandy scored again in the 15th minute of play when scrum half Srinath Sooriyabandara touched down for a try to which Tharinda fired in the conversion to go in to a 14-3 lead.
Kandy increased the score in the 19th minute of the game, when their second row forward Thilina Bandara scored a try and Tharinda missed the conversion. The score read Kandy 19 to Havies 3.
Kandy went into a further 22-3 lead in the 31st minute of play when Tharinda put over a 40 metre penalty and at lemons Kandy SC led 22 points to Havies 3.
After the resumption the granite Kandy SC went into a 29-3 lead in the 44th minute of play when centre Tharinda touched down for a superb try which he himself converted.
Havies scored in the 50th minute of the game and cut down the lead 10 points to 29 when off a driving maul second row forward Shehan Dias barged his way over for an excellent try. Jayawickrema put over the touch-line conversion.
In the 57th minute of play Havies centre Dinupa Seneviratne went over for an unconverted try and the scores read Kandy 29 to Havelocks 15.
Kandy increased their lead in the 79tht minute of the game when Tharinda slotted in a 35 metre penalty to make the scores 32 points to 15 and just before full timeTharinda fired across another 35 metre penalty to go into an unbeatable 35-15 lead.
Referee: Gihan Yatawara