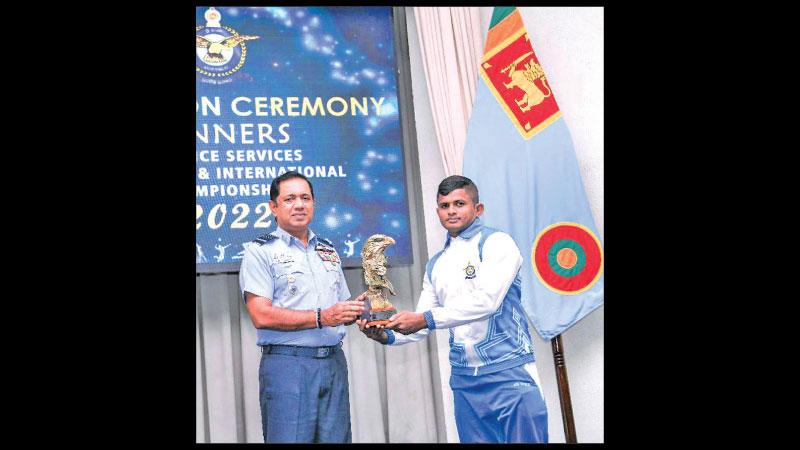 Men and women who excelled in sports for Air Force were felicitated at a ceremony held on Wednesday under the patronage of its commander Air Marshal Sudarshana Pathirana.
Those felicitated had performed well in water polo, taekwondo, rowing, weightlifting, handball and wrestling at the Defence Services Games as well as in National and international meets.
At international level the karate exponents of Air Force won a bronze medal at the South Asian Karate Championship 2022 while their water polo team won the Nationals after a lapse of 11 years.
Among those felicitated were weightlifters who were able to secure four gold medals and also establish a new Sri Lankan record in the snatch event 81kg weight category. 
The men's and women's taekwondo teams were also able to win 16 medals including seven gold medals at the National Taekwondo Championship while their oarsmen won the quadruple sculls event during the National Rowing Championship.
During the 12th Defence Services Games, the Air Force women's handball team and wrestlers both men and women were able to win the Championships in their respective sporting disciplines.
The Most Valuable Player award went to Leading Aircraftman RLK Udayathra who represented Air Force at the National Water Polo Championship 2022.
Gold medalist and national record holder at the National Weightlifting Championship 2022 Leading Aircraftman URR Jayasena and bronze medal winners at the South Asian Karate Championship 2022 Corporal KN de Silva, Corporal KS Prasanna, Leading Aircraftman MS Faiz and Aircraftman WSI Sandeepa were also felicitated.