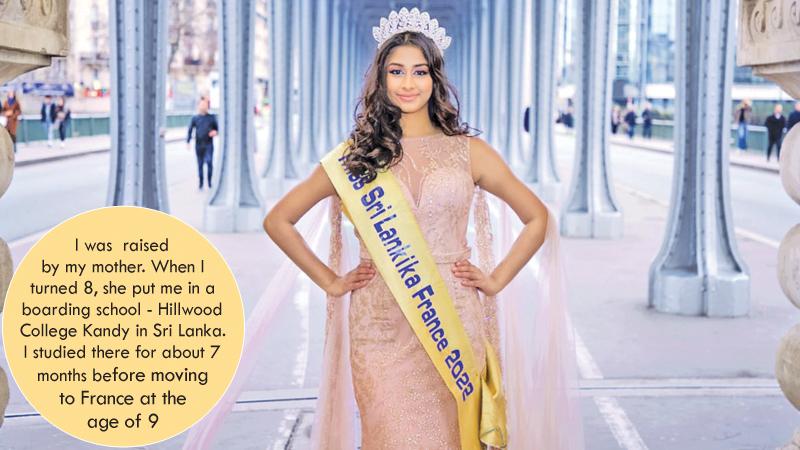 If the chances of finding out a queen with a crown are one in a thousand, chances of finding out a queen with a humble heart will be one in ten thousand. Youth Observer caught up with a humble-hearted beauty queen to share her memories and experience. I bet that her alluring smiles and glowing eyes would no doubt steal your eyes.
She is none other than Yehani Mahinsa Joseph who won the crown at The Miss Sri Lanka in France for Miss Europe 2022. To my amazement, 19-year old Yehani is not only a model sporting fashions and designs but also a polyglot who can speak five languages including Sinhala, French, English, Greek and Spanish fluently.
Q: Can you speak about yourself?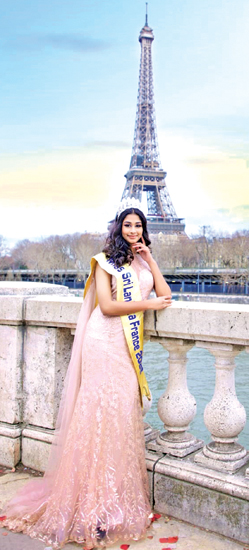 A: Well, I am Yehani Mahisha Joseph. I'm 19 years old. I was born on 1st of October in 2003 in Athens, Greece. I studied at Byron College, an international British school. I was very interested in sports even when I was schooling. I always won first place in running events at school. After schooling I joined ballet courses. I was raised by my mother. When I turned 8, she put me in a boarding school - Hillwood College Kandy in Sri Lanka. I studied there for about 7 months before moving to France at the age of 9.
I am fluent in languages today. I can speak French, English, Sinhala, Greek and Spanish. I am curious about various sports in France. For example, I played rugby, handball, and volleyball for many years. Other than that, I am extremely passionate about Formula 1, motorcycles, and art. I adore traveling around the world to discover different cultures.
Q: Tell us what you are doing these days?
A: I'm a first-year student at the University Institute of Technology (UIT) in Sceaux. I am studying Sales and Marketing at the University. Apart from that, I am following an architecture course at l'École du Louvre. Also, I am doing a part time job as a hostess at the American restaurant Hard Rock Caffee Paris. Furthermore, I am willing to join the student office next year and need to play an important role in that field as well.
Q: How did you join the modelling field?
A: It is a funny story. Actually, I joined this field by accident. My mother had registered my name and asked me if I wanted to participate in the elections of Miss Sri Lanka in France. Then, I said "yes". The beauty pageant was organized by the France and Sri Lankan Welfare Association. If I had said no, I would have probably regretted one day.
Q: Can you speak about your achievements?
A: I have achieved many things in my life, especially at school. For example, I was fortunate enough to attend one of the best high schools in my country, I majored in mathematics and English literature with high honours. I am currently in the best UIT in France.
Miraculously, I won the title of Miss Sri Lankika in France 2022. My story was being published in newspapers, my photos were featured in magazines, I got opportunities to be the main guest at events, my voice was heard by all. I am so grateful for being able to achieve all these amazing things in my life just because of one "yes" I said months ago.
Q: What is the turning point in your life?
A: I would say the turning point in my life was my first year at my college. On the first day at my university I set a couple of goals that I wanted to achieve. I promised myself that I'd say yes to every opportunity that comes my way. I also encouraged myself to be more social and more curious.
Q: What can you say about your parents' support?
A: My mother has fulfilled my father's role from the beginning. I was raised by her. She is my role model. Never have I met such a stronger, more genuine, and even sincerer woman. My mom is the true inspiration to my life. The secret behind every success in my life is my mother.
Q: What are the unforgettable memories in your life?
A: There are so many unforgettable memories in my life. I remember that when we went shopping at the supermarket, we used to take our squirrel, Booboo, with us. He loved going out with us and never moved away from my shoulder. People looked at him with wide eyes. I laughed and walked proudly. We did this every time whenever we went shopping. The cashiers too got used to seeing us coming. People would pet him and play with him. My squirrel's brown hair was so soft. He was so small and cute. I still remember his dark eyes looking at me for long minutes.
Q: What are the obstacles in your life?
A: It is myself. I believe that if you have a goal, you can achieve it through your willpower.
Q: Facebook users are spreading misinterpreted facts and news. What is your opinion?
A: Social networks are often useful tools with which one can highlight certain events in a country. For example, during the Black Lives Matter (BLM) movement, many videos of police violence were posted and shared on social media. If social platforms including Instagram, Twitter and Facebook had not existed,people would probably never have known what was really going on in America at that time.
It is possible to keep people updated about important events through social media. I believe social media is a good tool for society. However, it is very easy to spread false information and misinterpreted information. In my opinion, we should verify the sources of the information that we are reading about.
Q: What are the future plans?
A: Next year I want to specialize in International Business for my Master's degree at the business school SKEMA. After completing it, I plan to get ready for my MBA degree in America in order to become a CEO for many companies in diverse sectors one day. My goal is to work in the motorcycle or the automobile sector. Ducati is one of the companies that I'd first like to work for.
Q: What is your message for our readers?
A: You should believe in yourself. Self-confidence is about believing in yourself and allowing yourself to fall to the ground in order to get back up feeling stronger. Winding up our short interview, she paid her gratitude to the organizers of the Miss Sri Lanka in France for Miss Europe. "I'd thank the organizers of this event and every single person who supported, encouraged, and believed in me throughout this whole journey."