Sri Lanka rugby stalwart SW Chang has been appointed as the chairman of High Performance for women's rugby in the country.
His contract will run up to May 31, 2024.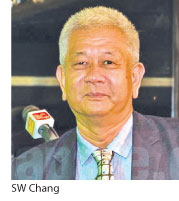 Women's rugby in the island took on a new phase last week when Sri Lanka Rugby (SLR) the organizers of the men's inter club League decided to showcase women's teams as a fore-runner.
Rizly Illyas the head of SLR said special attention will be given to women's rugby in what he called "the year of tournaments".
A product of Trinity College, Chang played as a forward for Havelock Sports Club but made the grade as one of the most regarded referees in the country who bowed out with an unblemished record over a 15-year period with the whistle.
Often mistaken as a foreigner by visiting teams, Chang also coached school and club teams and at one time was the manager of the youth team.
He returns to the forefront of rugby after a long lapse but was still easily recognizable at matches in the stands.