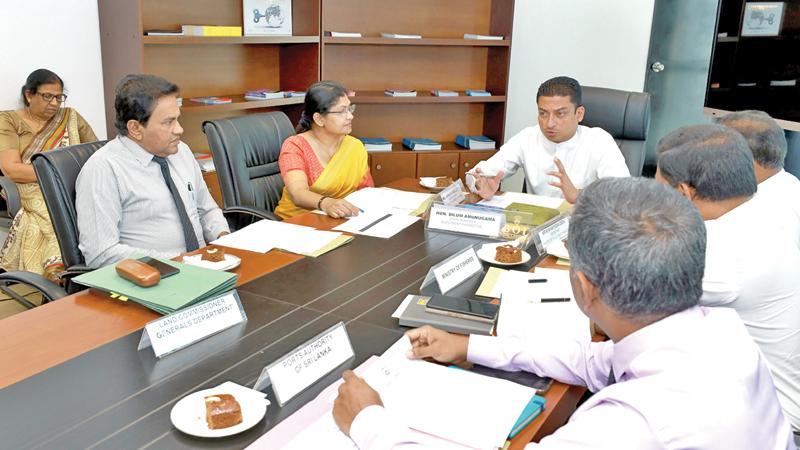 The Investor Facilitation Coordinating Committee Meeting chaired by Investment Promotion State Minister Dilum Amunugama was held at the Investor Facilitation Centre (IFC), to review and discuss the issues currently faced by investors with respect to seeking approvals from line agencies for investment projects.
Issues faced by four BOI companies operating in diverse sectors such as agriculture, fish export and mixed development, were taken into consideration. The total investment value of the projects that the four companies are involved in, stands at USD 76 million with nearly 2,000 employment opportunities.
As such, the concerns with regard to the delay in obtaining lease agreement for KudaOya and Demodara lands from the Land Commissioner Department and obtaining the concurrence of the Department of Fisheries to purchase fish from foreign flagged vessels at the Colombo Port, were raised.
Discussions were held with officials of the Ministry of Power and Energy in relation to the approval for setting up two fuel filling stations at Katunayake and the Biyagama Export Processing Zones. Also, issues related to the Sri Lanka Tourism Development Authority and Condominium Management Authority were discussed.
State Minister Amunugama directed the officials of pertinent line agencies to expedite action to resolve the pending issues of the investors. He also appreciated the presence of the officials of line agencies and their efforts to facilitate the investors in doing business in Sri Lanka.
Investor Facilitation Coordinating Committee Meetings are regularly conducted to get definite timelines for resolving issues related to investment projects pending with different line agencies.
These review meetings are attended by BOI officials, ministry and line agency officials, concerned investors, and other stakeholders.