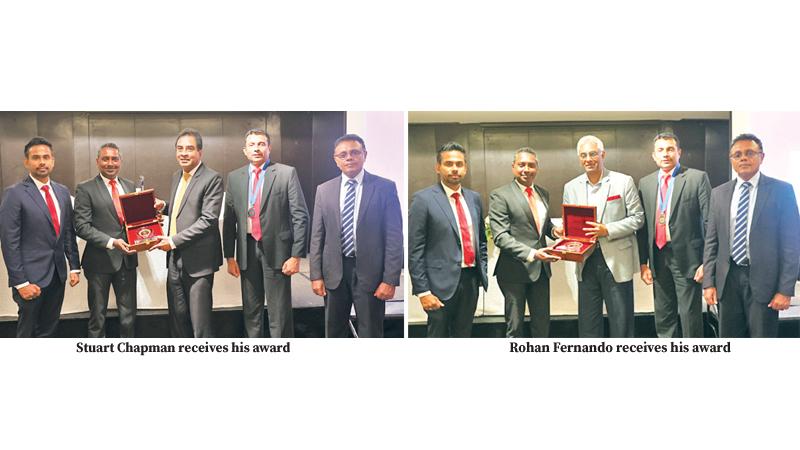 The Association of International Marketing Graduates in Sri Lanka (AIMG SL) recently honoured two marketing stalwarts with the 'Lifetime Marketer's Achievement Award' at a ceremony at Cinnamon Grand Colombo recently.
The Lifetime Marketer's Achievement Award recognises the outstanding contribution and recognition key marketing individuals have brought to Sri Lanka's Marketing Industry. Honouring Non-Executive Director of HNB Assurance, United Motors, and Hemas Pharmaceuticals - Stuart Chapman and Managing Director, Aitken Spence Plantations Management PLC and Elpitiya Plantations PLC - Rohan Fernando.
Chapman is a marketing professional with over 40 years of experience in businesses leadership and strategic development. Chapman began from humble beginnings to head local and multinational organisations across diverse industries including Healthcare, FMCG, Consumer Durables, Insurance, Banking and Telecommunications. As a founding member of the Chartered Institute of Marketing (CIM) Sri Lanka Branch, Chapman also later served as the President of the CIM Sri Lanka Region, as well as the President of the Sri Lanka Chamber of the Pharmaceutical Industry of the Ceylon Chamber of Commerce. Known as a mentor, lecturer, keynote speaker and above all a strong advocate of the value of marketing professionals in the boardroom, Chapman has served as Director Life, Ceylinco Insurance, Marketing Director, Reckitt Benckiser, Managing Director, Hemas Pharmaceuticals, Managing Director, LOLC, Managing Director, GlaxoSmithKline Pharmaceuticals, Managing Director, Janashakthi Insurance, Senior Brand Manager, Unilever and Marketing Manager, Celltell. Fernando has sat at the helm of Aitken Spence Plantations as the MD since 1997 and has played an integral role in strategically navigating the success and growth of plantation segments, and that of Group covering sustainability and branding.
Currently the President of the Palm Oil Industry Association of Sri Lanka, Fernando has previously held positions such as Chairman - United Nations Global Compact Network, Sri Lanka, and President - Chartered Institute of Marketing Sri Lanka Region.
The Lifetime Marketeer's Achievement Award was previously presented to Eardley Perera - an alumnus of Holy Cross College Kalutara; a senior member (Honorary Fellow) and graduate of the Chartered Institute of Marketing, UK, with over 45 years of experience in Management across UK, Sweden, South Korea, India, Philippines and Singapore.