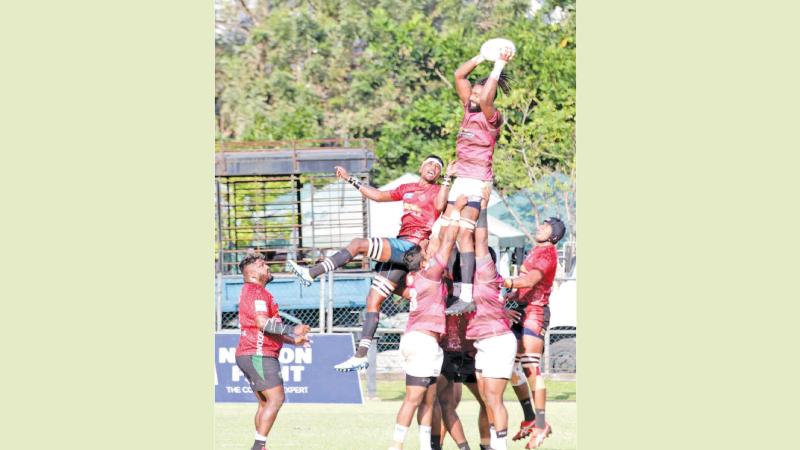 Havelocks kept their reputation intact when they came from beh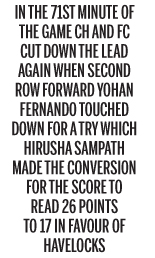 ind 0-7 down to beat the underdogs CH and FC by 31 points (5 tries, 3 conversions) to 17 points (2 tries, 2 conversions, 1 drop goal) in their Nippon Paint 'A' Division inter-club League rugby first round fixture played at the Race Course International Stadium yesterday.
At half time the scores were deadlocked at 7-7.
The match got off to a fabulous start with both sets of forwards engaged in a hectic battle for posession. Even though CH forwards were bigger in size, the young Havies forwards played a faster game in the loose.
CH and FC opened scoring in the fifth minute of the game and went into a 7-0 lead when their skipper cum experienced hooker Prasath Madusanka went over for a superb try. Fly half Hirusha Sampath made the conversion.
In the 24th minute of play, Havies equalled the score 7 all with hooker Azmeer Fajudeen touching down for a try to which fly half Sandesh Jayawickrema slotted in the conversion.
At lemons the scores were deadlocked at CH 7 points to Havies 7.
Havies increased the score in the 45th minute of the game, when their number eight Nivanka Prasad scored a try and Jayawickrema slotted in the conversion. The score read Havies 14 to CH 7.
The granite hard Havies went into a further 21-7 lead in the 49th minute of play when second row forward Shehan Dias touched down for a superb try and Jayawickrema fired across the conversion.
Havies scored again in the 54th minute of the game and went into a 26 points to 7 lead when winger Randitha Warnapura sprinted his way over for an excellent try. Jayawickrema failed with the conversion.
CH cut down the score to 26-10 in the 60th minute of play when fly half Rohitha Rajapaksa fired across a fabulous drop goal.
In the 71st minute of the game CH and FC cut down the lead again when second row forward Yohan Fernando touched down for a try which Hirusha Sampath made the conversion for the score to read 26 points to 17 in favour of Havelocks.
Just before full time, in the 76th minute of play Havies hard working flanker Maleesha Madumewan managed to score an excellent try and Jayawickrema missed the conversion.
Finally Havelocks produced a remarkable victory over their famed counterpart CH and FC by 31 points to 17.
Referee: Ishanka Abayakoon