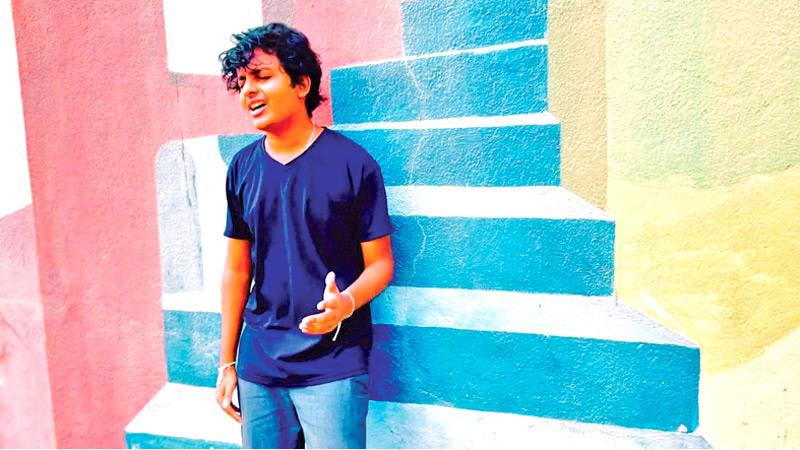 Our country's future is shaped by our young generation. Without a shadow of doubt they have the potential to steer the country towards safe waters.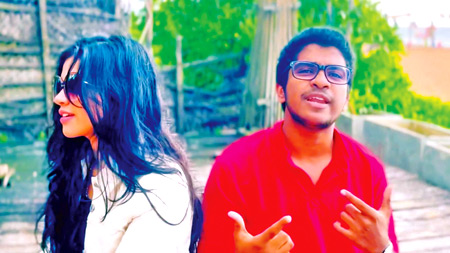 The Youth Observer paves the path for young musicians. This piece of writing is about such a musician who hails from an artistic family background. He is veteran musician Rohana Bulegoda's beloved son, Salamuthu Chidathma Bulegoda. Born and bred in Maharagama he studied at Nalanda College. Currently, he is pursuing his computer science degree in the NSBM Green University.
Q: Tell us what are you doing these days?
These days I am pursuing my Computer Science Degree in the NSBM Green University. Speaking of my career, I'm working at Study Abroad Academy as a digital marketing executive. Apart from that, I am working on my songs.
Q: How did you derive the inspiration to enter the music industry?
First I want to say my Father is a Musician. He is Roahan Shantha Bulegoda. Even from my Childhood I have been inspired by him. In the early days I was not very much interested in music. Most of the time I was more into melody,not lyrics. I think that one of the famous musicians Yani too inspired me. However, I preferred the Western music to Eastern music. Gradually, I became attracted to both genres.
Q: Can you speak about your school life?
I joined our school band as a guitarist. And also I won the All Island first and second places for singing. It made my way to enter the music fied.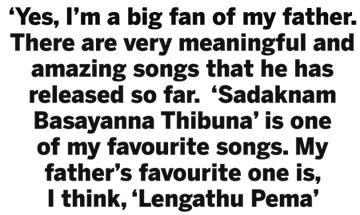 Q: What are the songs you have released so far?
Actually, I have released around five original songs. Recently, We did a new visual for 'Yanena' which was my second song.
Q: How did your father support you?
He supported me a lot . In the early days he taught me about singing. He shaped my skills and moulded my creativity. He always advises me about the necessary changes in my music.
Q: Are you a fan of your father?
Yes, I'm a big fan of my father. There are very meaningful and amazing songs that he has released so far. 'Sadaknam Basayanna Thibuna' is one of my favourite songs. My father's favourite one is, I think, 'Lengathu Pema'. It was released in 2011.
Q: What do you think of new songs in general?
I think that as the time goes on, things have to change. For example, now we have better technology than in the early days. New songs and styles are emerging. I am not saying that all the songs are good, but we can notice a development in new music. The best Example for that is Charith Attalage's Music. There is a combination of both Eastern and Western styles.
Q: What are the obstacles you have faced so far?
I have faced a sea of obstacles. This journey is not as easy as you think. But, It is better not to talk about them.
Q: What is your turning point in your life?
I can not remember any specific moments in my life. But I think that there are some events in my life that became turning points in my life.
Q: Who supported you to compose songs?
First I want to thank my friend Chehan Lakvindu for helping me out with my song lyrics. Also I want to mention Rezi Ahamed. He is my sound engineering teacher who always guides me. Moreover, I would like to thank my friends who encourage me by giving their opinions on my songs.
Q: Who is your role model?
I cannot mention their names. But there are some famous musicians and actors who influenced me.
Q: What is your message for the young musicians as a young promising musician?
Don't give up. work until you achieve success.
Young promising musician - Salamuthu Bulegoda