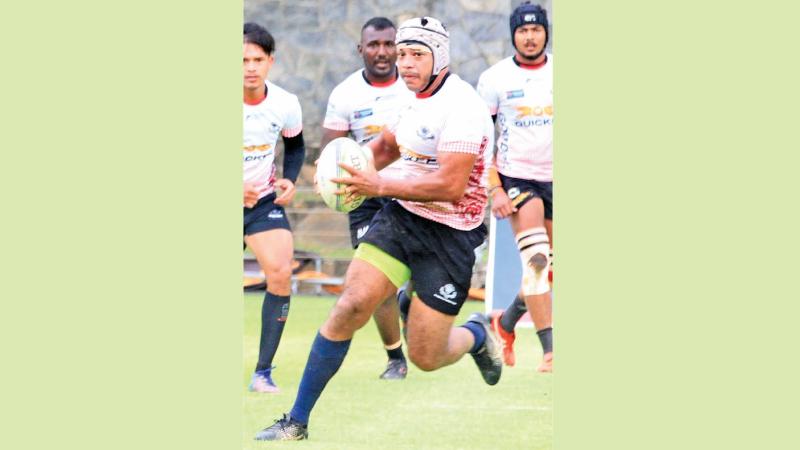 CR and FC kept their reputation intact as underdogs, when they beat CH and FC by 27 points (3 tries, 3 conversions, 2 penalties) to 19 points (1 try, 1 conversion, 4 penalties) in their 'A' Division inter-club League rugby first round fixture at the Race Course International Stadium yesterday.
At half time the winners were leading 20 points to 9.
The match got off to a terrific start with both forwards engaged in a hectic battle for position. Even though CH forwards were bigger in size, the smaller CR pack played a faster game in the loose.
The surprising factor was that the entire CR & FC three-quarter line was much faster than the CH and FC three-quarters.
CR opened scoring in the third minute of the game and went into a 3-0 lead when CH were penalized for an infringement and centre Chathura Seneviratne put over a superb 35-metre penalty.
In the fifth minute of play CH equaled the score 3-3 with a 30 metre penalty slotted in by fly half Hirusha Sampath.
CR increased the score in the ninth minute of the game when their centre Chathura Seneviratne slotted in another 35 metre penalty. The score read CR 6 points to CH 3.
CH equalled the score to 6-6 in the 12th minute of play when Sampath fired across another 30 metre penalty.
The Red Shirts went into a 13-6 lead in the 15th minute of play, when fullback Mursheed Doray touched down for a superb try to which Chathura fired across the conversion.
CR went into a further 20 points to 6 lead in the 36th minute of play when winger Gemunu Chethiya sprinted his way over for an excellent try and Chathura put over the conversion.
Just before the half time CH and FC cut down the lead in the 40th minute of the game with another 30 metre penalty fired across by Sampath.
At lemons the score read CR 20 points to CH 9.
After the resumption in the 51st minute of play, CH fly half Hirusha Sampath put over another 35 metre penalty to cut down the lead to 20-12.
In the 54th minute of play CR and FC went further ahead when Chethiya touched down for his second try of the match to which Chathura made the conversion to go into a 27-12 lead.
Just before full time, in the 83rd minute of play CH centre Janidu Dilshan managed to score a consolation try to which Sampath made the conversion.
Finally CR made a remarkable victory over their famed counterpart CH and FC by 27 points to 19.
Referee: Gihan Yatawara.