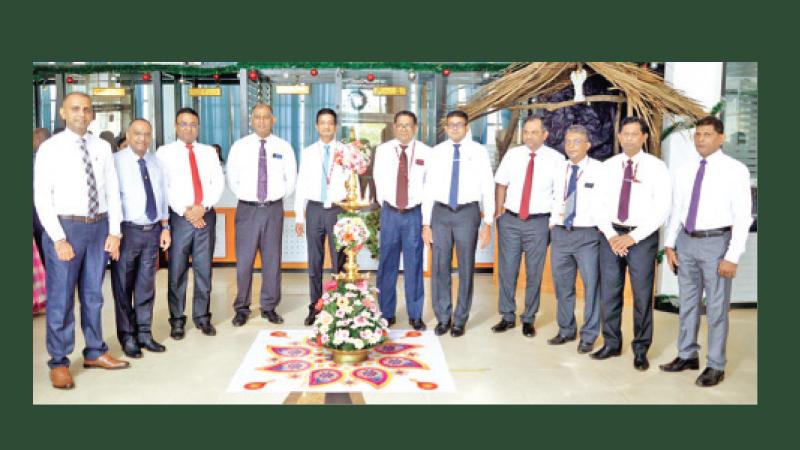 Lake House employees resumed duties for the New Year with the blessings of religious leaders on Monday, January 2 at the Lake House premises under the patronage of Lake House Chairman Anusha Palpita.
The blessings of religious leaders began with the chanting of Seth Pirith by the Maha Sangha, led by Ven. Ittedemaliye Indrasara Thera, Chief Incumbent of Sri Sambuddhaloka Vihara.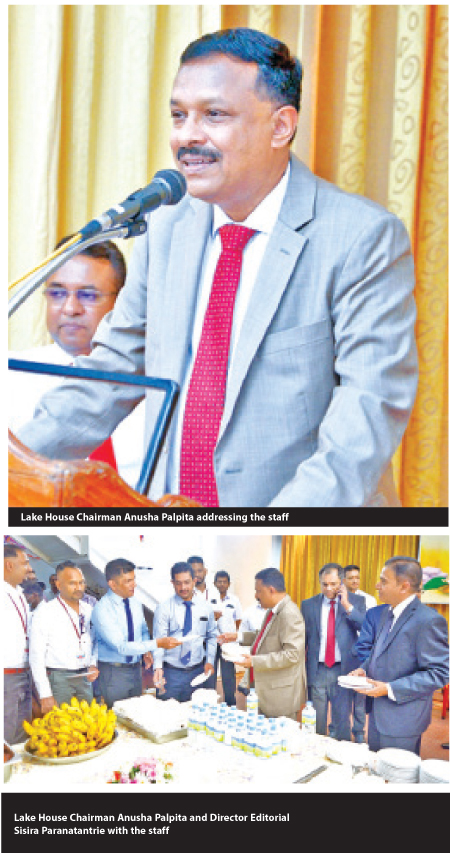 Religious ceremonies involving Christian, Hindu, and Islamic religious leaders followed. Lake House and its staff received religious blessings from religious leaders Rev. P. Loid, Kurukkal G. Sharma, and Mawlavi Numan Balar.
This was followed by Lake House Chairman Palpita's New Year greetings, where he wished all Lake House staff good luck in the new year. He thanked the staff for their contributions to achieve economic stability despite the global economic downturn.
The Chairman said that the company was rescued from the worst economic crisis and made some kind of operational profit due to the dedication of everyone in the company.
Difficult time
He said that he was entrusted with this institution at a very difficult time, and that with his guidance and the dedication of everyone in the institution, he was able to face the economic difficulties to a certain extent. As a result, the company, which had an operating loss of Rs. 290 million during the first eight months of 2022, was able to reduce the operating loss to Rs. 230 million during the past four months due to an operating profit of Rs. 60 million from September to December, he said.
Ten contract employees with over ten years of service were made permanent. Based on efficiency, of 25 contract employees with over six years of service, 20 were made permanent with six months probation. The opportunity has been provided for those in this group who are less efficient to improve their efficiency and join the permanent cadre.
Economic crisis
Chairman Palpita said that while all state media organisations are losing money due to the economic crisis, Lake House has been profitable during the past few months of last year.
He said, "In 2022, some proposals were implemented to strengthen Lake House's viability. As a result, the Education Publication Section was closed and newspapers such the Tharuni, Sarasaviya, Subasetha and a few others were subjected to periodic changes.
"A voluntary retirement system was implemented to reduce expenditure," the Chairman said.
According to the Chairman, the operating profit generated by all of these methods is used to improve the institution. Approximately Rs. 100 million is being spent to provide modern printing machines. The machines are expected to be purchased before the end of the year.
He said that the number of permanent and contract employees will be limited to 850, with 700 permanent employees and 150 contract employees. He said that the cost of operation is extremely high due to the rise in the global price of newspaper raw materials. A metric ton of newsprint, which cost Rs. 60,000 in 2000, now costs roughly Rs. 500,000.
The Chairman said that 1,000 metric tons of newsprint is needed to run the institution for about 10 months or a year, and that these will have to be purchased in the coming months. He said that steps will be taken to streamline the institute's SMS news alert service.
He said that those on contract who work with dedication and efficiency can continue to work for the company. However, the Chairman said that he will consider whether to retain the services of contract employees who do not contribute productively to the organisation.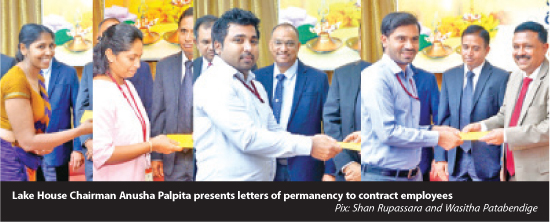 "Director Editorial Sisira Paranatantrie is working to improve the newspaper's quality. Steps have been taken to limit all non-essential spending. "However, it has been decided to provide overtime allowances to a number of critical sectors," the Chairman said.
In the next three months, the company's commercial printing department's income will be increased from Rs. 10 million to Rs. 20 million with the purchase of a modern digital printing machine.
He said Lake House's Media Education Academy continues to grow. The second group is being recruited. Many new short and long-term courses, such as photography, electronic and print media diplomas, advertising diplomas, and others, have been introduced. The Lake House library will be fully digitised and will be able to reap financial benefits.
The Chairman said that economic productivity is expected to be achieved through resource management. He said that as Chairman, he cannot move the institution forward without everyone's help and contribution. "If everyone extends their support and contribution, it will not be difficult to resurrect the institution."