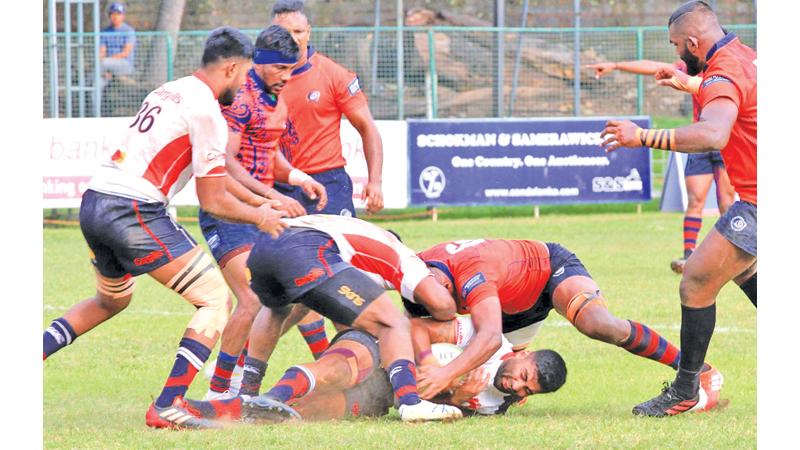 A match-winning 79th minute 25-metre penalty by centre Tharinda Ratwatte helped Kandy SC to record a stunning win over a fighting CR & FC by 13 points (1 try, 1 conversion, 2 penalties) to 11 (1 try, 2 penalties) in their Nippon Paint league rugby first round encounter played at Longden Place yesterday.
At 'lemons' the scores were deadlocked at 3-3.
A thrilling encounter was on the cards before the commencement of the match and also a 'surprise' was expected from the CR outfit to pull off the game in their favour. The entire CR forwards fought like a bunch of terriers in this game giving no chance whatsoever to their opponents as Kandy SC collapsed under immense pressure applied by the CR forwards.
The lads from Longden Place produced a spectacular brand of rugby through their indomitable set of forwards who were really unfortunate in the end. They dominated the set pieces, scrums, line-outs rucks and mauls with their fabulous lose play throughout the entire match.
Kandy SC played well in the second half but could not maintain the same form which they displayed earlier and caved in meekly. CR forwards under the guidance of the head coach Dushanth Lewke had done his part to perfection by using different tactics to penetrate the Kandy SC defence in the second half but lost the game by a whisker after leading 11-10 up until the 79th minute of the game.
Kandy broke the 'ice' in the game and went in to a 3 nil lead when centre Tharinda Ratwatte put over a 30 metre penalty.
CR equalled in the 39th minute of the game when centre Chathura Seneviratne slotted in a difficult 48 metre penalty.
Soon after lemons in the 49th minute of the game, CR went in to a 6-3 lead through a 35 metre penalty slotted in by Seneviratne.
In the 60th minute of the second half ex-Isipathana flanker Wevalapanditha dived over for a try and Tharinda put over the conversion to increase the Kandy SC score to 10-6.
CR scored a try through their outstanding flanker Wageesha Weerasinghe in the 63rd minute. Seneviratne missed the difficult conversion but went in to a lead of 11 points to 10.
With pressure mounting, Kandy SC sealed the game in the 79th minute when their place kicker Tharinda Ratwatte slotted in an easy 25 metre penalty to give them a 13- 11 victory in the end.
Referee Ishanka Abayakoon did not have a good day with the whistle.