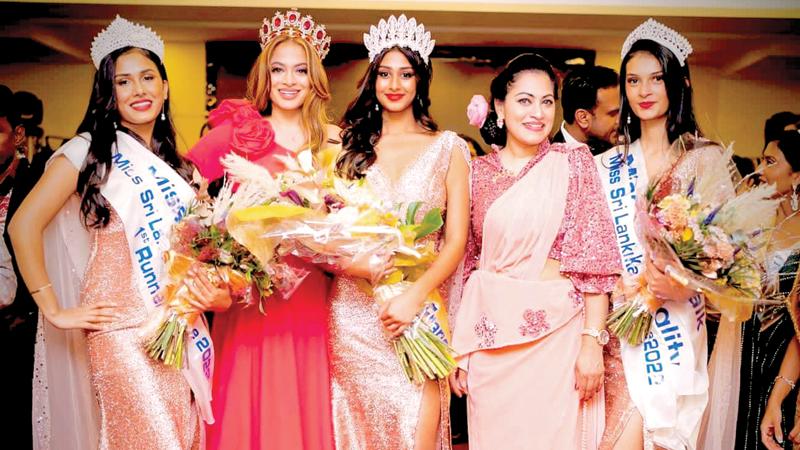 The 'Miss Sri Lanka in France for Miss Europe 2022' was held in France recently with the participation of many contestants and artistes under the guidance of Sanath Muthunamagonna.
The credit for organising this event should go to the France-Sri Lanka Welfare Association. The event marked the beginning of a vibrant era for a better future. Girls in glamorous attire strutting along the red carpet stole the hearts of people at the pageant.
Yehani Joseph who won the crown became the cynosure of all eyes. The first runner-up was Amelie Hewawasam while Umanda Bamunuachchi the second runner-up.
The one who won the MissTalent title was Supuni.
Miss Sri Lanka in France For Miss. Europe was a brainchild of Sanath Muthunamagonna who laid the foundation for this landmark event in 2013.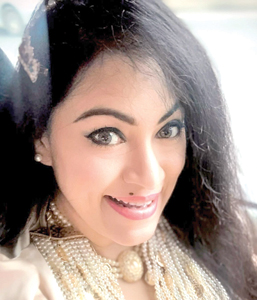 Rashmi Zneha Hendawitharana
The ultimate goal of this event is to raise funds for the construction of the Intensive Care Unit at the Dehiaththakandiya hospital. Sri Lankans living in France have donated medicines and equipment such as wheelchairs, sophisticated beds and ventilators to hospitals including Maharagama Cancer hospital, Kandy Intensive Care Unit, Lady Ridgeway Hospital for Children, Jaffna General Hospital, Negombo General Hospital and so on. Everyone contributed to the success of the event with the same pure thought of lighting at least one single lamp without cursing the darkness.
Among the resource persons, there was one prominent personality who scattered light throughout the program. She was Rashmi Zneha Hendawitharana who was crowned as the Grand Oriental Queen in 1998. And also, she was the Miss Teen Sri Lanka in 2000.
The panel of judges comprised impartial and well qualified judges Rukshika Gamage (Mrs. Sri Lanka 2016), Lakshan Abeynayake (French actor), Linda Rose (Miss Sri Lanka in Europe 2018), Djaef Balane (Miss India), Melanie Hewawasam, Dr. Lauren Bienvenu and Faith Landers.
Speaking of the mini pageant, there was a combination of academics and artistes in the panel including Visharadha Wasana Thennakoon, singer Mario Ananda, actor Suraj Mapa, Sabina Thorson and Yvonne Balasuriyam.
Rashmi Zneha
'Wishwaya Sematama Yukthiya Ituwana Lassana Lowak Sadam'
Without a shadow of doubt, these lyrics will take you to your memorable childhood. Indeed, there were fruitful children's programs which brightened our childhood several decades ago.
A big thank you should go to all the artistes who made tremendous efforts to make our childhood wonderful. No wonder that Rashmi Zneha too is among such committed artistes. Zneha, as a child TV program presenter, started her career by working for the 'Muthuhara' program.
Hailing from an artistic family, she had marked a name for herself in various fields such as acting, dancing and modelling. She had inherited the creative spirit from her family.
As a child-actress she made her debut through Hima Kumari directed by Somalatha Subasinghe. Later she performed in many teledramas such 'Salmal Landa', 'Muthu Pihatu' and 'Sill'.
She learned dancing under veteran artiste Kulasiri Budhawaththa. Not surprisingly, as noted by Zneha, Rupavahini had become the second university in her life. Cartoons including 'Tin Tin', 'Walas Mama', 'Pissu Pusa', 'Ha ha Hari Hawa' are still in our living memory. We still love and cherish them.
Never forget that Rashmi Zneha gave life to some of our favourite cartoon characters through her voice. She had worked as a dubbing artiste under the guidance of veteran artiste Titus Thotawatta.
Speaking of her school days, needless to say that she had enough time for inter-school competitions. One good example is that Rashmi won All Island awards for the best hand-writing, competing with other schools. She had distinguished herself in many areas even at her school.
When she was staying in India she acted in several films. For instance, 'The Return of Bangalore'. "When I was staying in India,I acted in nine Hindi films and three Telugu films," she said.
Don't leave the country
To my question about brain-drain, she said that leaving the country is not the solution. "Most graduates can be seen leaving the country because they cannot find suitable jobs in the country. There are graduates and Phd holders who do not have suitable jobs in the country due to the economic downturn.
"As a result, they are leaving the motherland. Honestly, they should not waste their time going behind ministers and politicians to get jobs and positions because they are better qualified. If they feel that they cannot shine in this country they should go in search of a better country.
"But, they should not forget their motherland Sri Lanka. They should come back to support the economy. Sri Lankans are for Sri Lankans. I recall we donated medicines to the country through the France-Sri Lanka Welfare Association during the Covid. Regrettably, some politicians had not allowed anyone to distribute them.
"However, the pathetic situation is that there have emerged some bankrupt political parties urging all the Sri Lankans living in foreign countries not to support Sri Lanka. Such politicians must be ashamed of themselves. Who can propel the wheels of our country' development?
"The answer is our young generation. But, the saddest truth is that most youth are enslaving their energetic life to tuk-tuks on roads. Those in poverty are seeking refuge in illicit drugs. How can we expect a better future in this situation? " she said.
However, we can still find highly committed and devoted personalities like Rashmi Zneha to rewrite the country's future.