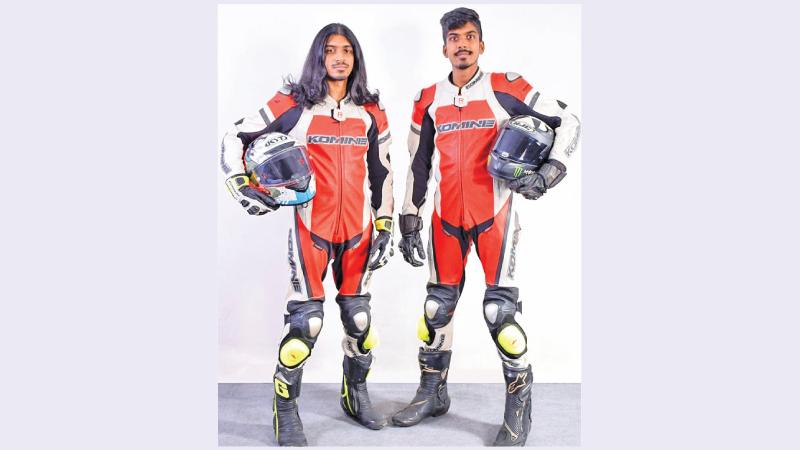 Nikila and Vinula of Pathirage Brothers Racing will be representing Sri Lanka at the Asia Cup of Road Racing (ACRR) 2022 at Tarlac Circuit Hill, Philippines from December 9 to 11.
Organised by FIM (International Motorcycle Federation) of Asia after a lapse of three years with the participation of eight countries, the Sri Lankan champion duo are raring to go despite going into uncharted territory.
Despite being the undisputed road racing motorcycle champions in the country, they came off with flying colours during a selection meet held in October by the Federation of Motorcycle Sports in Sri Lanka.
Nikila and Vinula Pathirage brought honour to Sri Lanka when they finished in third position at the ACRR championship held over three rounds in 2019. This year's competition will be a one-off event. They will be competing on Yamaha Sniper 150cc Under-bone bikes.
"For two years there were no races because of the pandemic. There hasn't been a single National event since 2019. We are the underdogs and less prepared of all the teams. We don't know what to expect," said Nikila, 23, the elder sibling who looks like a rock star.
It was Vinula, 20, who impressed on his international debut in 2017 being placed fourth and fifth in the 2017 ACRR Championship.
The Pathirage brothers who celebrated their birthdays last month, have been representing Sri Lanka racing in Thailand, India, USA, Taiwan and India.
Hailing from a racing family, they are following on the trail of their grandfather PD Kularatne who set a track record Katukurunda in 1960 which stood for many years. "I am continuing a tradition but it became a passion. I have tried out almost every sport from rugby, cricket and athletics but prefer motorcycle racing," said Nikila taking over after his father Mangala, a daredevil rider who has been engaged in the sport since 1987.
"I thought after me it would stop but they continued," said Mangala who has been racing with his personal funds for the past 35 years.
His two sons, who are studying Business Management, have made him proud with their passion and dedication to the sport since getting on the podium on their debut in the Rotterham circuit in Katukurunda in October 2015.
Pathirage Brothers Racing team of father Mangala and sons Nikila and Vinula have the unique record of being on the same podium at several Hill climbs such as Hantane, Radella and Eliyakande. Vinula is the record holder in the 150cc and 250cc events at Eliyakande and 150cc in Mahagastota.