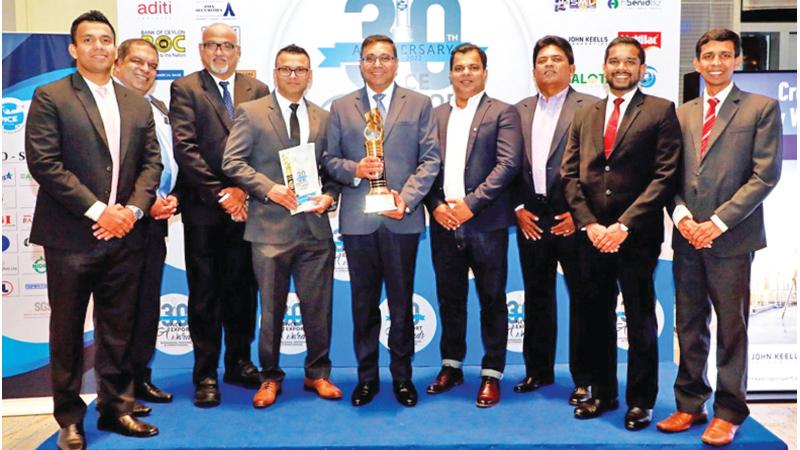 Orit Apparels Lanka (Pvt) Ltd., bagged the gold award at the NCE Awards in the Textile and Garment Sector–Extra Large category recording a momentous win at the awards ceremony on Friday December 2, 2022.
This being Orit's pioneering effort in the NCE arena, emerging to the top was an astounding feat, a testament to Orit's sheer commitment to excellence and perseverance in the manufacture and export of premium quality denim garments. The Company, which has taken strides towards recording its highest export turnover, ensuring good cooperate governance and sustainable manufacturing practices was recognised for its untiring efforts in business excellence.
This win marked a noteworthy performance by Orit despite the prevalent volatile, uncertain, challenging and ambiguous socio-economic backdrop in the country.
The NCE Awards which was organised by the National Chamber of Exporters for the 30th consecutive year, has gained high recognition and prestige among the business community as one of the most sought after awards in the national exporting business arena.
Orit Apparels Lanka (Pvt) Ltd., which is a fully owned subsidiary of the global apparel giant Indochine International, single-mindedly focusses on all things denim.
Tastefully combining traditional techniques of denim manufacture with cutting-edge technology, Orit has earned the formidable position of being one of South Asia's largest denim manufacturers, possessing manufacturing capabilities par excellence with global standards.
Orit, which carries a legacy that spans 2 decades, has grown its business operations significantly and currently operates a streamlined network of eight manufacturing facilities spread across Sri Lanka.
Registering a top line of Rs. 65 billion and providing direct employment opportunities to 6,500 employees, Orit Apparels is a truly Sri Lankan company that touches the lives of thousands more local families that benefit from its presence in Sri Lanka.
The company, which has robust plans, envisages to build on its outstanding capabilities and has already expanded its manufacturing operations transcending national boundaries.
With a reputation for being 'outstandingly innovative' in the denim manufacturing arena, Orit is home to some of the world's most premium brands which form its globally renowned portfolio of denims.
Upon collecting the award, said Ajith Wijesinghe – CEO, Orit Apparels Lanka (Pvt) Ltd., "We are delighted to be recognised for our excellence as a key exporter of quality apparels and also for our contribution towards the local economy.
The many storms and challenges we faced during the recent past have made us a truly resilient, formidable team.
We consider it a great privilege to be recognised and bestowed with this prestigious gold award, especially it being our maiden attempt towards the title, a sheer recognition of our passion for excellence, which in fact is one of our core underlying values at Orit."
This achievement signals the company's determination to personify excellence and add value to the local economy by enhancing livelihoods whilst endeavoring to become a leader in sustainable apparel manufacturing.
The NCE Awards 2022 itself celebrated its peal anniversary and was held at the Shangri-La hotel Colombo and was attended by over one hundred nominees throughout the varied categories where the winners received accolades from the chamber at a glittering ceremony amid a distinguished gathering of leading organisations, top businessmen and senior Government officials. The nominees were scrutinised by a panel of highly qualified professional judges from varied spheres of business and the evaluation scheme benchmarked some of the world's best known excellence models.
Amid growing scrutiny of business practices, it is more important than ever for organisations to align with ethical initiatives in promoting moral conduct, employee dedication, investor confidence, sustainable commercial partnerships, and finally higher revenue. In its relentless quest of building a truly resilient company grounded in ethical trading practices, Orit has consistently enhanced its stance as a truly sustainable enterprise.
By motivating the central team to identify opportunities and best practices, Orit has over the years woven deep roots in the Sri Lankan apparel tapestry and continues to make its mark as a key foreign exchange earner to the local economy.