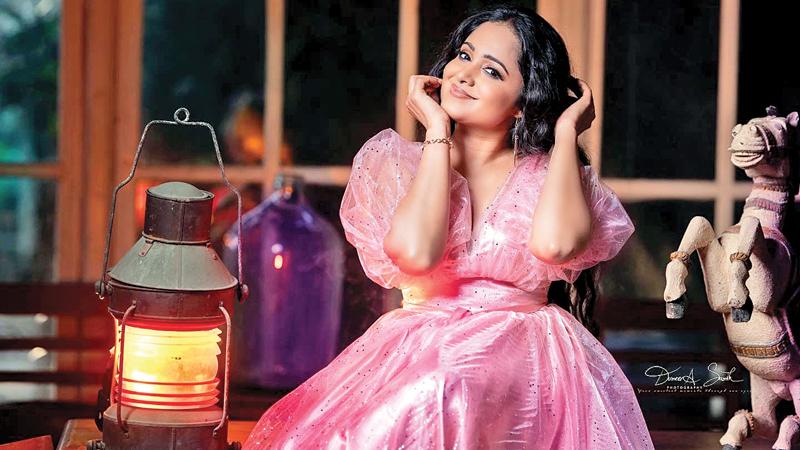 You know her as Asha Edirisinghe, blessed with her signature smile which can bring down even angels.
To be frank and honest, you would undoubtedly get stunned if I ask you about Dilhani Prasangika Silva. Not surprisingly, today's story is about both Asha and Dilhani. If winding the clock back to Dilhani's childhood, we can see her as a school-going kid who showcased a zest for performing arts.
When her maiden television appearance came through the tele series titled 'Girikula Andaraya' in which she was exposed to veterans, she was a child actress of 11. Her drama-guru was veteran actor Sathishchandra Edirisinghe from whom she learned acting. He produced a teledrama titled 'Girikula Andaraya' in 1995.
Her untainted smile and inviting eyes might have given a stunning look to her on the screen. Directors and producers bewitched by her screen-appearance might have cast her in their creations. Hopefully, Dilhani soared to stardom under her celebrity name Asha Edirisinghe. Asked about her childhood she said that her mother wanted to see her as an actress. "My mother wanted me to be an actress. My father wanted me to pursue my studies in the commerce stream," she recalled.
As a university student

Asha holds a special degree in Commerce and Management from the university of Kelaniya. What made her career path crystal clear is her perfect balance in life. So to speak, Asha balanced her academic life and artistic life.
Let's hear her story in her words. "I specialised in the commerce stream at the university of Kelaniya. Even at that time I had acted in several teledramas. I felt that my acting is at the expense of my university studies. Therefore, I decided to focus on my studies more than before," she beamed.
Speaking of her parents, her father wanted Asha to pursue her career in the commerce stream. Without a shadow of doubt, she must be wavering between two worlds. One is her unrelenting desire for acting, the other one is her career path in a far different field. The only relief she had was her mother who wanted Asha to enter the acting field. " Actually I became an actress because of my mother," she said.
Multitasker
Songs including 'Man Thawa Dura Thaniyama' (Theme song for 'Warna'), 'Kichi Bichiyayata Gee Gayanna' which bring a flow of memorable memories to your mind remind you of her dulcet voice. Yes, she is not only an actress. Her name has been etched in our heart not only as an actress but also as a singer.
Even though she is always the onscreen lover, she has become a heart-soothing musical voice to thousands of fans. Apart from that, she is remembered as a television program presenter.
'Heena Hathak' which brought a new musical experience to music lovers will bear testimony to her prowess as a programme presenter.
Speaking of her achievements, she has won a gamut of awards for her thespian skills. For instance, the Slim Nielsen People's Award ( 2011) and State Awards. It is significant to highlight that she won the award for the most popular actress of the year 2012 at the Raigam Tele award ceremony.
Characters which she has portrayed so far belong to various social levels and status. 'Suddi' (played by Asha) in 'Alu Baduna' teledrama depicts the complexity of a certain social environment. Characters that she played are still in our hearts as vivid pictures.
Asha got the opportunity to work with film director Jaya Prakash Sivagurunathan who identified her capacity. " I could work with Jayaprakash Sivagurunathan, he gave me different characters. Therefore, I have not been limited to any character. These days I am working for two teledramas 'Nihada Gira' and 'Beminithiya Seya'."
The most interesting news about Asha is her production house called Affinity. Unfurling the sails for a new voyage Asha established her new production house Affinity.
"I make a great effort to give a good taste to my fans. That is my goal. These days I am working for my production house," said Asha in a cheerful voice.
Of course if you kick a roadside bush, you will find thousands of production houses. But seldom do we notice production houses with a standard. Interestingly, her new musical creation penned by Manik will add a new taste to your favourite playlist. The music for the song was composed by Lassana Jayasekara.