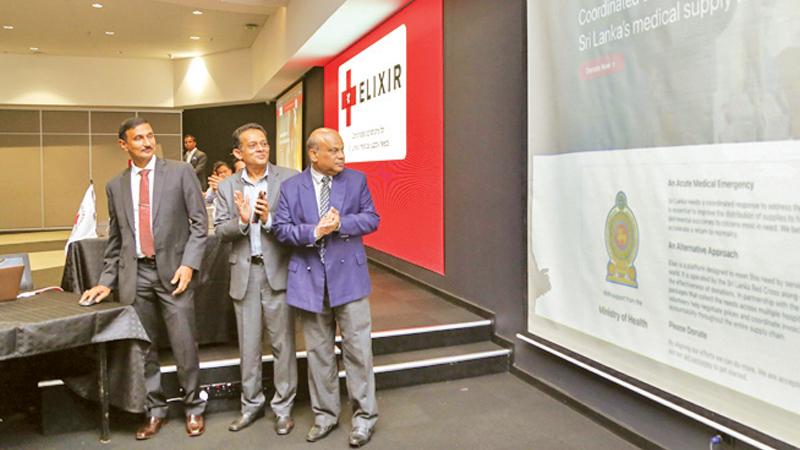 The Sri Lanka Red Cross Society launched Sri Lanka's first-ever medical-supply-to-donation matching platform, the Elixir Platform recently.
The initiative is a volunteer-run, public private partnership under the aegis of the Sri Lanka Red Cross Society, and allows hospitals and treatment centres across Sri Lanka to register their needs for life-saving medicines and medical supplies that may be in short supply, due to the country's ongoing economic and foreign exchange crises.
'Elixir' also provides a single streamlined interface for donors who wish to support Sri Lanka at this time. By having all requirements and donations coming in via a unified and seamless platform, 'Elixir' can then match requirements and donations for efficient use of funds and time, while also reducing the total turnaround time for assistance and increasing transparency. By having a large number of institutions registering their needs, this permits the Sri Lanka Red Cross Society and its network of global volunteers to consider bulk order placement where possible to obtain the best possible prices, delivering maximum cost efficiency to all stakeholders.
Designed and operated by the Sri Lanka Red Cross Society, with its global network of volunteers and professionals, and in partnership with the Sri Lanka Medical Supplies Division of the Ministry of Health, the Elixir Platform is a huge collaborative undertaking to help Sri Lanka overcome the shortage of lifesaving medicines due to the present economic crisis. Director General, Sri Lanka Red Cross Society, Dr Mahesh Gunasekara said, "With the large amount of donations, we found that it was becoming challenging to track and fulfil medical needs across the system and prioritise based on urgency."
Any individual, organisation or entity interested in making a donation to the Sri Lanka Red Cross Society to support Sri Lanka, financially and materially in aid of lifesaving medicines and medical supplies can visit elixir.redcross.lk to make a donation or learn more about this initiative.