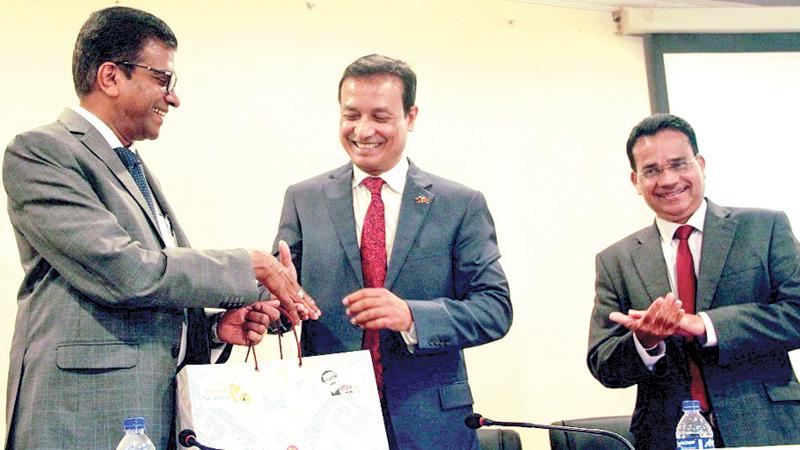 Bangladesh is keen to go ahead with the proposed Free Trade Agreement with Sri Lanka, said High Commissioner of Bangladesh to Sri Lanka, Tareq Md Ariful Islam at the National Chamber of Commerce of Sri Lanka (NCCSL) organised a bilateral trade and investment discussion between Sri Lanka and Bangladesh at the National Chamber auditorium.
He said that talks in this regard have been in progress for several years and the time has now come to fast track it. "The FTA will help both countries to increase trade."
The Ambassador said that Bangladesh-Sri Lanka bilateral trade volume is around US$ 200-300 million (Bangladesh's imports amounts from Sri Lanka to USD 153 mn and export USD 48 mn) which is far below potential and there is a lot of scope for improvement.
He said that Bangladesh has received substantial investment from Sri Lankan conglomerates mostly in the RMG, health, power, logistic, financial and agriculture sectors.
"Today we also see diversified investment interests from Sri Lanka for sectors such as investment banking, wealth management, paint, packaging, retail, and FMCG," he said. Commenting on the Bangladesh economy he said that they consistently maintain high GDP growth of around 6.6% in the past 13 years. "During Covid-19 in 2019-20 this dropped to around 5.24% but it's picking up again."
"Our Foreign Debt to GDP is 11.87% which is one of the lowest in Asia and our Foreign Exchange Reserve was US$ 48 billion in August last year. The foreign Remittance for FY 2019-20 was USD 18 billion while exports were at USD 24 billion.
UNCTAD report (June 2022) said that Bangladesh FDI rose by 12.9% to USD 2.9 billion which is around the pre-pandemic level in 2021.
He said that Bangladesh's economic development is not a fluke and was achieved through well thought-out macro-economic planning.
The event also helped several local companies and business leaders iron some of their issues and get an insight of the current trade environment, investment opportunities and services, policies, and other information to promote and strengthen bilateral trade and investment between Sri Lanka and Bangladesh.
Sri Lanka's major export Items to Bangladesh are electrical machinery and equipment and parts, plastics, knitted or crocheted fabrics, special woven fabrics, aluminium, iron and steel, wadding, felt and non-woven special yarn, man-made filaments, soap, cotton, cartons, boxes, cases bag and other packing materials.
Major Import Items from Bangladesh include pharmaceutical products, apparel, electric generating sets, other made up textile articles, potatoes, cotton, knitted or crocheted fabrics, plastics, paper and paperboard, vegetable textile fibre.