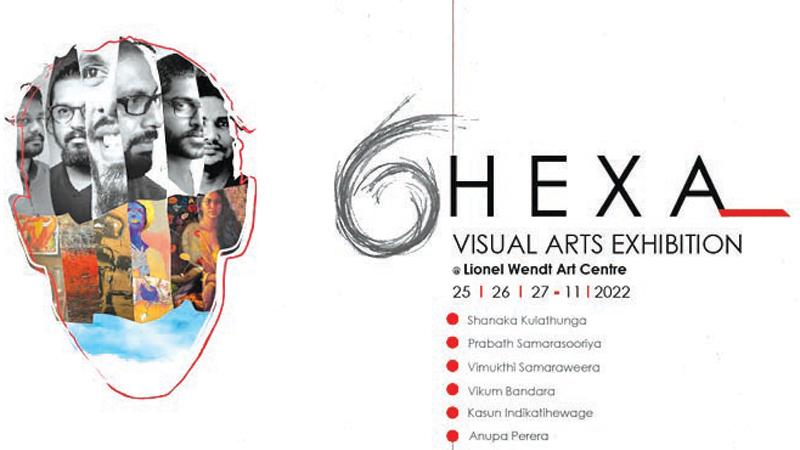 Since locally and globally the entire population has been confronted with an uncertain cultural and socio-economic crisis, many emblematic personalities such as artists have explored their views to address and be aware of this conflict by their aesthetic point of view.
Although economists, scientists and politicians are exploring sustainable and potential solutions for the socio-economic crisis, artists are taking a different path to address this in a very empathetic manner by awakening the public with a strong visual message.
Artists express their ideologies through creative avenues with their signature artwork which opens a strong dialogue in society. In the Sri Lankan context, contemporary artists also have started to move forward by aligning their artistic work to create a stronger and healthy dialogue within the community to be aware of the current socio-economic and cultural conflicts to provide solutions through their own "aesthetic" language…
To fulfill the aforesaid task by addressing a wider audience, six well-experienced and well-established contemporary artists with synergetic interests have gathered to express their creative work to raise their voices within the community through their creative work in this exhibition.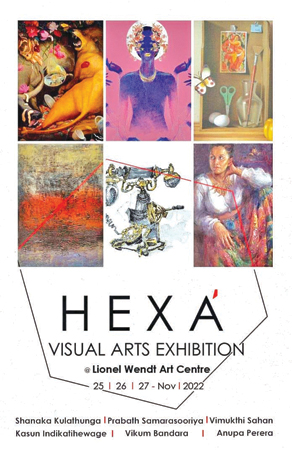 These six young artists are presenting their various genres of art, painstakingly done during the pandemic while spending their lives in a "home-locked" situation. Since the group of six professional artists are presenting their work, the exhibition is titled "6", which will be held at the Lionel Wendt Art Gallery from November 25-27.
Shanka Kulathunga
A renowned portrait artist practicing his career with a passion for art. Shanaka is a one of the pioneer painters in portrait painting to express a greater degree of emotional and spiritual expressions of humans through his expressive stocks and layers of colours. Humanity, compassion and emotions are the key pieces of his artistic language. Shanaka is a senior medical officer and an award-winning portrait artist.
Prabath Samarasooriya
A designer and artist practicing his career over 20 years locally and internationally with his signature talent in fashion, art, illustrations and design. Prabath's personal expression of compiling his art is nature - humanity - radicalism, through his long-term involvement in fashion and design.
Prabath experiments composing and combining his multi-faceted compassion on a canvas. His recent work carries a powerful expression of beauty through radical socio-cultural factors through enigmatic symbolic meanings.
Kasun Indikatihewage
A painter uses symbolic characteristic compositions in refined details to hyper-realistic expressions with the aid of graphite pencils. Socio-political trends and movements are the main topics for his artistic signature. Kasun discusses the complexity of "human-kind with over-consumerism" under his pencil tips to bring down " the sensitive and controversial movements of social-media influences to destroy the human needs of unsatisfied and isolated personalities".
Vimukthi Samaraweera
Vimukthi is a multi-faceted artist who has experience in visual arts, contoured arts, graphics and interior designing. While using his fundamentals in graphics, Vimukthi experiments though expressive motions in blurry forms, following deconstructive strokes to add an unexpected motion to still objects. Currently Vimukthi is working in freelance graphic and architectural projects while he is practicing and experimenting his own creative language which became more discursive in recent times since some of his artwork describes a radical direction to interpret current socio-cultural issues.
Vimukthi Bandara
After completing his higher studies, Vimukthi established himself as an abstract expressionist to use total freedom to run the brush over the canvas to create most significant and vibrant expressions via mixed media.
He let the canvas to build a dialogue between himself to create a poetic floor of hues, textures, and brush strokes. The utility of Vimukthi's unique hues are "expressive" in terms of emotions, mirroring the freedom, unexpected beauty that is the signature of his art. Vikum is not only an artist but also a committed teacher who contributes his artistic passion for the benefit of the next generation.
Anupa Perera
A unique painter who takes the most challenging pathways through "hyper-realistic"" style to represent "object drawings" as fundamental pieces to create a dialogue between the art and the audience. Anupa has a very refined eye and tremendous patience which is mandatory to have by a "hyper-realistic" artist. His skills and passion are unbelievable. While he is disseminating his knowledge and skills ungrudgingly to the next generation he has chosen a remote area in the country especially for the under-privileged community in the North.
This exhibition will be a turning point in the history of "group art shows" in Sri Lanka, since a blend of six artists with six backgrounds and disciplines to share their stories.
Join with us to share your ideas, comments and suggestions in a vibrant and vivacious artistic environment.