In an era when cricketers representing Sri Lanka have brought disrepute to the country with their sleazy conduct on tour, one budding player promises to be that role model that many long to see and he is none other than Pawan Pathiraja the Under-19 batsman.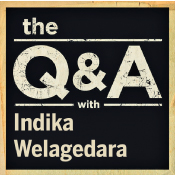 Pathiraja hails from Trinity College and has had some promising performances one of which was hammering a century for Sri Lanka against England Under-19 this year at the SSC ground in Colombo.
Pathiraja would describe himself as someone who will not take the easy way out or look for success on a platter.
"Every challenge I have gone through so far makes me realize I want to be a well educated professional cricketer," he told the Sunday Observer in an interview.
Provided he gets the right breaks at the most appropriate time, there is nothing that could seem to stand in the way of Pathiraja.
Excerpts of the interview
Q: Can you describe yourself in one word?
Kind
Q: Any words or phrases you overuse?
Work hard
Q: If you could edit your past, what would you change?
I would have mostly gone after my studies
Q: What is the most important thing in your life?
It's definitely cricket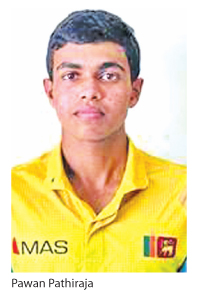 Q: Who has influenced you the most?
My Mother, father and my elder brother
Q: Are you fashionable?
I believe so
Q: If you had access to a time machine what would you change?
As I said, I'd rather look to my future than change anything
Q: What motivates you in your life?
Every challenge I have gone through so far
Q: If you could choose any career right now, what would it be?
To be a well educated professional cricketer
Q: What forms of music do you listen to?
But it depends on my mood. I prefer mostly hip-hop music
Q: What's the best thing you would like to hear from someone?
You are a good person
Q. What made you choose sports?
Because I enjoy playing cricket so much
Q. Thus far what was your most unforgettable sporting incident?
I scored a century in the second one-day match for the Sri Lanka Under-19 team against England's Under-19 team at the SSC
Q. What's your best school sporting achievement?
I am proud to say that my College (Trinity College Kandy) won the one-day cricket encounter beating St. Anthony's College Kandy in 2022
Q: What is your idea of happiness?
Happiness is the most effective theory
Q: What is the trait you most deplore in others?
Laziness
Q: What has been your biggest disappointment?
In my maiden first-class three-day match for CCC I got out for a duck
Q: Most important lesson life has taught you?
How to treat people more humanely