Upali Marasinghe who entered the Sri Lanka Administrative Service in 1984, has served in several areas of the island, in various departments and a few ministries, is a degree holder from the Kelaniya University.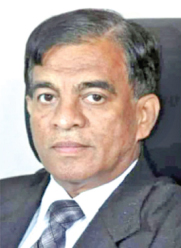 He obtained his primary education at Kottaramulla Junior School and then entered St. Xavier's College in Marawila and later studied at Ananda Vidyalaya in Colombo. He worked as a graduate science teacher and compiled a number of books based on Advanced Level Chemistry. He obtained the Masters Degree in Public Administration from the Post Graduate Institute of Management and of the Sri Jayewardenepura University and is also a holder of a Law Degree from the Open University of Sri Lanka together with the attorney certificate from the Sri Lanka Law College.
Upali Marasinghe who worked as the Director of the Productivity Secretariat also served as the Sri Lankan coordinator and the Sri Lankan Representative Director of the Asian Productivity Organisation in Japan.
He received the national award presented by the Asian Productivity Organisation on behalf of promoting productivity in Sri Lanka. He also worked as a lecturer on productivity and management and compiled and published several books under various subjects connected to productivity. He served as Secretary to the Ministry of Productivity Promotion, the Ministry of Education, the Ministry of Plantation Industries, the Ministry of Mineral Resources, and the Ministry of Housing and Social Welfare. He also worked as a training resource person of the Asian Productivity Organisation.
The two books which were to be launched in the first quarter of the year 2023, published by the Asian Productivity Organisation and translated into Sinhala by Upali Marasinghe were:
1 Public Sector Leadership on behalf of modernisation and productivity.
2 Productivity Promotion Manual – Public Sector.
The book, Productivity Measures (Productivity Performance Index) written by him will be launched in 2023. He has also written several books for G.C.E. Advanced Level Chemistry, G.C.E. Ordinary Level Science and also several books on productivity improvement.
The remains of Upali Marasinghe were brought to his motherland from Canada on Friday (18) and will lie at the Borella Jayaratne Funeral Parlour today (20) and subsequently taken to his home town of Pahala Kottaramulla, Ihala Kottaramulla, Nattandiya for the final rites.