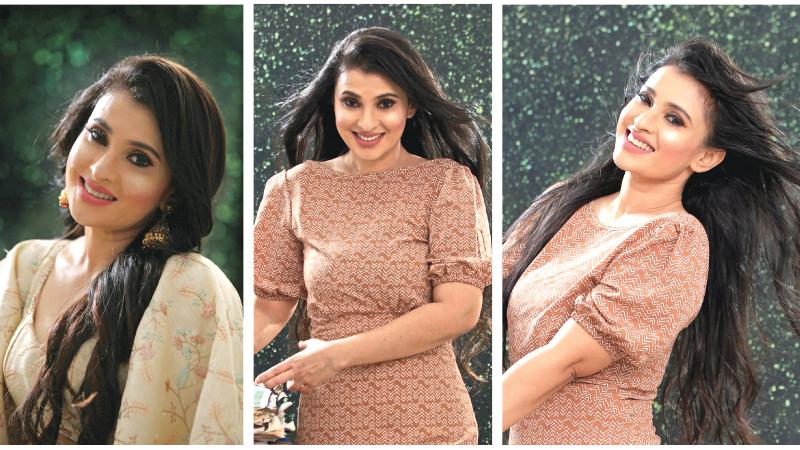 Blessed with a striking figure, unshaken by hardships which test one's skills, multifaceted Vindya has stolen the spotlight. It is no exaggeration to say that Vindya Degaldoruwa, about whom I am writing, is destined to shine on the silver screen.
You would probably ask why? The answer to your question is 'Nannattara' in which Vindya plays the main role of Ramba. The first fact is the Miss Kandy Beauty pageant in which Vindya participated many years ago. Vindya like other contestants clad in a glamorous costume as if in a surreal world was sashaying down the red carpet. Needless to force the stars to shine because they shine naturally.
Vindya's silver statuesque-figure and blue diamond eyes made her the cynosure of all eyes. Those fascinated by sylphlike Vindya circulated her photos on social media. On one hand, our life is like a preplanned journey. Film director Iran Godamunne who saw her photos invited her to a cinematic creation. Let's hear what happened after that encounter in her own words.
Her story
"Speaking about my childhood, my parents Mahinda Wijegoonawardane and Padmini Degaldoruwa did not like me becoming a social figure. But, they inspired me to pursue my higher studies. My uncle D.K. Bandara inspired me to do what I love. When I was schooling I was known by others as a singer. I have a passion for singing, dancing, painting and acting. I had my education at St. Anthony's Girls College, Kandy.
"After completing my education I went abroad for higher studies. Later, I worked as a music teacher in Dubai. It was a new experience for me. Later, I had to come back to Sri Lanka because of Corona.
"That is how I got the opportunity to contest in the Miss Kandy pageant and I won first place. Iran Godamunne had seen some of my photos and invited me to act in a film.
"At that time, veteran film director Udayakantha Warnasuriya sir was about to make a film. But I was late because he had already selected all the actors and actresses.
"Fortunately, Udayakantha sir introduced me to film director Jayantha Chandrasiri sir. Jayantha sir undoubtedly is a philosopher in this cinema field. He was casting actresses for his new teleplay Nannattara.
"My father took me to the audition. Even though Puja Umashankar was supposed to play the main role in this teleplay, she had to leave for India. Therefore, I got the opportunity to do her character. Jayantha sir asked me to come for the audition. There were so many actors and actresses there. Jayantha sir came to me and asked what I could do. I said that I can sing," she said.
"Okay, sing a song,"
he said.
"After I sang the song, Jayantha sir asked me to deliver some dialogues," she said.
"There is a small thing that you have to improve. It is your pronunciation," Jayantha said.
"He encouraged me to improve my language. Eventually, he gave me the script to read. I read the entire script and could improve my language well," Vindya said.
Angels in my life
There are angels in anyone's life. As noted by Vindya, she also has angels in her life; her parents, uncle and her sister. But sadly her uncle passed away some time ago due to cancer.
Speaking of her parents, they paved the path for her to pursue higher studies successfully.
"My uncle ( D.K. Bandara) is an exemplary character to all of us. He is the person whom I admire most. Never did he degrade or criticize anyone behind their back. He always spread love and friendliness with others.
"I have acted in a film titled 'Secret of the Rose'. Now I am playing the main role in a teledrama. My uncle was waiting for this moment for a long time. Sadly, he is no longer with us to share our happiness and past memories." These emotional words were out of her heart.
'Ramba'
In the film 'Secret of the Rose' directed by Iran Godamunne,Vindya plays the main role with many veterans. Therefore, she is not new to the camera. As noted by Vindya, Ramba represents all women in the world, which means there is a Ramba in every single woman.
She is a brave, courageous and determined woman rising from the ashes. However, artistes like Buddhadasa Vithanachchi, Sriyantha Mendis, Kusum Renu, Anuradha supported her to build the character.
"When I am on the set, I don't have a personal life because I get into my character and forget personal matters. Jayantha sir expects me to do the maximum justice to the teledrama. I have to fulfill my responsibility.
"Ramba is a courageous woman and it changed my life in many ways. For instance, I could improve my language skills and accent. The 'Nannattara' teledrama is for all audiences. No doubt that anyone can sit and watch this teledrama with their family members. I was exposed to veterans thanks to this character Ramba," she said.
Her message
You might be curious to peek into her personal life. "I am willing to help orphans in the country. I have an idea of starting an educational institute for such orphans. I think that we have to help others irrespective of sex, religions and believes during our short life time. Speaking of love, I can say that selfless love is universal. If you have the right partner in your life, you are lucky. Live according to your conscience. It is not that hard," Vindya said.
Image: Thilak Perera