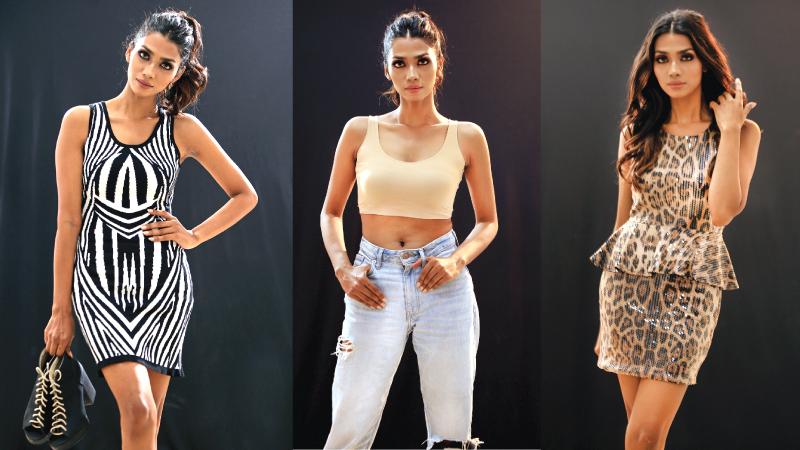 For model and an actress Harini Uthpala Kawianjani Perera it was two childhood dreams come true and being chosen a beauty queen was the icing on the cake.
QEven as a fashion-conscious little girl, Harini was struck by the grace and verve of the elegant models who walked the ramp. She saw them on TV, magazines and newspapers and thus a desire to be a model a someway gripped little Harini.
As for acting it is in Harini's genes. Her maternal great grandfather, Reuben Perera, was an actor during the famed Tower Hall era.
He was also a 'Nurthi Gee' at the then Radio Ceylon, now The Sri Lanka Broadcasting Corporation (SLBC).
Her maternal grand uncle, Ariyarathna Mahagedara is currently the oldest living lighting artiste for Sri Lankan, Bollywood and international films.
Harini's mother, Sugeewani Priyanthika Perera is a Grade B singer at SLBC. She has also acted in several stage plays.
Her daughter's lovely looks prompted Harini's mother to urge Harini to take part in beauty pageants.
Beauty pageants
Harini bagged the title Miss Sri Lanka for Miss Scuba International in 2016. She also competed at the grand finale in Kula Lumpur, Malaysia.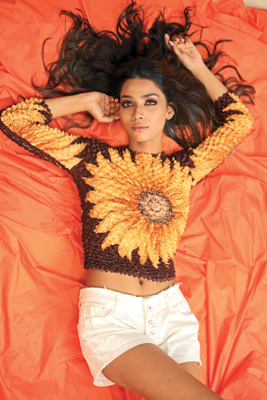 She came to the top five in the mini contest Best National Costume.
It was designed by Hiran Wijesekera.
In 2014, at the Miss Sri Lanka for the Best Model in the World, Harini became first runner-up and also won the mini contest for the Best Catwalk Model.
In 2018, Harini won the Sri Lankan title for Miss Sri Lanka for Super Model Worldwide and winged her way to New Delhi, India to participate in the Gala Finale.
Best National Costume
Harini won the Best National Costume Mini Contest in a spectacular costume designed by Hiran Wijesekera.
The vibrantly coloured costume also included the 'Gara Yaka mask' and traditional Sri Lankan carvings including the 'Makara Thorana' (dragon pandol). It was the headdress which content the masks. At the bottom of the headdress on either side were stylised floral motifs.
The skirt of the costume was in a brilliant hue of flaming orange and the body was of the same colour with the 'work' being in a metallic silver. It was a spectacular costume and it was no wonder that Harini won the Best National Costume Award hands down.
At this contest, she was among the top five in the Miss Talent Contest. She performed a dance which was a combination of the Sri Lankan Kandyan and 'Pahatharata' (low country) dances.
School career
Harini was born in Kotte, in the district of Colombo but is now domiciled in Kadawatha. She had her education at the Galahitiyawa Hemamali Vidyalaya and Rajasinghe Vidyalaya, Gampaha.
During her school days Harini actively participated in dramas, dancing and ballet and won the first and second place for dancing and ballet at All Island Dancing Competitions.
After her Advanced Level examination, Harini embarked on a course of study in Business Management. She has temporarily put this on the back burner but hopes to begin with a course in IT.
Harini is also keen on languages and has mastered the intricacies of the Korean language and is currently studying some of the languages of India which she finds extremely fascinating.
Modeling
After sitting for her A/L exam, Harini followed a course in Mass Communication at an institute in the vicinity of the Colombo Eye hospital. The course was conducted by a person named Priyantha, who was also associated with SLBC, she was noticed by Nick Jason, Sri Lanka's pioneer model guru. She studied walking the ramp. Harini also studied modeling under Rozanne Dias.
She has been Brand Ambassador for several leading brands including Beverly Street. At present she is Brand Ambassador for Ramzi Jewellers.
Films
Roshan, who was an assistant director of films, was well-known to Harini. He introduced her to film director Sugath Samarakoon who cast her for the lead role in his film 'Yaksha Deshaya'. The male lead was played by Roger Seneviratne. The story revolves around the yaksha clan and their history and daily life. Playing the lead female role, Harini portrays a jungle maiden of the 'Yaksha' tribe involved in seeking justice for her clan. Though this film was produced approximately seven years ago it is yet to be screened.
Fashion Designer Venuka Yasas Wickramarachchi, Haroon Shaideen and Sanka Abeysinghe introduced Harini to Prof. Sunil Ariyarathne. After a screen test, which she successfully passed, Harini was picked for the female supporting role in the film, 'Kadira Divya Raja'. This is a story about God Kataragama and his consort Valliamma. Indian actor, Samar Veramani, played the male lead while Indian actress Sonakshi Ravath played the female lead of Valli Amma. Harini was her friend, Kumi.
Harini's second film for Ariyaratne was 'Ksheera Sagaraya Kelabuina'. Veteran actor Jackson Anthony plays the male lead of a king who is disillusioned with his royal life. He does not like the politics within the castle. He gives up his life of luxury and goes to live in the jungle, meets a jungle girl and falls in love with her.
Harini is deeply grateful to Jackson Anthony for all his support towards her. She says that he taught her much of what she knows about the film industry and has always been there for her. She is very sad about his accident and constantly prays for his well being. Harini called him 'a national treasure'.
Entrepreneur
Apart from being a beauty queen, model and actress Harini is also an entrepreneur. She does an online retail business in sarees. The majority of her sarees are imported from India and she hopes to open a retail outlet in the near future.
Harini lives in an urban area which still has rustic beauty too. Her father Priyankara Perera is a photographer and her younger brother Achintha Sandaras is in Japan.
An avid reader, Harini loves to read books on psychology and is a great fan of Robin Sharma and Maxwell Malt.
As a Buddhist she is a firm believer in Karma and that the good you do will come back to you and that it is the same with the bad you do.
She says that to be a successful actress you have to have not only talent but also a passion for acting, a discipline and flexibility and the ability to work hard selflessly.
Harini expresses her heartfelt gratitude to everyone who has helped her in every way. She considers them to be Gods and Goddesses in her life.
Pix: Thilak Perera